Micro Focus ZENworks Configuration Management is a tool used to manage the configuration and distribute software to your Windows, Linux and OS-X devices. At least that is what it has been for the last eight years since it was released. However, with the next major release of ZENworks Configuration Management we will be redefining what is ZENworks Configuration Management. Beginning with ZENworks 2016, now in Preview, we will begin to introduce capability that expands ZENworks Configuration Management from a tool for managing your desktops, and laptops to a tool that can manage all of your devices. This includes PCs, mobile devices, and eventually even enterprise Internet of Things (IoT) devices. In this article I want to introduce some of the upcoming capabilities to you that are now available to check out as part of the ZENworks 2016 Preview 1 release.
The ZENworks User Application
If you've been a ZENworks customer for very long, you may remember the original Novell Application Launcher that was first introduced way back in 1997. Over the many years, the capabilities of the ZENworks product has moved from a simple way to launch applications to a robust product to manage the lifecycle of desktop applications.
Unfortunately, the look and feel of the ZENworks Application Window (the name of the NAL component in ZENworks Configuration Management), hasn't changed very much. This means that it looks a bit dated, and that some of the new metaphors that end-users have come to understand aren't present.
With ZENworks 2016, we've undertaken an overhaul of the ZENworks Application Window, and are transitioning this to a new ZENworks User Application. The intent of this new end-user piece is to provide users with a single pane of glass for doing most of the things they need to do with ZENworks including: launching and installing applications; request remote assistance; viewing assigned devices and being able to locate, wipe, or find these devices; and eventually interacting with the Service Desk when using Micro Focus Service Desk.
It's going to take us some time to get all of the capabilities we'd like into this single view, but I think when we're done your end users will have a much better experience with the ZENworks products and solutions.
We also know that we need to freshen up the user interface so that it looks at home on today's more modern operating systems. To this end we are completely overhauling the architecture, look and feel, and adding key new capabilities. For the first release in ZENworks 2016, I expect you'll be able to do all of the same things you can do with ZENworks Application Window today, in a more modern way, and you'll get a few new tricks.
One of the biggest of these is that we understand that as an administrator you want to make the ZENworks user interface that the end user interacts with, look like a service being provided by your company. To this end we are introducing the ability to easily rebrand the UI components via a simple policy. Once that policy has been implemented you can make the ZENworks User Application look any way you want. Here's an example of a rebrand I did for my own setup in figure 1.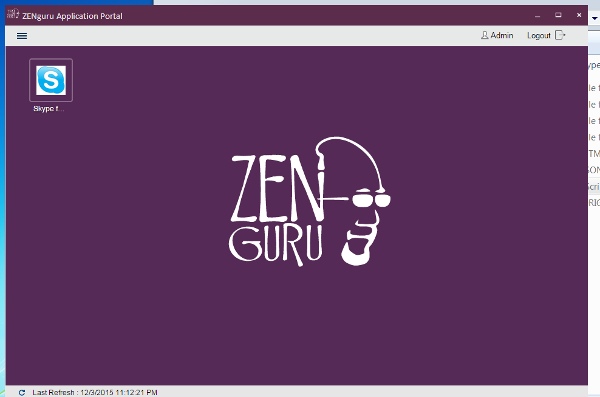 In the ZENworks 2016 Preview 1 release you will start to see some of the changes we've made. You'll be able to launch, install, repair and uninstall applications. You'll see the new core user interface. As we move into Preview 2 we'll start to add new capabilities like a robust search capability, the ability to request remote assistance, improved progress display and enhanced shell integration capabilities on the Windows platform.
For ZENworks 2016 we will likely release an updated interface for Windows, and then shortly thereafter we'll provide a similar update for OS-X and then Linux based on demand. Over time we'll also add new capabilities such as tagging, favouring, and more.
Mobile Management
As I indicated in the opening, ZENworks 2016 will be the first version of ZENworks Configuration Management where you will be able to manage mobile devices in the same console, using the same servers that you use to manage your traditional PC computing devices. The initial capabilities will likely focus on iOS management with some Android and generic ActiveSync management.
Then through a series of short releases we will offer ever increasing value and capability. Check out the following new ZENworks 2016 Preview 1 capabilities:
Enrollment and Initial Configuration
Device Policies
Basic iOS Bundles
Enrollment and Initial Configuration
If you are familiar with mobile devices, there are typically a number of steps that you have to perform before managing them. This includes tasks such as configuring push notification capabilities on the server, issuing certificates to devices, installing an application or management profile on the device, etc.
With ZENworks 2016 Preview 1 the basics for Android and iOS are there. The ZENworks server acts as the Certificate Authority that issues device certificates, you can configure push notification and you can then enroll your devices.
To help you through this process, if you click on the Mobile Management link in the console, you're taken to a new getting started page, shown in figure 2. This page guides you through the mandatory steps, and points you on your path to managing those devices:
From here you can configure your enrollment policy which determines how mobile devices are named, what their ownership is set to, and what management capabilities you want to provide to your users. You can also configure push notification via Apple Push Notification Services (APNS) and Google Cloud Messaging (GCM) so that changes to policies, and quicktasks can be pushed to your mobile devices.
In ZENworks 2016 Preview 1, after you have configured the mandatory settings, and any platform specific settings, you can then enroll your iOS and Android devices. You'll see that these appear as any other device, although in a Mobile Devices folder.
You can create mobile dynamic groups, static groups, and see basic properties of the device – as time progresses you'll be able to see more data. In this release you can also initiate the wipe of a device and un-enroll the device if needed.
Device Policies
After you've completed the initial setup you can then configure policies that set the basic security settings on the device. In the Preview 1 release we've implemented security and device control policies for iOS, Android and basic ActiveSync devices. We've integrated this into the normal workflow for creating policies in ZENworks Configuration Management, so the change you'll notice is that there are new Mobile policy types available in the Preview when you choose to create a policy. In figure 3 you can see a screenshot of a Mobile Security Policy.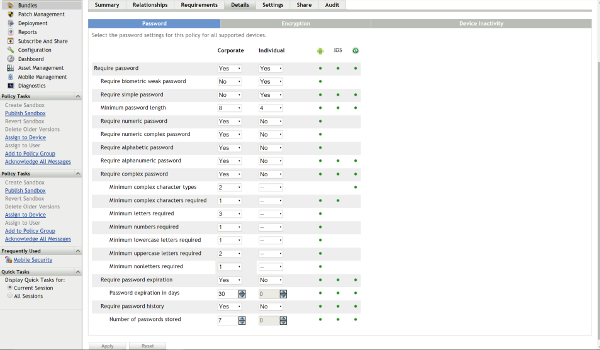 If you are a ZENworks user you should be aware that these policies are cumulative, which means that settings can be inherited between policies.
For instance, you could create a Mobile Security policy that required a four-character password and forced encryption of devices. You could then assign that policy to the top folder in the zone or user source. You could then have another policy that set the values for all settings except password length to Inherit and set password length to eight and then assign it to a sub-folder in the zone or user source. When you did this and the policy was applied to a device, if it was in the sub-folder then it would require an eight-character password, and if it wasn't, then it would require a four-character password. In both cases encryption would be required.
It's also important to note that each policy is a separate policy, unlike the existing ZENworks Mobile Management product. This means that you can assign policies separately if needed, or group them with other mobile policies or even desktop policies and then assign the policy group with a single assignment.
This follows our primary goal of ensuring that the mobile management capabilities work as close to possible as the rest of the ZENworks product.
Basic iOS Bundles
The Preview Release also gives you the ability to quickly create an iOS bundle by selecting an application in the app store. As with policies this is integrated with the core Bundle creation workflows, so you'll just see a new bundle type. However, the creation of the bundle is slightly different, since you'll be selecting the application from the app store instead. In Figure 4, below, you can see a screen show of this.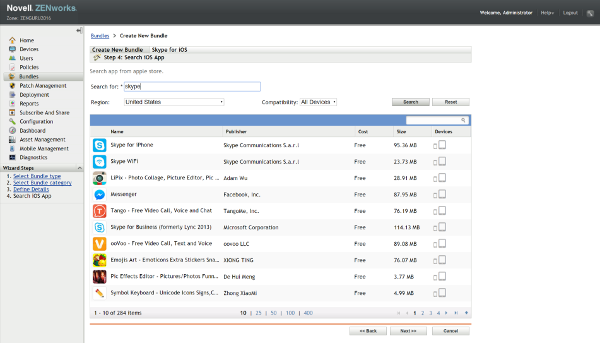 As we move forward we'll be integrating with the Apple VPP capabilities and adding the ability to distribute your own enterprise applications, in addition to store applications.
This is one example of where things are a little different than other bundles. Unlike desktop bundles, mobile bundles don't consist of a set of actions, rather they consist of a single pointer to deploy the application. This is based on the limitations presented by the mobile devices themselves.
Summary
The ZENworks 2016 Preview also includes a number of under the hood changes including moving to the latest versions of Java, Tomcat, .NET and more. Additionally, there have been changes to the supported platforms to remove support for the agent on devices that do not support Java 8 and .NET 4.5.
Additionally, on the Primary Server side we've dropped support for RedHat Enterprise Linux, SLES 10 and other platforms that don't support Java 8, to give us the ability to focus on the platforms used by the majority of our customers.
As you can see ZENworks 2016 will provide a set of new capabilities that our customers have been asking for. I hope you'll take the time to check out the Preview and provide us some feedback. To join the Preview program you can sign up at https://vibe.novell.com/novl/zenworks-2016-tech-preview-registration.
We look forward to working with you over the next few months as we continue to add new capabilities and transition ZENworks to an easy to use Unified Endpoint Management product and solution that provides superior self-service and application management capabilities in an identity-centric, location aware fashion.
Please subscibe to Open Horizons Magazine to see the full article now.
This article was first published in Open Horizons Magazine Issue 32, Jan 2016.