In December Micro Focus announced its financial results for the six months to the end of October.  Total revenue was reported as $604.5M with a pre-tax profit of $98.8M. Consequently the dividend has been increased by 10% to 16.94 cents per share.  Chairman Kevin Loosemore commented that "Our first half performance was at the top end of management expectations and is a testament to the dedication and hard work of our employees and partners at a time of significant change".
It's also been announced that Stephen Murdoch will become CEO of Micro Focus from 1 February and will re-join the Micro Focus Board.  Likewise Nils Brauckmann will become CEO of SUSE at the same date and also become a Micro Focus board member.  Kevin Loosemore will remain as Executive Chairman.
The strong performance by SUSE was a highlight, with revenue growth of 14.1%.  SUSE now accounts for 20% of total company revenue, a significant increase over the last 18 months.
The Micro Focus business is evolving and is now split into 5 portfolios:
COBOL development and mainframe solutions
Host Connectivity
Identity Access and Security
Development and IT  operations management tools.  This portfolio includes the ZENworks product line as well as the Borland range of products and non IAS products from NetIQ.
Collaboration and Networking – includes the balance of the Novell product line and the CORBA products from Micro Focus.
These five portfolios account for the other 80% of revenue, although it is clear that the Collaboration and Networking portfolio is losing ground against the others. Collaboration and Networking generated $12.2M in licences and  $68M in maintenance and support revenue.  This represents a 33% and 17.1% reduction respectively on the previous year.  However this was in line with management expectations and consistent with prior period trends.  Overall the Micro Focus business revenue declined 5% compared to 2014.  Geographically, North America accounts for 54% of Micro Focus revenue and is the best performing region with revenue down just 4.2% since 2014.
Conversely SUSE is marginally stronger in EMEA than the Americas. SUSE is the star of the Micro Focus business as indicated above.  Another indication is that in the last 6 months alone SUSE has increased its staff headcount from 500 to 585 and is due to reach 650 by year end.
A number of investment brokers have recently updated their price targets on shares of Micro Focus International, with the majority rating the stock as a strong buy at the start of 2016.
In early January the stock's 50 day moving average is 1417.73 and its 200 day moving average is 1326.60. The stock's market capitalisation is £3.40Bn. Micro Focus International has a 52-week low of 1016.51 and a 52-week high of 1622.00. The graph shows the rise – and success of the Micro Focus business strategy – over the last three years.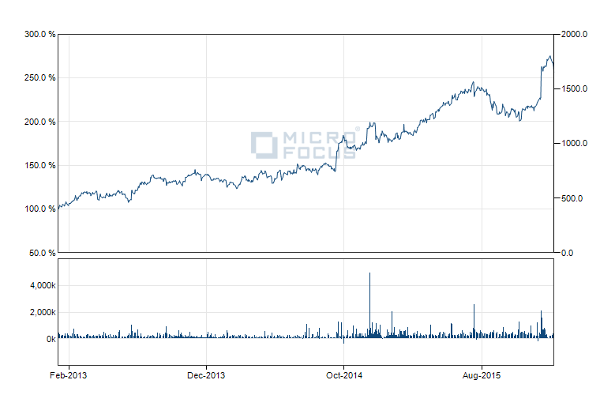 This article was first published in OHM32, January 2016.