When it comes to customer loyalty among Novell, and now Micro Focus products, perhaps there is no allegiance as strong as that of a Storage Manager customer.  That's because Storage Manager automates network file system tasks that are traditionally done manually, resulting in cost savings and assurance that tasks are being performed properly. It's a product that one loyal customer said was "… the single greatest product I've ever used1."
Customers also consider Storage Manager a valuable investment for their enterprise network. When factoring in the cost of performing individual network file system management tasks manually, Storage Manager is a product that tends to pay for itself very quickly.
A Brief History
Introduced in 2003 as "File System Factory," the product quickly gained a fervent set of customers because of its ability to automatically create and manage network home directories based on the role of the user, as new users were added to eDirectory, or as an identity management system provisioned user accounts.
For example, a user created in the Marketing organizational unit (OU) could be granted a home directory with a specified size and access rights based on the marketer's role, while an engineer created in the Engineering OU would be provisioned a home directory with size and access rights specific to the engineer's role.
The product name was eventually changed to Storage Manager and new releases expanded the product capabilities. An Active Directory version was soon introduced for customers on a Microsoft network platform.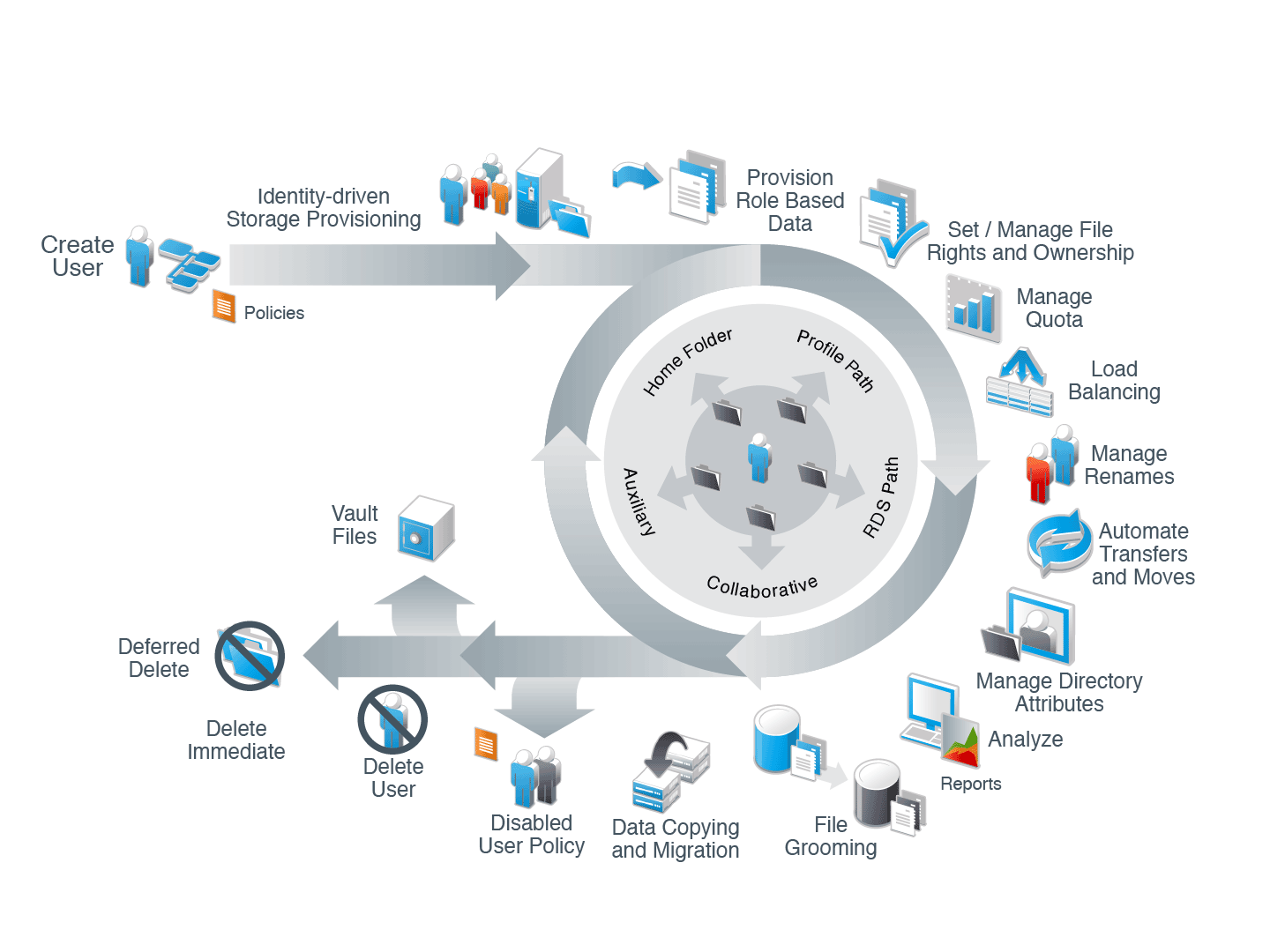 Before long, Storage Manager was providing an extensive set of management capabilities including:
File grooming – the ability to remove certain file types,
Load balancing,
Data migrations,
Disk quota management,
File vaulting (archiving),
Managing user auxiliary storage,
The ability to manage collaborative storage areas.
Yet, amid all of the added enhancements, many people still tend to think of Storage Manager as "a product that creates user home folders" and they miss all of the other network file system management capabilities.
That limited view of the product might now change with the recent release of Micro Focus Storage Manager 5.0 for Active Directory and its ability to perform management tasks across all areas of an enterprise network – not just those areas where home folders or collaborative folders are located.
But before diving into that, let's look at some of the other notable new features in Storage Manager 5.0 for Active Directory.
Micro Focus Branding
Storage Manager 5.0 for Active Directory has been completely rebranded as a Micro Focus product. (figure 2).  In the rebranding process, the Storage Manager engineers gave the administrative utility a complete makeover.  Additionally, product icons were updated and in some cases, the locations and names of installed files were changed.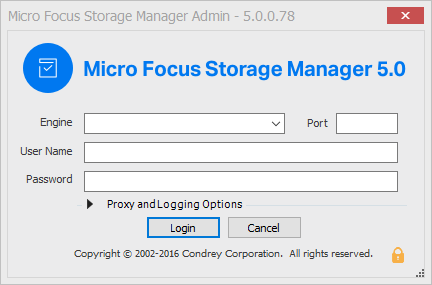 Migration Capabilities
Previous versions of Storage Manager for Active Directory included the Cross-Empire Data Migration subsystem, which lets you migrate data from a NetWare or OES server in eDirectory, to a Windows Server in Active Directory – all while maintaining the established file rights and metadata. The Cross-Empire Data Migration subsystem has been a popular alternative to expensive and complex third-party migration offerings that migrate the data, but offer no value afterwards.
Storage Manager for Active Directory 5.0 now includes a new Cross-Empire Data Migration offering in Active Directory to Active Directory migration. The AD to AD Cross-Empire Data Migration subsystem lets you migrate data and its associated permissions and metadata, from one Active Directory forest to another.
With the release of Storage Manager for Active Directory 5.0, the Cross-Empire Data Migration capabilities are activated through a specific Support Pack license upgrade.

Action Blocks
Action Blocks are a new means of creating specifications that can be linked to a Storage Manager policy. With Action Blocks, you no longer need to create the specific provisions in the policy itself. You simply define these in an Action Block and then link the policy to the Action Block (figure 4).
With Action Blocks, you no longer need to create or copy general and often-repeated policy settings.  Early reviews of Action Blocks by existing Storage Manager customers have been overwhelmingly positive.  Presently limited to file grooming and file vaulting, future releases of Storage Manager will include additional Action Block options.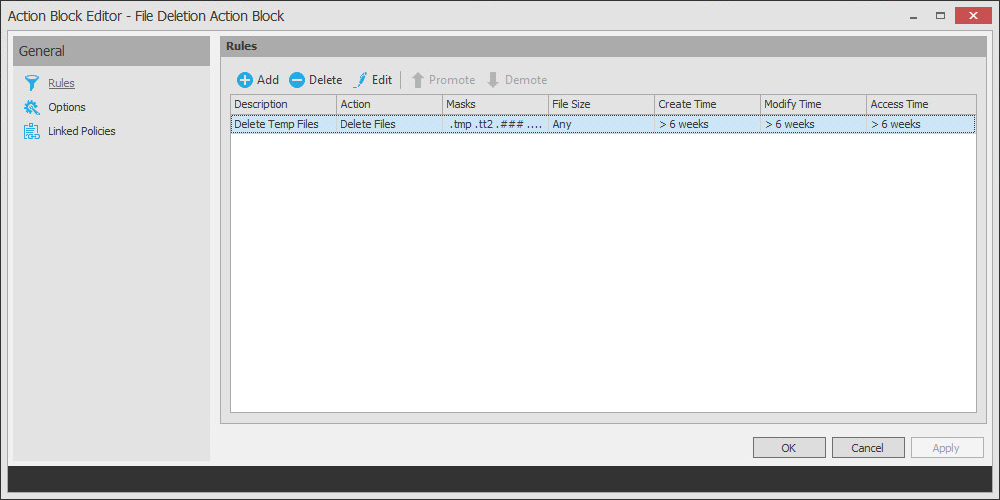 Operations — Managing Network Areas Not Managed by Policies
Since its initial release, a distinguishing feature of Storage Manager has been its ability to automatically perform management tasks based on policies. Storage Manager policies specify what actions to perform when either an event takes place in the directory service, or a management action is invoked.
In a simple example, when a new user object is created in a container managed by a Storage Manager policy, the user is automatically provisioned a home folder with specific access rights to the folder, along with access rights to other areas of the network in accordance to the user's role.
In another example, if an organisation were putting a new server online and wanted to migrate the data from an old server to the new one, the administrator could change the location or "target path" of the Storage Manager-managed content in the policy, then click a button to invoke the "Enforce Policy Path" management action to move the data to the new server.
In both of the examples above, Storage Manager policies pertaining to containers in the directory service, were the means of performing the action. While policies work great for the storage in the containers or groups that they manage, there are often times areas of the network file system where Storage Manager polices do not tend to be created. Network application areas and system folders for example, are both network areas that are not typically managed through Storage Manager policies.
It was with these typically non-policy managed storage areas in mind that the Storage Manager 5.0 for Active Directory developers introduced Storage Manager operations. Simply stated, operations are actions performed in Storage Manager that are not tied to a policy. Currently, you can use Storage Manager to perform copy or groom operations, but there will be more operations options in future releases.
A simple example of an operation might be using the groom operation for file cleanup. A really easy way of optimising network storage is periodically cleaning up temp files. Using a product like Micro Focus File Reporter, you could generate a report to identify the locations of temp files, then use Storage Manager to create a new Action Block designed to delete these temp files. To invoke the deletion action, you'd create an operation and link to the Action Block. Scenarios like this could be used to delete a variety of file types, including old email post office archive files.
Storage Manager and File Analysis
In just the last few years, IT personnel have gone from using terms like "gigabyte (GB) and terabyte (TB)" to much larger storage classifications like "petabyte (PB) and exabyte (EB)." That's because most organisations have taken a "quick fix" approach to addressing their file management challenges by simply adding more storage capacity, rather than taking the time to analyse the data, determine its value, and then tier, archive, or delete the data.
This exponential storage growth and the need for tools to identify data and manage its growth was the catalyst for the creation of a new "File Analysis" market segment by the Gartner research organisation in 2014.
As defined by Gartner, "File analysis enables storage managers, legal and security professionals, and business analysts to understand and manage unstructured data stores to reduce costs and risk, increase efficiency of business-critical data, and make better information management decisions for unstructured data." Further defining this segment, Gartner adds that its objectives are to:
Increase operational efficiency.
Lower IT costs.
Mitigate corporate risk.
Micro Focus File Reporter and Micro Focus Storage Manager are two products whose combined capabilities provide a comprehensive understanding of the files you are storing—including detailed file security, and then automates the life cycle management of these files through directory services enacted policies.
File Reporter and Storage Manager have been recognised by Gartner as leading products that address today's File Analysis challenges and objectives.
To learn more about the role of Micro Focus File & Networking products in addressing File Analysis visit our File Analysis microsite located at: https://www.novell.com/promo/file-analysis/.  To learn more about all of the network file system management capabilities of Storage Manager, visit https://www.microfocus.com/products/storage-manager.
References
Brian Verkamp, IT Director, University of Cincinnati College of Education, Criminal Justice and Human Services
Gartner RAS Research Note, G00275931, Alan Dayley, Debra Logan, June 17, 2015.
Market Guide for File Analysis Software, G00262949, Alan Dayley, Garth Landers, Debra Logan, Earl Perkins, 23 September 2014.
This article was first published in OHM35, 2016/4, p26-28