In addition to the great work the team is doing on ZENworks 2016, it's also important to note that the Micro Focus Service Desk offering is also an important part of the Endpoint Management product family.
With the "Redwood II" release due in mid-2016 we will be introducing the Enterprise Application Store. This important capability naturally complements what we are doing in the ZENworks 2016 product and will provide improved self-service capabilities that allow end-users to request access to applications through an intuitive store like interface, as shown below.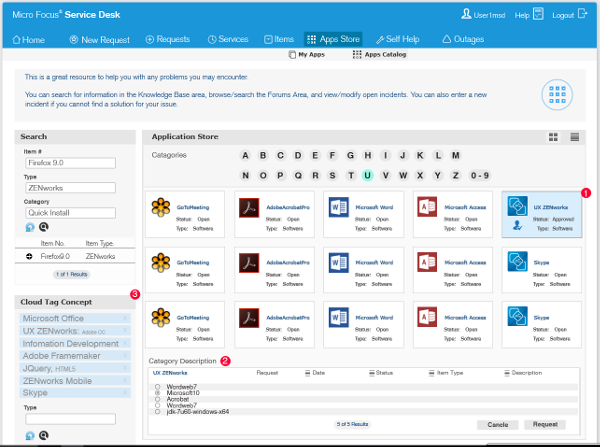 Once a request has been input, then the workflow engine found in Micro Focus Service Desk can then route that request to the appropriate managers for approval and then assign the ZENworks bundle that provides that application.
As we move forward we expect that the integration between Micro Focus Service Desk and ZENworks will get stronger and the end-user interface will eventually converge.
The good news is that most ZENworks customers (anyone that has ZENworks Configuration Management or ZENworks Suite) already has licenses to use the Micro Focus Service Desk. In the case of ZCM customers, they have two technician licenses.
ZENworks Suite customers have an equivalent number of licenses of the suite that can be used to support any device or user being managed by ZENworks. This means that in general, you'll be able to benefit from the application store capabilities found in Micro Focus Service Desk "Redwood II" without any additional licensing cost. Stay tuned for more information as we get closer to this release.
ITIL Certified
Micro Focus Service Desk is a complete, ITIL-certified application for managing service requests, incidents and changes across your network.
Technicians can create, manage and close tickets through a web browser or use mobile devices; users are provided with an online portal that allows them to not only submit tickets to the service desk team, but also follow-up on their requests to see what is happening.
Workflows are easily configurable to meet your business requirements, and requests can be automatically routed to individual technicians or even teams. CMDB information can be configured to show the relationships between services, applications, operating systems and hardware in order to completely and properly document your network services.
Service Desk has been assessed by PinkVERIFY and certified against ITIL terminology, definitions, functionality, integration and workflow requirements for the following 10 ITIL processes:
Change Management
Request Fulfillment
Incident Management
Service Asset & Configuration Management
Knowledge Management
Service Catalog Management
Problem Management
Service Level Management
Release & Deployment Management
Service Portfolio Management
This article was first published in OHM32, p8, January 2016