ZENworks 2020 was a big release for us and hopefully for all of you also. Among the many new features and changes, it introduced a new way of assessing device vulnerability using the CVE list along with a totally new way of looking at your application deployments in the form of the bundle dashboard. However, this release was also a time driven release for us and this meant that we couldn't include some of the things we were hoping for. So, for ZENworks 2020 Update 1, we decided to focus on some of these key capabilities along with focus on ideas submitted by customers, along with defect fixes. This means that ZENworks 2020 Update 1 doesn't have one or two overarching themes, but instead has something for everyone across the Suite.
We released ZENworks 2020 Update 1 in the latter part of June, 2020. Being in the midst of a pandemic, our development team had its fair share of challenges, but they really came together to push this one through.
Given that we have made 20+ enhancements in this release, I'll restrict myself to some key features across the ZENworks Suite in this article.
Support for macOS Catalina
This is something I'm most excited and happy about. We wanted to support macOS Catalina at its launch , but due to inherent changes in the security architecture of macOS Catalina, we needed to make some fundamental changes to our macOS Client, which unfortunately couldn't be pulled into ZENworks 2020. However, our team kept on working and has been able to pull these changes into Update 1.
To conform to the new macOS security architecture, our agent installer and all packages (like any other mac application) need to be notarised by Apple. This means our installer can't be re-built in customer environments (as in ZENworks 2020) and so we aren't able to embed details about primary servers or zone certificates in the installer. For Update 1, we actually re-built our macOS agent installer from ground up. It is now signed and can't be re-built in customer environments. The good thing is that now it appears, behaves and installs like a proper macOS application. We have now added a set of screens to take in primary server details and prompt for certificates (in case they are un-trusted). I am really hoping that this new installer will really simplify the agent installation on mac devices.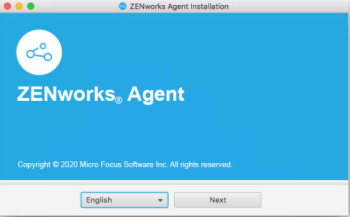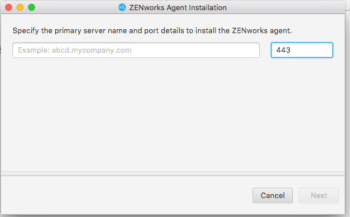 Deploying Web-App shortcuts on Mobile Devices
In Update 1, we are bringing in the capability to deploy a web-app shortcut on mobile devices. This has been one of the most requested mobile features for some time and I'm really happy that it made it to ZENworks 2020 Update 1. This capability is available across both iOS/iPadOS and Android devices. The provisioned shortcut appears on mobile device just like another app icon. It is also possible to configure the shortcut to open in full screen mode, thus giving the illusion of a native app rather than a shortcut.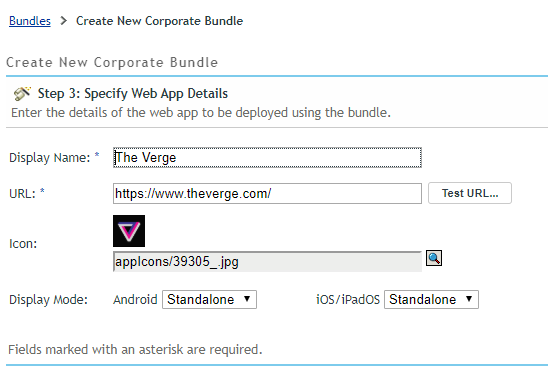 Web-App Bundle is available as a new Bundle Category, within the Corporate Bundle Type. Within the bundle, Display Name, Icon and other details like the display mode of the app can be provided. The bundle can then be assigned to both iOS and Android devices just like any other bundle and the web-app shortcut will appear on the device. One thing to note is that on Android devices, the Web-app shortcut will only open in Chrome and thus Chrome needs to be available as a Work App on Android devices.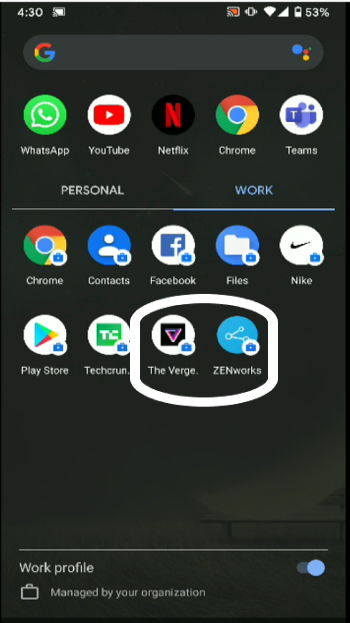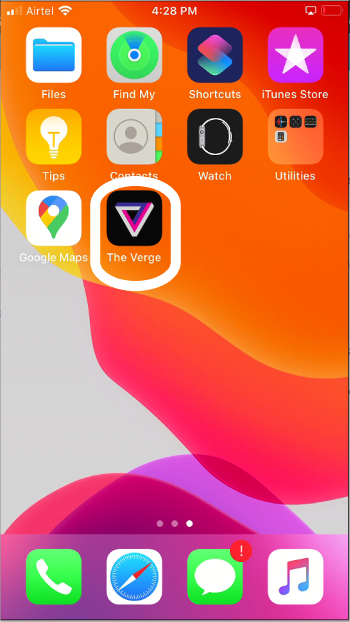 Custom Patch Enhancements
As you may be aware, earlier this year Windows 7 entered Extended Support Mode. There is a great article by Darrin VendenBos on how you can leverage ZENworks and custom Patch functionality to continue securing your devices. To further improve the admin experience, in ZENworks 2020 Update 1, we have made 3 changes to our custom patching process :
Enhanced the criteria that can be used to determine if a device has a patch installed; previously, the only criteria was if the patch bundle was installed by ZENworks.
It is now possible to provide more details for a custom patch, including the patch release date, the patch size, and the CVEs remediated by the patch.
Support for iOS 13 & More A new version of iOS is released every year, which brings new challenges to device management capabilities. In ZENworks, we try our best to keep up to date with these features. Due to different iOS 13 and ZENworks 2020 release timeline, we couldn't include iOS 13 changes in ZENworks 2020. However, we are bringing these changes in ZENworks 2020 Update 1. Here are key changes which you may want to look out for:
iPadOS - last year Apple bifurcated its iOS platform into iOS and iPadOS. ZENworks 2020 Update 1 now supports iPadOS as a separate OS. However, this support is not turned on by default and needs to be turned on by using a ZMAN command. This helps ensure that customers using dynamic device groups have time to re-configure their bundle and policy assignments.

ZMAN command to enable iPadOS

New Restrictions – every year, Apple introduces additional restrictions which can be enforced on the device. This year, these new restrictions are mainly around Find My & Files App. In ZENworks, these restrictions can be enforced on devices by making use of Device Control Policy. We have also taken this opportunity to move some of the settings to their own tab for easier categorisation.

New Categories and additional restrictions in Device Control Policy

New DEP Settings – new DEP settings are available to allow skipping of Setup Panes. This includes SIM Setup, 'Device To Device Migration' etc. More importantly, with iOS/iPadOS 13 some DEP settings have been deprecated and will no longer be honoured by iOS/iPadOS 13 devices. For example, all DEP iOS/iPadOS 13 devices will be marked as Supervised, irrespective of the DEP setting in the console.

All DEP devices are now marked as Supervised by default
New Remote Management Viewer
Remote management is one of the most used features within ZENworks. In ZENworks, we use TightVNC as a base upon which we have added ZENworks specific features like enhanced security, multiple means of authentications etc.
Although, we did an upgrade of the TightVNC server (which is present in the ZENworks agent) quite some time back, the Remote management viewer was still using an older version of TightVNC. This was potentially leading to many customers seeing performance issues especially over slower connections.
Thus, in ZENworks 2020, we embarked upon an exercise to update the TightVNC viewer to a more current release. However, midway through the work, we found that due to complexity of work involved, we wouldn't be able to meet ZENworks 2020 timeline. Thus, in ZENworks 2020, we decided to release an experimental new viewer which had some, but not all, features while keeping the older viewer as the default one. Fast forward 6 months and we have all the ZENworks remote management features available in new viewer. Therefore in ZENworks 2020 Update 1, we are releasing the new viewer as the default one, while maintaining an option to switch to the older viewer.
In our testing of the new remote management viewer, we have seen 2-3 times performance improvement as compared to the older viewer. This performance improvement is across both low and high bandwidth connections. The new viewer also has plenty of defect fixes.
Summary
To summarise, ZENworks 2020 Update 1 has more than 20 enhancements along with defect fixes spread across the ZENworks Suite. I'm really sure that with such an expansive feature set, every ZENworks administrator will find something to cheer about.