The iPrint 3 appliance was released in March of this year and brings in much needed features with which our customers are looking to enhance their productivity. One of the most important features is support for external devices which enable job release with an ID Card. Another key feature is to enable any user be it roaming, guest or an internal user to print without a client. This means that users can print from Linux devices.  The new print portal brings in lots of fine-tuning and controls aimed not just at administrators but also end-users.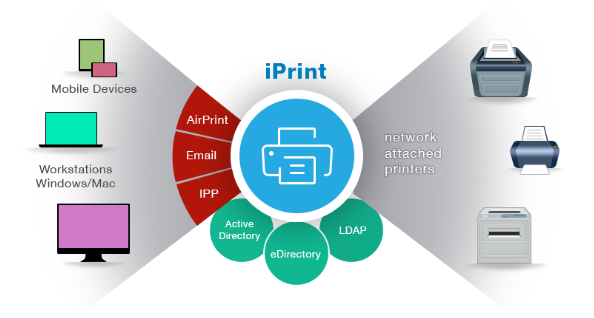 iPrint for OES
Then in May this year, iPrint for OES was released and we are pretty excited with this release, which brings the functionality of the appliance to native OES.  Released for OES 2015 SP1, this marks a new distribution for OES customers who wish to deploy the new iPrint features in their OES deployments. With this release customers get a subset of features from the iPrint Appliance.
The feature set will match that of the Appliance through subsequent updates on the update channel, which we will cover this in more detail in a future issue of Open Horizons Magazine.
Before we proceed further, a bit of a primer on iPrint.
Organisations want to reduce the complexity of managing printers by IT and allow end users to easily locate and install printers.  That's where Micro Focus iPrint comes in. iPrint offers a single, scalable solution for managing all of your printing across multiple office locations from any device.
It lets the users print quickly, easily, and more securely. It integrates with your existing corporate printers, regardless of the printing vendor or brand allowing you to deliver self-service printer provisioning to your device users.
As an AirPrint certified server, iPrint even works with your current users in Microsoft Active Directory or eDirectory.
iPrint offers several ways to print…
Clients

Desktop clients
App based printing

Clientless

Browser Based
Email based
and several ways to release the job
Browser based authentication
App based authenticated release
ID Card based job release
Email based hold and release
Let's have a look at some of the features which iPrint now offers.
Printing using Identity Cards
With the introduction of printers incorporating card access for job release capabilities, organisations with existing printers, multi-function or otherwise, without this feature were handicapped from using a card based release mechanism. This has led to the creation of devices in the market that has  enabled this feature for existing printers.
One such device is Ethernet 241 from RFIdeas Inc. that allows you to use your existing card infrastructure with the printing ecosystem. You can find more details on this at  www.rfideas.com/products/converters/ethernet-241.
This release of iPrint supports such devices, one being Ethernet-241 and a second one is the ATC iPrint Reader from Apulse Technical Communications. This device enables any printer to release jobs using the existing card systems of organisations.  Some of the models of the ATC iPrint Reader are as follows:
Keypad only model
Keypad + Mifare Reader model (iPrint Support coming soon)
Keypad + Proximity Reader model (iPrint Support coming soon)
Please reach out to me for more details on these devices.
This provides convenience and simplicity for the end user:  an identity card is all that is needed for establishing identity and releasing a job.
QuickPrint (Web Printing)
Installing a client for printing may not be suitable for organisations with many guests requiring print capabilities. Managing a print client is sometimes challenging for organisations resource-wise so QuickPrint, a web based printing solution, has been introduced with this release.  This means you no longer require clients or driver installation to print something.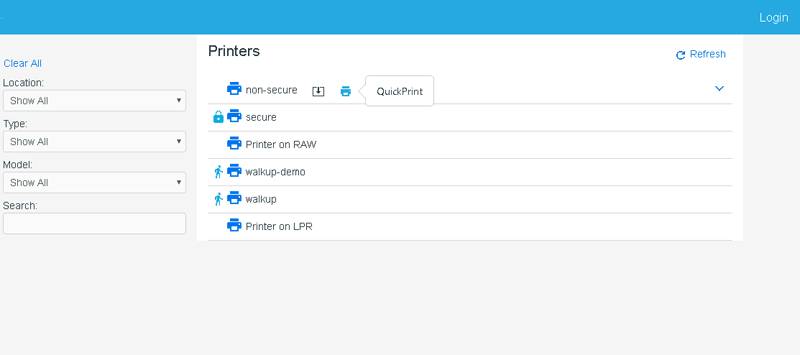 Some of the advantages of QuickPrint are:
Normal, Secure, WalkUp, Direct – printers supported
ACL controlled and audit supported
Driver-less printing
Printer capabilities are fetched dynamically
Users can print from any platform which has a web browser
Users will need to login to iPrint Portal to submit jobs to secure and WalkUp printers
WalkUp job release through iPrint Release Portal or mobile apps
The administrator can enable/disable the feature from the Management console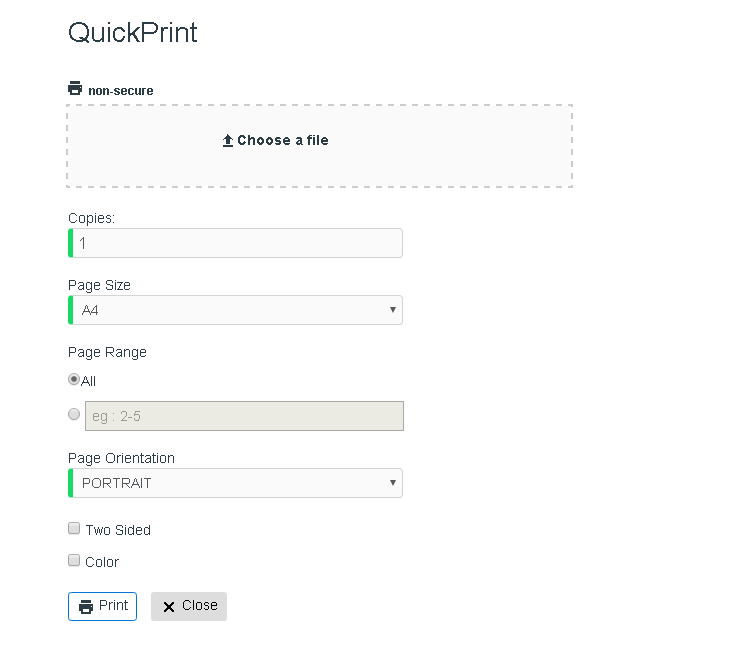 iPrint Portal
For a long time the iPrint Installation page pictured below has been the de-facto interface for end-users to access printers and install them.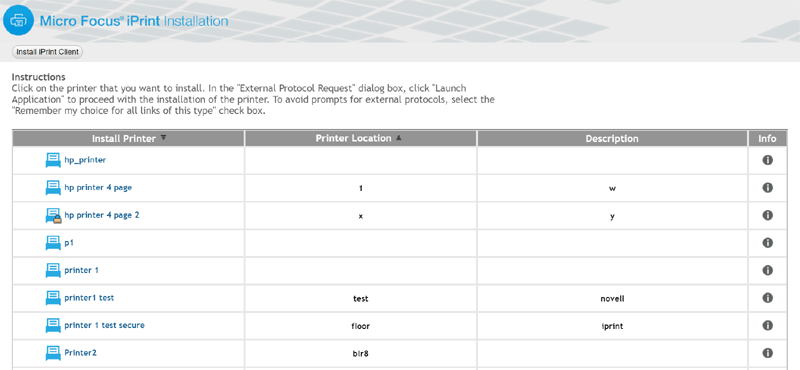 Over the years, several new requirements such as printers' availability/visibility, control has become a standard requirement for organisations, which was not addressed by our existing IPP page. Some of the challenges faced previously are:
Difficult to locate printer in a long list of printers
Administrator cannot show a subset of printers such as those printers applicable only to users in a particular location/office
Users are able to see all printers despite not having access
Search for a printer based on location, type, make and description
With this release, we have a new printer portal which brings in a new set of controls which can be fine-tuned to suit an organisation's requirements.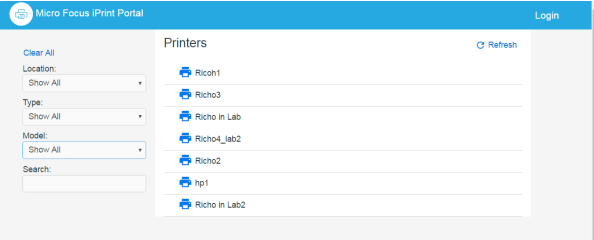 Some of the advantages of the new portal are listed below:
Find a printer easily.  Users can filter printers based on different criteria like – location, printer type, model or do a free text search on the name, location and description
View printer with ACLs.  Users can login to the portal to view only the printers to which they have access
Show subset of printers - the administrator can share a pre-filtered set of printers based on locations and requirements
Public visibility control.  The administrator can control the visibility of printers based on access restrictions
Quick print access control.  Quick print options even if visible would not be available for access restricted users
Differentiate printers easily. Users can easily differentiate the printers like secured versus normal, direct, direct secure and WalkUp printers by icons
Share and bookmark Printers.  By creating a search filter, admin can share the URL of the subset printer list so that users can bookmark and use
Supports Chromebook extension. This page also works for Chromebooks.
To access the iPrint Portal in the new iPrint release, just specify:  https://<iprintappliance_IP or hostname>/print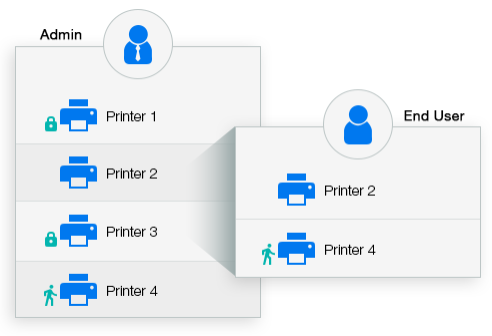 Revamped LDAP Import feature
Furthermore a new and intuitive Directory Servers page has been created for managing user/LDAP import. There are lots of bugs fixed from our earlier version.
Some of the new options added are as below:
Option to provide 'alias' name for LDAP sources has been added.
Option to view the last manual synchronisation results
Distinguishing between eDirectory, AD or Other LDAP sources using different icons
Selective deletion of LDAP sources
Supports RFID attribute configuration
Improved error handling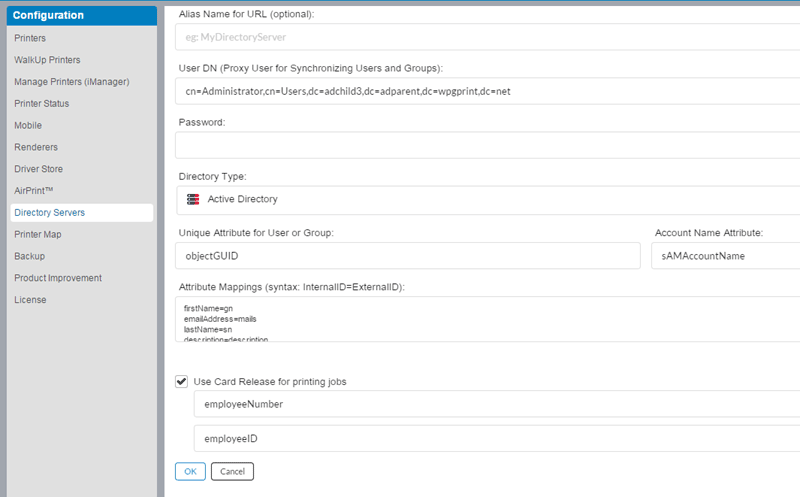 Channel Updates
One of the most awaited features which really helps our customers is an update channel.  This brings relief to administrators who had to patch all of the Appliances using manual methods. Registration to the channel is simple and is very similar to the Open Enterprise Server registration process.  Some of the features that the Update Channel provides are:
All updates are through a registered and dedicated iPrint Channel
Includes all necessary patches with a single activation key
Scheduled or Manual modes of update
Notifies when a new patch is available
View all installed patches
View registration status
Alert to reboot the appliance post patch installation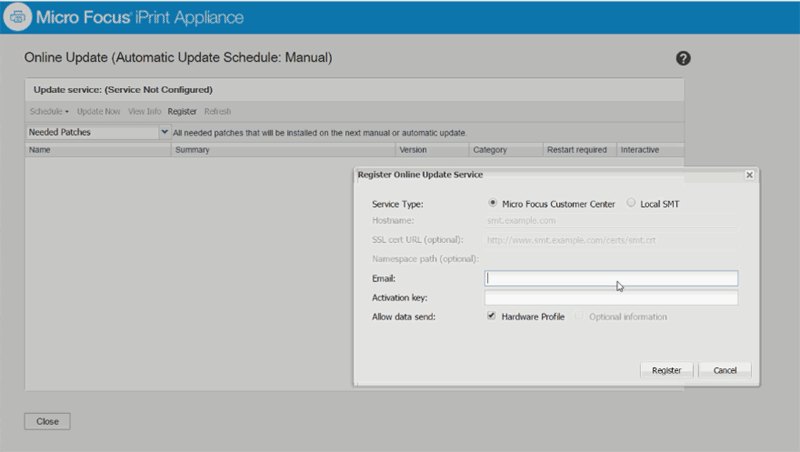 Printing from Chromebook
iPrint now provides secure enterprise print services for Chromebook users. The extension is available in the Chrome Web Store for download. The extension works with iPrint Appliance 2.1 or later.
The highlights of the extension are:
Prints documents to any iPrint-enabled printers, anywhere and anytime
Supports on-premises deployment. Data never travels through the cloud
You no longer need any cloud service for printing
WalkUp Printing
Walk-up printing is now available with:
Flexibility to print to any printer:  Allows users to print documents to any printer. Even if a printer is unavailable, users can walk to another printer and collect the printout.
Simplified User Printing:  Users no longer need to install multiple printers. Installing a single WalkUp printer will allow the users to release documents to multiple printers.
Saves Paper: Users often print and forget to collect their documents from the printer. WalkUp printing prevents such accidental and unwanted prints by putting the job on hold and also automatically deletes any dormant jobs. The users can now print or cancel the hold job at their own convenience.
Enhanced Security:  Users have to authenticate and only then are the documents released. This ensures confidentiality of the document is maintained and only the owner collects the document.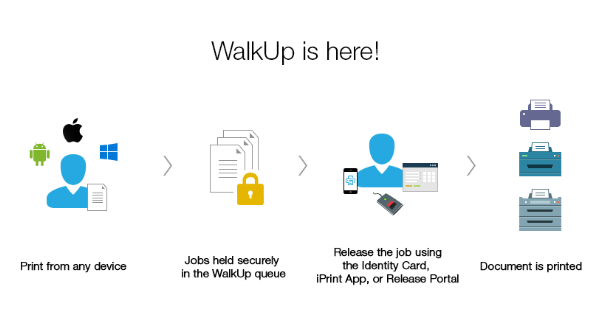 Email Printing
Any email-enabled device can print to any Micro Focus iPrint printer by sending the print job in the body of the email or as an attachment. Administrators can set up a single email address for the organisation's printing, or one for each printer.
Printing from Mobile Apps
Micro Focus iPrint provides secure enterprise print services for your iPhone/iPad and Android users with a simplified and intuitive GUI.  The new enhancements are:
Track and print WalkUp jobs when you are near the printer
Supports printing using the iPrint app extension (iOS)
Share document from any application and print using the iPrint app
Print from any application that supports native Android printing.

Apple® AirPrint™ Certified
With Apple Airprint support you can print from any Mac or iOS device without installing additional software to Apple certified AirPrint printers. For more details refer to https://support.apple.com/en-us/HT201311
Support for Mobile Device Management
iPrint mobile apps now support Mobile Device Management (MDM) solutions with your own device.
The iPrint Android app can be managed with MobileIron and ZMM and the iPrint iOS app can also be managed with MobileIron.
One of the other features which is also unique to iPrint is Maps which is an end-user self-serviced printing support tool for third party accounting products.
So What's Next!
As we move ahead with multiple releases to support our customers, the team is working hard to bring new features and support for newer OS's and technologies into iPrint. Some of the things we are working are:
Multifactor authentication
Badge printing support on MFPs
Windows Mobile print
Encryption capabilities
Active Directory administration rights delegation
NFC Tap to print
…and many more!
To know more about iPrint, please visit the iPrint Home page at microfocus.com/products/iprint. There you will find more details and useful resources to get your print solution up and running.  If you have any further questions then please feel free to reach out to me at Punya.Mall@microfocus.com.
This article was first published in OHM Issue 37 (2017/2), p5-9.