In the past few months we have seen the release of ZENworks 2017 Update 1. It has been great to see the feedback from customers about this release, but as always I have had some questions.
Q:  I used to have ZCM and ZAM but now only have ZAM.  If I upgrade to ZENworks 2017 will it still requires me to enter a ZAM license key.
A: Indeed, ZENworks 2017 will require license keys to be entered for all components that were active on ZENworks 11.4.  If any of the products have been dropped, you will need to de-activate these prior to the upgrade.
A similar problem shows up for some customers with the ZENworks Suite. Some Suite customers have entered the individual licenses for ZCM and one or more add-on products.  In their Customer Center they will only find a key for the ZENworks 2017 Suite and not the individual products.
Before the upgrade to ZENworks 2017 enter the 11.4 Suite license in your existing environment to replace the individual license key's so that during the upgrade it will just ask to enter the ZENworks 2017 Suite license key.
Q:  I'm using Full Disk Encryption and I have heard that if I want to upgrade FDE the device will need to be unencrypted and then encrypted again? This will make the upgrade a difficult process.
A:  This is correct, in that...
With ZENworks 2017 Update 1 we indeed made some significant changes to the FDE component, and with these changes we updated the Linux kernel. FDE uses a tiny partition that has a small Linux environment and with the changes that were made with ZENworks 2017 Update 1 the FDE code doesn't fit on the small partition any more. As changing the partition size doesn't work with an encrypted disk the only option to increase the partition size is to unencrypt and re-encrypt.
But..
Devices that were previously encrypted can just continue to use the existing FDE code from ZENworks 2017.  New devices will automatically use the new FDE code. The changes in the ZENworks 2017 Update 1 code are mainly related to the support of new devices so for existing devices there is no need to upgrade.
At some point the support for the old FDE code will obviously get dropped, but by that time a large proportion of the devices will have probably been replaced or re-imaged and encrypted with the new code.
Q: I have installed the Reporting Server and use the internal web-certificate. Now I can't get Jasper Studio connected.
A: In the last year we have seen more people use the reporting server, and obviously this results in some questions from customers. In this case I can just refer to an old Q&A that I wrote a couple of years ago. Have a look at the Q&A from OH Magazine Issue 30 on www.ohmag.net  (fig.1)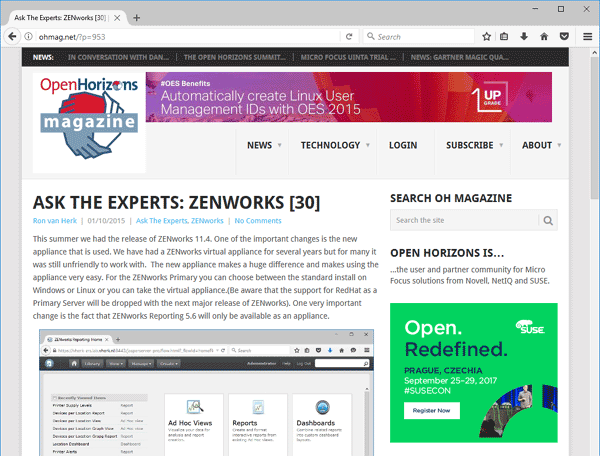 Q: Where can I learn more about using the reporting server?
A: Jason Blackett created a series of videos that he posted on youtube. Just go to https://www.youtube.com/ and search for ZENworks Reporting.
This article was first published in OHM Issue 38 (2017/3), p38.