Software Asset Management (SAM) is a business practice which deals with the lifecycle of a software deployment on various IT systems in an organisation's network. A typical SAM practice is comprised of activities such as software procurement, contract management, software asset identification, compliance checks, software usage policy creation and enforcement, financial management, software redeployment, cost control, application usage tracking, disaster management/recovery, and vendor management.
A strong SAM program in an organisation helps to improve software license compliance, provide accurate data during software audits, reduce IT spending by identifying unused software, and redeploy assets.
ZENworks Asset Management
ZENworks Asset Management (ZAM) provides you with tools and practices necessary for a SAM practice in an organisation. From recording hardware and software into an inventory, to managing and allocating licenses based on departments, cost centres and sites; from managing purchase records to managing software contracts;  and from tracking application usage to providing various asset reports, ZENworks Asset Management covers the length and breadth of the SAM practice.
Asset Management in ZENworks 2017
ZENworks Asset Management has evolved over the years, with the newest release, ZENworks 2017, scheduled to be available later this year. This release is a significant milestone for ZENworks Asset Management as it brings in significant futuristic technologies in software and hardware detection, simplifies the software license management workflows, and offers easy ways to view compliance data thus paving the way for next generation dashboards.
What's new in ZENworks 2017?
Windows Inventory Collector (ZENcollector)
If you have been following the Cool Solutions blogs, you may recall that a couple of months back, the ZENworks Inventory/Asset Management team started to revamp the existing Windows Inventory Collector (both hardware and software) to a more current software technology and flexible architecture. This significant change was necessary to support the latest hardware and software on the market today and to support newer detection technologies. The more flexible architecture ensures that we can easily support future devices, software, and technologies.
This updated and revamped Inventory Collector, also referred to as the ZENcollector, is now able to detect and report better hardware details on a physical device – for example, detecting offline LAN/WAN adaptors or multiple displays -- and to provide more accurate reporting of software applications and software suites installed on a Windows device – for example, supporting Unicode characters in software packages.
It is available in all three modes of operation; Managed, Inventory Only, or Portable Collector. There are plenty of optimisations to the way Inventory scan runs, including memory and CPU optimisations; no more high utilisation while inventory scanning is happening.
License Compliance Dashboard
To effectively manage the software licenses and view compliance for the software products installed in an organisation, you need access to such information from a SAM tool. To provide this information, ZENworks 2017 introduces a new License Compliance Dashboard (Fig 1) in the Asset Management module. This dashboard gives a quick overview of total licensed software products that are compliant, under licensed, or over licensed. It also lists the top licensed products along with their deficit, surplus, and balanced license counts.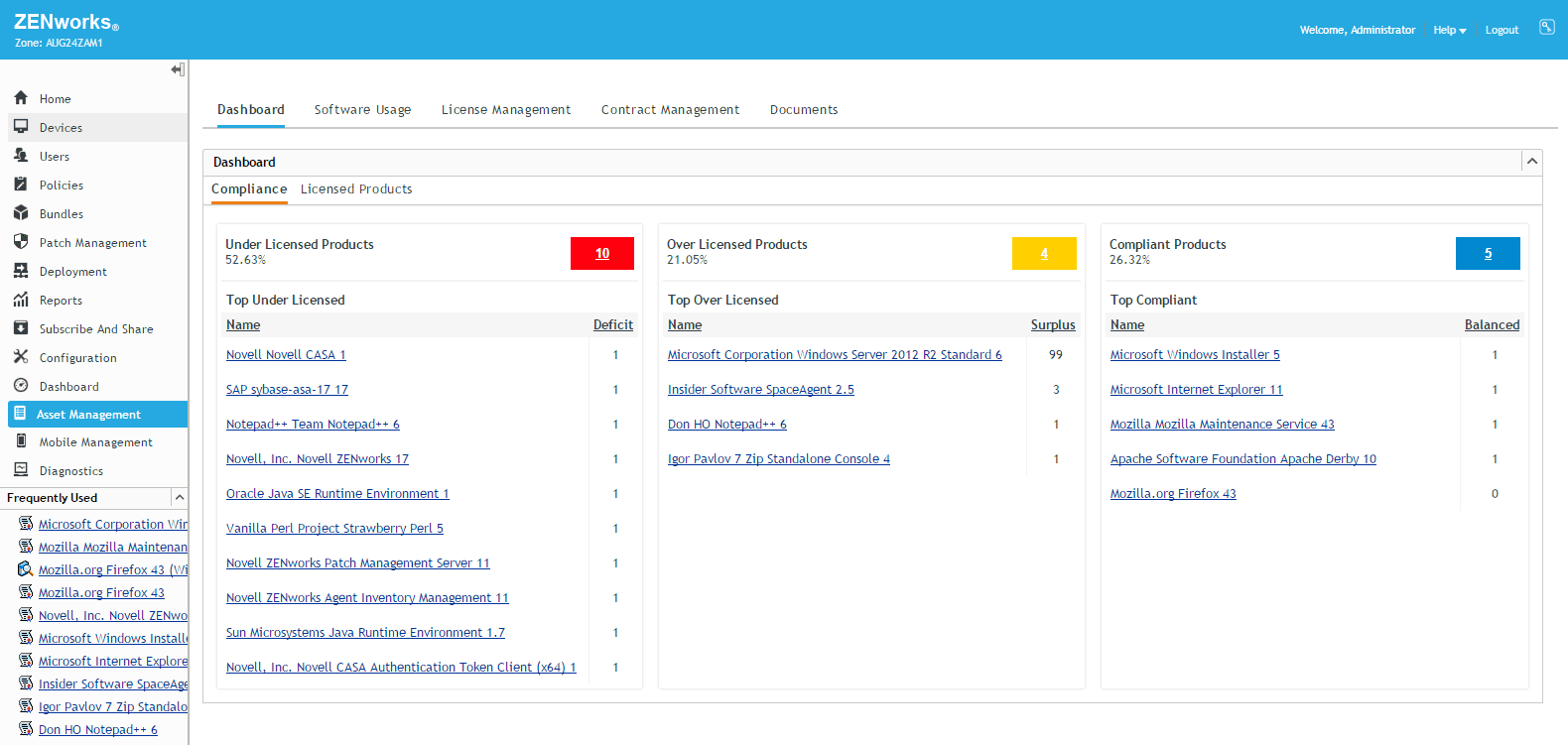 You can use this information to quickly make decisions—such as procuring new software licenses, re-allocating licenses instead of buying new ones, or retiring unused software—that help avoid non-compliance fees and fines.
From this dashboard, you can drill down either to view the detailed license consumption of a selected licensed product or to list all the compliant, over licensed, or under licensed products.
The Licensed Products view (Figure 2) of this dashboard also lists information about the associated entitlements, discovered products and catalogue products for a particular licensed product along with the total number of licenses available and the consumed licenses quantity. This view helps you easily see all of the details for a license product in one place and drill down to the individual details of each association.
This new ZAM Dashboard in ZENworks 2017 is the foundation for many more feature rich dashboards and interesting statistics planned in upcoming releases.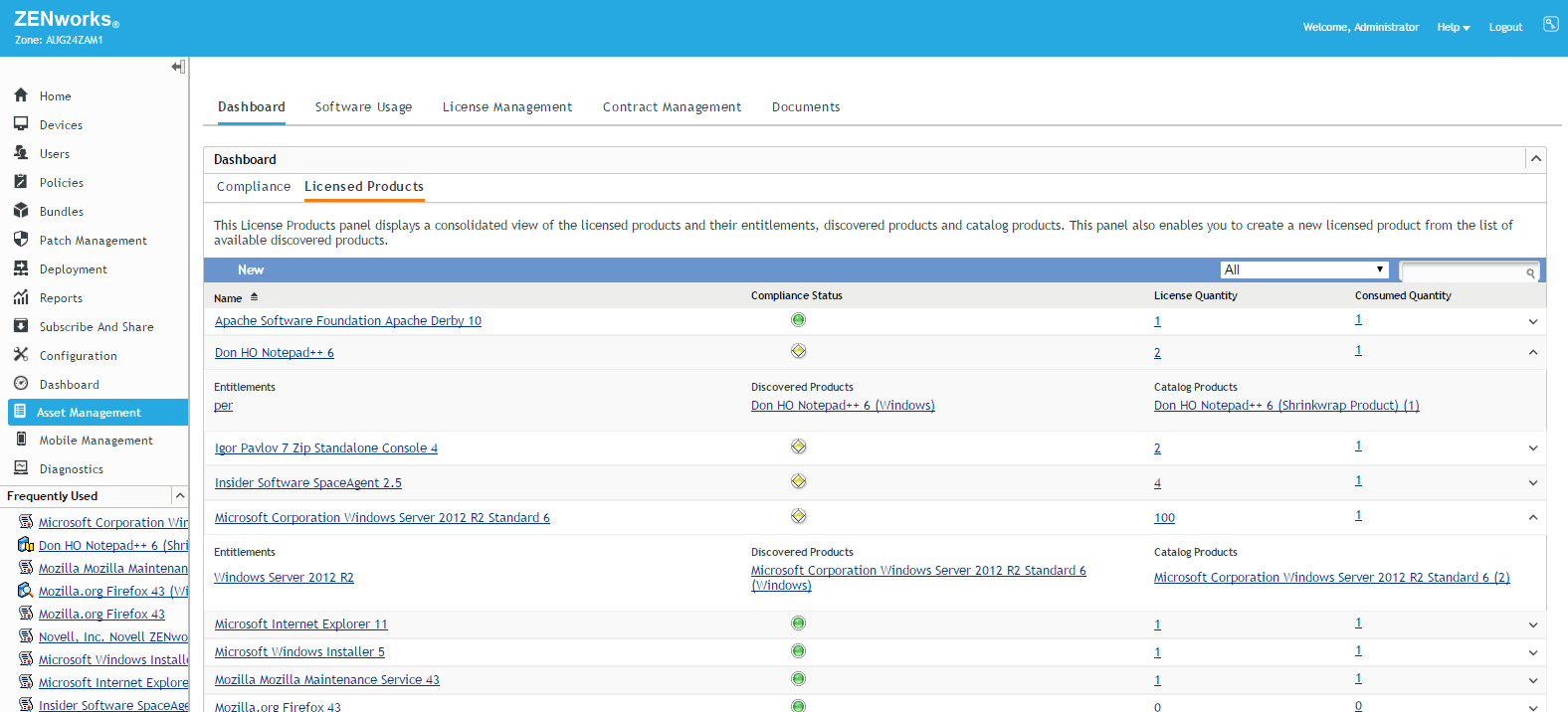 License Product Wizard
In the past, we have received feedback on the complexity involved in managing a licensed product and its associated entitlements, purchase records, catalog products, and so forth. ZENworks 2017 simplifies this workflow with a new License Product Wizard (Figure 3) that can be accessed from the new dashboard.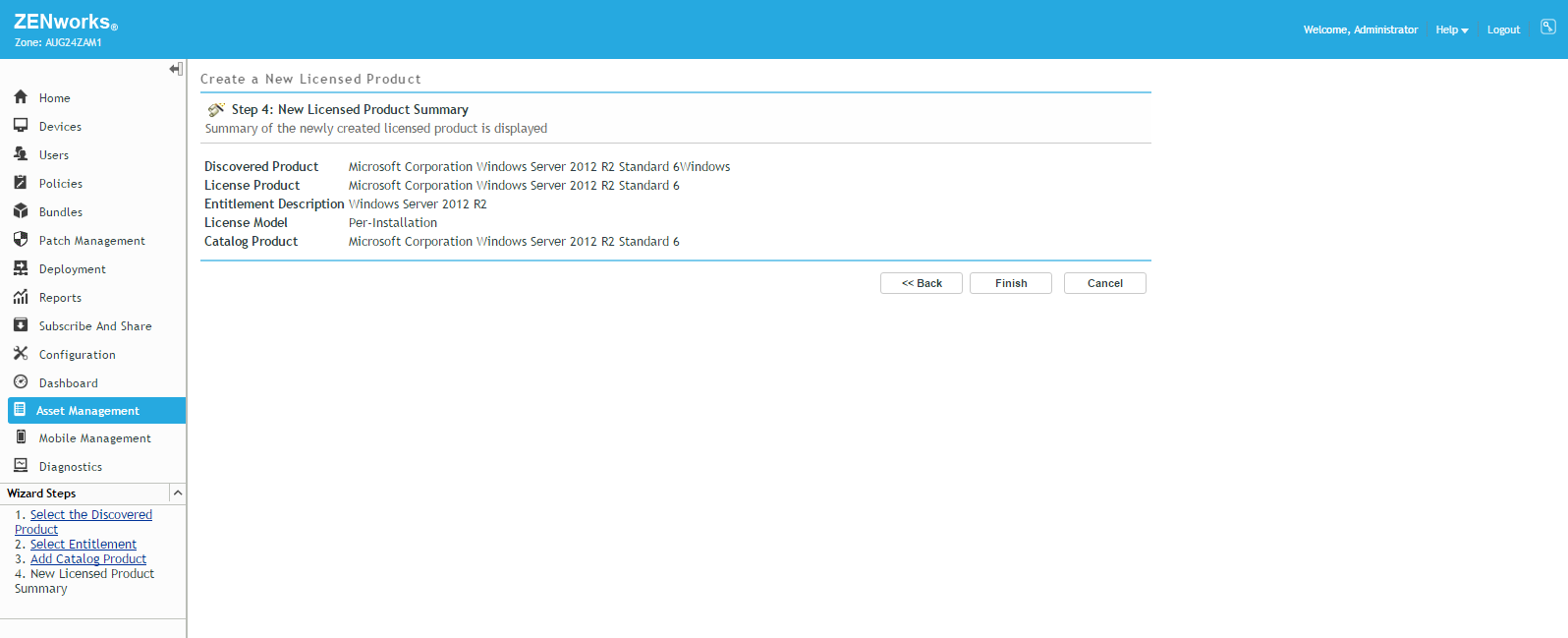 In few simple steps, this wizard lets you create a licensed product by choosing a discovered Inventory product, assigning a license model entitlement, creating a new catalog product or mapping to an existing one, and entering details of purchased license quantity to create a purchase record.
After completion of this wizard, the license product is listed in the ZAM Dashboard, compliances are refreshed, and you can view the compliance status of the newly created licensed product.
Web App Usage Tracking
Similar to installed application usage tracking, Web App usage tracking gives insights into the number of users using a particular Web App, such as how many times it was started, the number of active and inactive hours it was used, the total number of hours it was open in the web browser, and so forth.
This information helps you decide if more licenses need to be purchased or if licenses can be relinquished based on the demand for a particular Web App. It also helps to decide if a sparingly used Web App can be retired.
ZENworks 2017 adds support to track Web App usage on all popular web browsers like Chrome, Firefox, Internet Explorer, and Microsoft Edge, thus enabling you to make better informed decisions based on usage from all browsers.
Per Machine Multi-version License Model
There are software products, such as Microsoft Office, where both old versions and new versions of the same product can co-exist on the same machine and be covered by a single license from the company.
ZENworks 2017 adds support for this situation through a new type of license entitlement model called Per Machine Multi-version. In this license model, if there are multiple discovered products, say older and newer versions added under coverage, only one license is consumed even if both versions are present on the same machine.
Dynamic groups and folders for Per-Machine Entitlements
In an organisation, there could be some software that is allocated to a specific group of devices or machines. In ZENworks, these devices can be grouped into dynamic or static groups or as folders. In ZENworks 2017, you can cover these device groups or folders with the Per-Machine entitlement.
With this type of assignment, when ZENworks identifies that the selected software is installed on a device that is part of the group or folder, it automatically calculates license consumption and compliance assuming that the device is covered by the per-machine  entitlement.
Quick task for full Inventory Scan
This feature was requested by customers through our Ideas Portal. Even though ZENworks has a quick task to perform an Inventory Scan to get updated scan results from a device, at times administrators need to do a clean/full inventory scan on a device. In current ZENworks versions, this requires the administrator either to be at the device and run a utility command or to distribute a bundle to run this utility command.
With this new quick task for full inventory scan, administrators can now do this job from the ZENworks 2017 console itself. The scanned inventory data is rolled up to the server in the scheduled upload interval set by the administrator. This quick task works even with older versions of the ZENworks (11.4.x) agent running on Windows, Linux, and Mac devices.
Contribute to improving ZAM
We are always open to customer ideas and suggestions to improve ZENworks Asset Management.  Many customer ideas are going to be part of ZENworks 2017 and many more are planned for update releases.
The Micro Focus Ideas Portal (https://ideas.microfocus.com/mfi/novell-zam) lets you post your ideas and also allows you vote for an existing idea so that it catches our attention.
The latest news on ZAM
Visit Cool Solutions (https://www.novell.com/communities/coolsolutions/category/zenworks) to stay updated with the latest ZENworks Asset Management news and solutions. You can also subscribe to the posts to get updates via email or RSS feeds.
Summary
With these significant improvements coming up in ZENworks 2017 Asset Management, managing and complying with your organisation's SAM practice becomes simpler and easier. With more improvements already planned for update releases beyond 2017, ZENworks Asset Management is poised to be the Software Asset Manager's best friend.
This article was first published in OHM35, 2016/4, p13-15