The reality is that social media and collaboration apps, have changed not only the personal communication landscape, but also the way business is executed. (for the purposes of this article, social media and collaboration apps will be referred to as "Social Media"). Business has dramatically accelerated to the point that customer interactions and touch points have become near real time, with anticipated responses in minutes vs. hours or days. This is certainly a double-edged sword, providing the ability for businesses to reach more customers, while providing increased opportunities for some form of mis-interpreted communication to impact the corporate brand.
Social media platforms provide companies more opportunities to have real time interactions with their clients. Customer service teams can review and respond, providing feedback to a "waiting" customer, allowing the customer to feel important and appreciated.
The dynamic interaction social contact provides can, in most cases, improve customer loyalty simply by the customers' questions being answered/addressed when it is foremost in their thinking. This sense of customer entitlement can lead to positive feedback in real time, and positive experiences can be shared widely, bolstering the corporate image and brand.
Sales teams can leverage the reach and breadth of the social media channels, no longer being limited to contact applications to have broad reach, thus reducing the overall cost of doing business. This is true for existing or new customers, connecting in a manner that is becoming second nature to the private and corporate work force, thus customers lowering their guards with regard to sales interactions.
Social media problems
Like most business communication mediums, social media issues generally fall into one of two categories: employee use and compliance. While each of these presents its own challenges, they both have the potential to increase an organisation's litigation risk.
Employee use
Data leakage: While most clients still use email, more and more communication is being done through social media. This can be a good thing because account managers and customer service representatives can accommodate the clients' preferred method of communication.
However, this creates the possibility of data leakage. Using social media to share sensitive or confidential information removes it from the organisation's direct control. It may be more widely disseminated, and organisations don't have the virtual paper trail necessary to track how data spreads once it's shared on social media.
Off-brand messaging: Corporate social media accounts often give multiple employees access to post, but unfortunately do not have the tools to track who is responsible for each one. Just about everyone — from soap makers to senators — has a horror story about accidentally sharing an inappropriate photo, video or link.
Some social media managers even publicly lash out at client feedback, harming the whole organisation's public perception. Since social media so often acts as a public relations tool, even the smallest mistakes coming from a corporate account can be damaging.
Ensuring Compliance
While employee use poses the most immediate risk in corporate social media use, data may also go out of compliance. If an organisation is required to maintain data, email chains and memos, how does that impact social media? While the circumstances vary, social media use will likely increase an organisation's litigation risk.
Business Retention Policies: Businesses have the hard job of deciding what they need to clear out of storage and what must stay for legal or other reasons. Data purge schedules are difficult enough to maintain, and legal holds for litigation or regulatory issues muddy the waters. Adding external platforms, like social media and chat apps, to the mix complicates retention management even further.
With so much additional material to sort through, managers must figure out a way to determine what should be archived and what should not. The easy route of keeping everything only increases risks and overall storage costs.
Policy checks: Social media is intended to be a fun and personal way to share, so it is important to establish and enforce policies to ensure employees are able to share things in their own way while keeping the integrity of the company.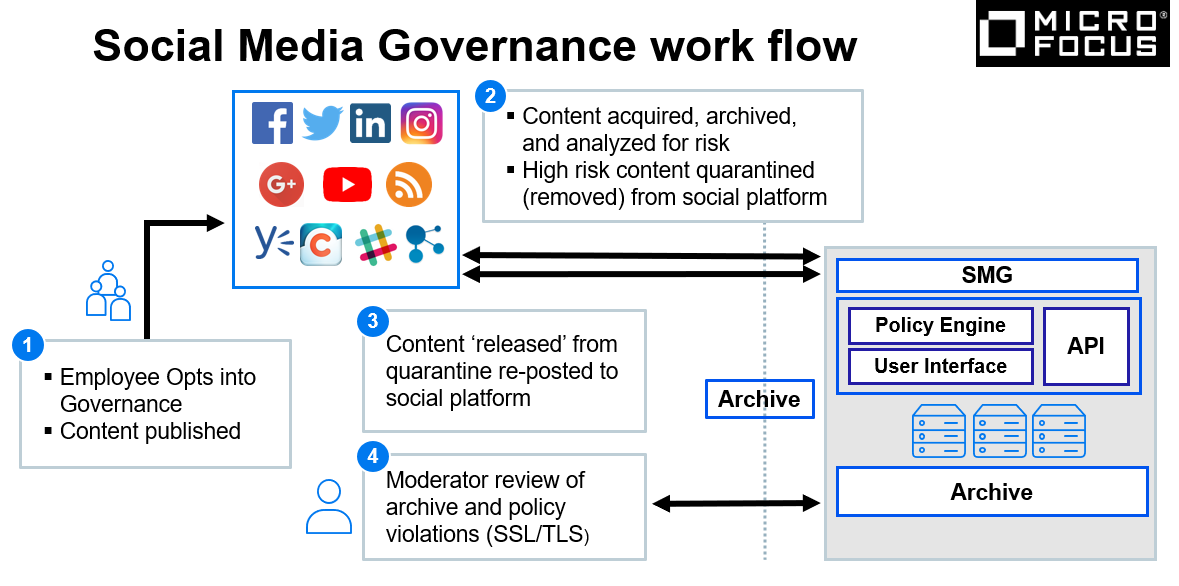 Sharing inside information: Employee use and compliance issues may converge on each other. Sharing trade secrets or inside information is a serious breach of trust — and usually a crime. organisations can often monitor these actions if they are done by company email or on company devices, but it's difficult to track inappropriate communications sent by private social media message.
Hacking prevention: Blackhat actors sometimes hack corporate and executive social media to embarrass organisations or simply to show that they can. organisations can take a number of steps — such as multifactor authentication — to reduce the likelihood of a hack. But a single solution should be able to provide multiple lines of defence against these sorts of attacks. Every organisation with employees and clients on social media that is, every organisation should take these issues seriously.
Fortunately, a single solution can substantially improve matters on both fronts. Archiving can keep employees honest about their social media use and ensure everyone remains in compliance to reduce litigation risk.
Why Social Media Archiving?
Social media archiving captures history in its original context, allowing you to see message threads, view photos, and watch videos as they originally appeared. In other words, social media archiving works almost exactly like email archiving, but it is applied to a wider variety of platforms. It adapts as your employees and clients continually change the tools they use to communicate.
Archiving social media posts improves an organisation's information management. When social media is archived, along with email, structured data and other internal information, all data can be stored in a secure, consolidated repository throughout its lifecycle. This makes life easier for IT managers, as well as legal and compliance officers.
Archiving can also provide automatic monitoring to maintain compliance. Even when they have access to social media posts, compliance staff often must use a manual, error-prone process to find relevant information. The right social media archiving solution can identify words, phrases and even images that may be relevant to regulatory requirements and bring it to the attention of staff.
Social media archiving enables searchable eDiscovery not only for email but for all posts, messages, pictures and videos. If an organisation finds itself in litigation, eDiscovery of Facebook, Twitter, YouTube and other platforms makes it easier and faster to find the best information that can help (or hurt) its case. Social media archiving serves a valuable role getting organisations the data they need when deciding whether or not to settle.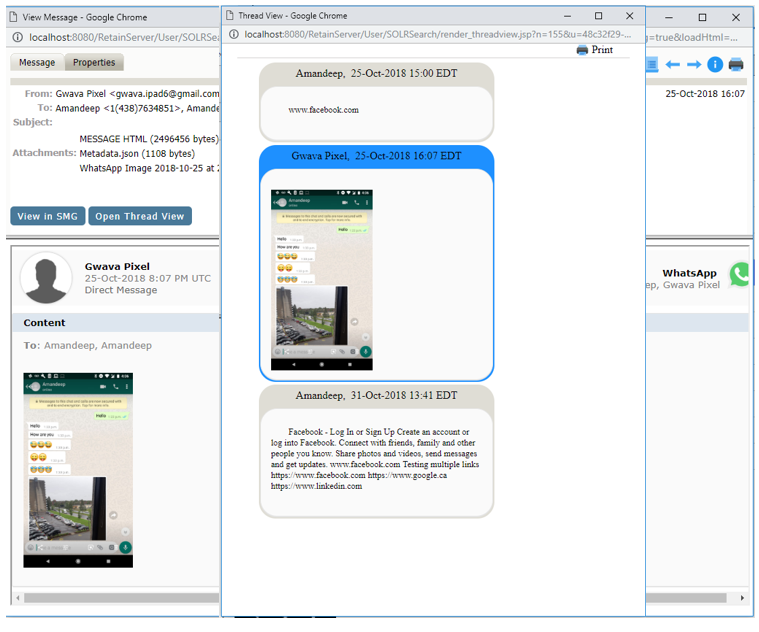 Clear Advantages of Social Media Archiving
Social media archiving enables organisations to stay on top of internal and external communications — even when they don't occur by "traditional" email. Here are a few ways how:
Keep up with the volume and variety of social media sources

Provide clear visibility and access to communications

Support compliance with regulatory mandates

Manage and enforce social media policies automatically

Protect from risk with actionable insights
Select the Right Archiving Partner
Many archiving tools do not have the ability to archive social media. If social media archiving is supported, it is not archived in a unified repository with email and mobile communication data.
Micro Focus provides archiving and governance of social media, along with email and mobile communication data in a unified archive. Micro Focus offers decades of industry- leading information archiving experience, and manages the world's largest secure private cloud. Selected by Radicati as an archiving leader, Micro Focus offers information archiving services to both regulated and unregulated businesses.
Micro Focus Social Media Governance Highlights
Archive: Maintain an archive of social media content

Analyse: Assess social media content and messages against company policies to identify potential compliance risks

Prioritise: Gain a comprehensive view across social media platforms and prioritise identified risks

Take action: Alert specific groups or individuals, and quarantine or remove content from the social media platform
Features
Data processing and formatting
Classification and tagging

Timestamps

Metadata preservation

Format or thread replication
Retention management
Immutable storage

Legal hold

Purge schedules

Role permissions and groups
Supervision and review
Workflow and alerts

Search

Policy check

Investigation management

PII

Inappropriate Language
Analytics and reporting
Dashboards

Report templates

Export options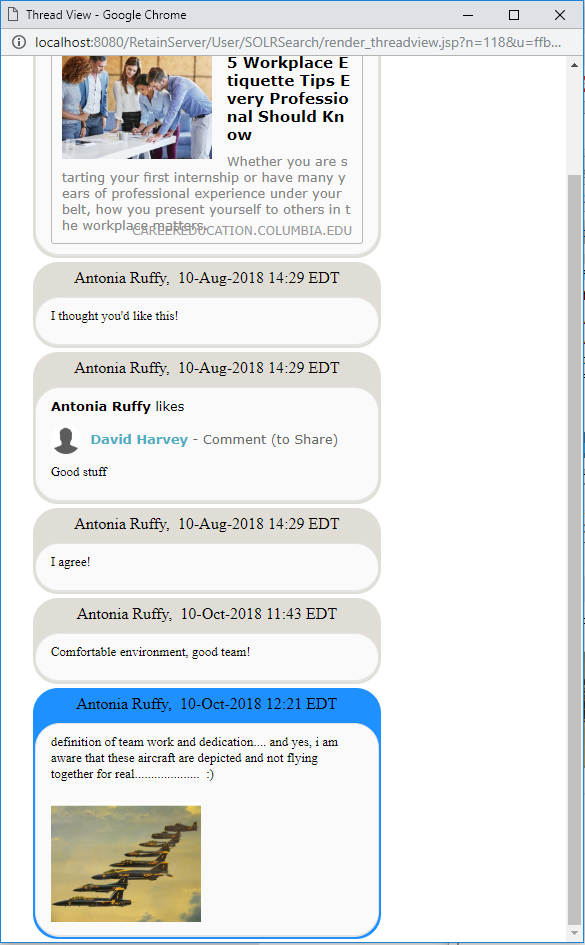 Social Media Governance
Social Media Governance addresses the need to archive social media content compliantly with added security. The solution connects to a wide range of social media platforms including WhatsApp, Twitter, LinkedIn, Facebook, Slack, Skype and many others. Social media content including comments and posts, attachments, and linked web pages are captured and archived within Micro Focus' Archiving Platforms.
Captured social media information undergoes compliance analysis with a variety of out-of-the-box policies that focus on inappropriate conduct, PII, and regulatory policies from FINRA, FCA, IIROC, and other regulatory agencies.
Within each identified policy, risk can be prioritised according to risk thresholds, and can be automatically triggered based upon policy configurations.
Micro Focus Social Media Governance comes with pre-built policies and rules that customers can leverage as well as the ability customise policies to meet their business requirements. Email alerts can be sent to specific groups or individuals and posts can optionally be taken down from the social network.
A compliance dashboard provides a comprehensive view of all risk events that require attention or review. To guard against potential policy non-adherence, risky messages can be quarantined in real-time. This helps keep organisations safe from fines and sanctions with an audit trail to track risk remediation efforts.
The solution provides an additional level of security features to deal with malware, phishing, and spam. It can also help identify potentially fraudulent social media content that may pose a risk to your organisation or executives.
Integration Approach
The integration with external social networks such as Facebook, Twitter, Instagram, and others generally use OAuth for permissioned token acquisition and then REST APIs for integration with the social networks.
For the token acquisition, an email is sent to the account holder of page administrator. The individual clicks on a link in the email to grant access to the DS SMG application. They log in to the appropriate network and approve the access being requested on the page or social account.
Once this is complete, Micro Focus Social Media Governance is provided with a token that can be used for subsequent API calls on behalf of the social asset. The duration of this token is based on the network. When the expiration date approaches, a renewal email is sent to the individual requesting an extension of the authorisation.
Micro Focus Social Media Governance captures the content in its near native format resulting in capturing all available metadata delivered via the supported platforms API, keeping the governance and capture at the platform level, and capturing a near like for like HTML rendering of the post including images, fonts, URLs etc.
Micro Focus Social Media Governance provides complete coverage for the business user, no endpoint applications are required, permitting them to perform their tasks anywhere they can access their social platforms. The resulting posts are visible in the archive and all relevant information is captured as well as optionally traversing and capturing any URL embedded in the post as an image file to reference the actual site status at the time of capture.
The difference here is that traditional systems or generation 1 platforms captured social content via either screen scraping the posts, creating a proxy in the middle for all communications or just capturing the content from databases or API text dumps from the target platforms. This typically resulted in text content, lacking the fidelity of the message and not capturing all of the available metadata.
To conclude, Social Media Governance is a key business technology moving forward. Retain and Digital Safe are well placed to serve the requirements of the market.
This article was first published in OHM43, 2019.1, p25-28