April sunshine. The Danube in Budapest.  It must be the Open Horizons EMEA Summit!  This year's Summit was the biggest yet with 192 people registering from 23 nations around the world and it was great to welcome so many new people to this leading community event.
Keynotes
At the conference dinner on Monday evening the keynote was given by John Delk, General Manager – Product Group for Micro Focus, who is based in the USA.  He provided insights into product development within the company and a positive message to everyone, that Micro Focus is on target to achieve its objectives, set during the time of the merger with The Attachmate Group.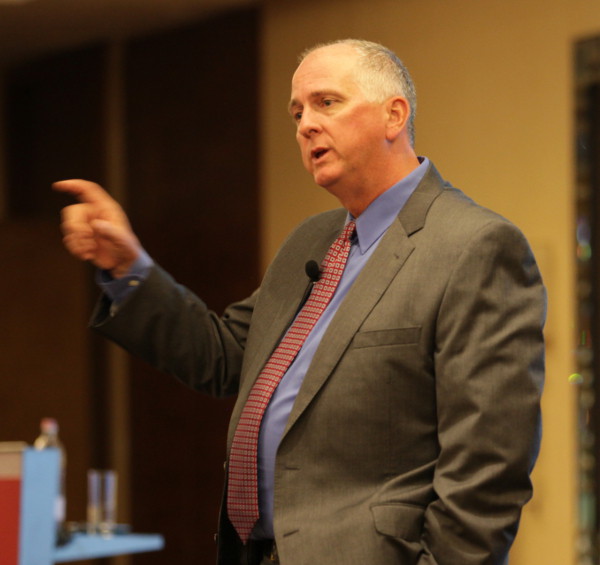 The second keynote was presented by Bo Jin of SUSE, highlighting the close link between the Open Horizons community and SUSE.
The final keynote on Wednesday lunchtime was given by David Mount,  Director for Security Solutions Consulting in Micro Focus.  He reviewed the strong line up of IAS solutions that are available to solve customer needs.
Hot-Labs
The core activity of the Summit. A record number of Hot-Labs were proposed this year and the task of organising the agenda more difficult than ever, especially after the delegate voting in February.
There continues to be demand for technical training on the well-established Micro Focus products, e.g. GroupWise and ZENworks, but there were a number of new labs for people to sign up to, including:
Filr Deployment and Best Practices
SLES12 Troubleshooting
GroupWise – Learn to love the REST apis
OES 2015 Best Practices
to name but a few.  Again we were able to provide a Linux stream throughout the Summit.
Many thanks to our intrepid hot-lab developers, trainers and leaders.
This year wait-lists were a thing of the past as we were able to accommodate everyone with the labs of their choice – as we increased the number of work-stations and class sizes.  Again the Summit infrastructure was provided and supported by Rob Bastiaanssen (assisted by Antoon Gorissen) of Mobile Classroom and the facilities just keep on improving.
Round Table
As usual the event had kicked-off with the Partner Round-Table.  Mike Bills, Jason Blackett and their colleagues hosted the Collaboration and Endpoint Management sessions respectively and there were some lively exchanges of information, feedback and requests.  This year for the first time we were delighted to welcome Ed Shropshire (pictured) the Product Line Manager for File and Networking Services who headed up the File & Print Round Table session on Sunday afternoon.
Partners
Thanks are due to our numerous partners for their support in sponsoring and/or running sessions at the Summit.
GWAVA
SEP
TDP
LinBit
BundleCommander
ENGL
GroupLink
SkyPRO
Liquit
FairCom
Nexpert
Share On Vibe
Of course many thanks to everyone from Micro Focus whose contributions so greatly enhanced the event.
This article was first published in OHM, Issue 33, 2016/2, p29