Welcome to this edition of questions and answers for Vibe and Filr.  If you wish to ask me any questions then please email them to qanda@open-horizons.net.
Q:  We have set up a number of workflows in our Vibe system which have been working well.  Now my manager wants a way to see how many items are in each work-flow state.  I had a look at the reports in the administration console but there does not appear to be one that can give this information.  Is there any way I can get this information to him?
A:  You are quite correct there is not really an option in the Administration Console to report on this. However all is not lost, there is an option to run an available report on a workspace or folder.  To access it navigate to the folder or workspace you wish to run the report on, click on the view menu then select the option for an Activity Report. (see figure 1).  You have options for a number of different reports including the one you want on the number of items in each state.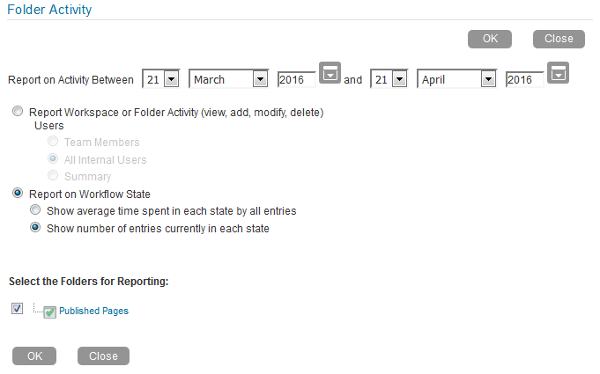 Q:  My manager is keen to be able to see, not just who has edited an entry in Vibe but also what they have edited.  Is there a way to see what fields have been changed on an entry?
A:  The Change Modification Log does give options to see what has changed on an entry.  This is available in the Reports section in the Administration Console.  You just need to specify the Folder or entry to report on (see figure 2).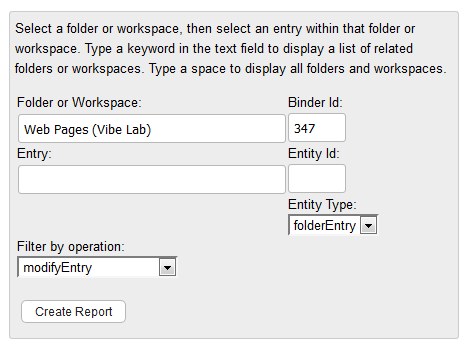 Unfortunately the results are delivered as an XML file, rather than something that is readily readable. It shows the values of each field, so to see what has changed you need to find the previous record for the same entry then compare the two.
Q:  Is it possible in Vibe to restrict the external, invited, users to only see and edit their own entries?  We do not wish to have them seeing anyone else's entries.
A:  Yes you can do this: you just need to create a role with the relevant rights to create and manage owned entries (see figure 3).  You have the option to create a new role from the Role option in the administration console.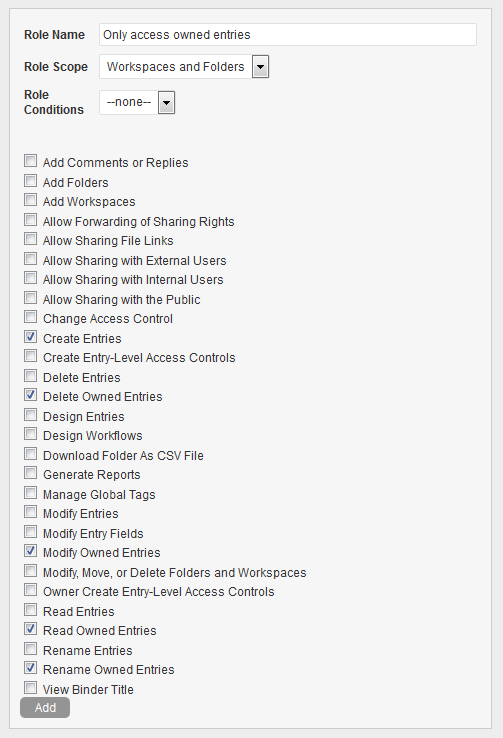 You would then need to assign those rights to the folder or workspace in the Access Control Menu (see figure 4).  There is a system group 'All external users' that you can use to give the rights to.  After making your changes don't forget to save them.

Q:  My Filr system has been having performance issues so I have increased the Filr web appliance memory, but I have not seen the performance improvement that I was expecting.  Is there anything that you can suggest?
A:   With both Filr and Vibe, increasing the memory is only half the story.  You then need to increase the Java Heap size. Typically the Java Heap size should be about half of the RAM, but with more memory is can be set to 75% of the available memory.
It is good practice to make the JVM Minimum and Maximum Heap Size values be the same. If the memory you specify is different, Java will assign the minimum, and when it needs more memory it will use up to the maximum. The process of assigning additional memory can be resource intensive and impact on performance, so I would advise that you make them the same.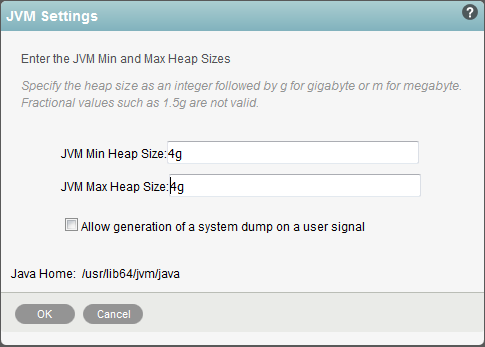 This article was first published in OHM, Issue 33, 2016/2, p33-34