by Diethmar Rimser and Sander Visser.

The most recent release of GroupWise is 2014 R2.  This is not a service pack but more an upgrade as it contains some new functionality.  This article looks at some of the features and productivity  tools that make the GroupWise client a powerful tool for business.  The emphasis is on the Windows client as this is used by the majority of users, but it is worthwhile to note first of all some significant alternative client 'wins' that arrived with the 2014 R2 release.
Client Choices
Client access from the Mac platform has for a long time been a bone of contention in GroupWise circles.  With GroupWise 2014 R2 the engineering team has delivered calendar and contact  synchronisation facilities through implementing the CalDAV and CardDAV protocols. This enables Mac users to get a fuller 'GroupWise experience' when using native Mac email clients (IMAP/POP3 based). However the CalDAV and CardDAV facilities are only provided from a Linux based POA at this time.
In addition the GroupWise POA now properly maps the IMAP draft, junk, sent and trash folders (as according to RFC 6154).   While these features will please some Mac users, those who wish for a native Mac client will be disappointed.
A second alternative client that users can now use is Microsoft Outlook running over the ActiveSync protocol. This is as a result of the GroupWise Mobility Service (GMS) now supporting ActiveSync version 14.  Basic email facilities are available through Outlook including Free/Busy search and some graphical enhancements in the use of user avatars/images and follow-up flags.  However this should not be considered a full client offering and is highlighted for occasional use by the few users in the organisation who demand Outlook.
GroupWise WebAccess is the main alternative to the Windows client.  In 2014 R2 this has also received some enhancements such as an update to the Rules interface, and again the use of user avatars/images.
Working with the Windows Client
When using the client that's delivered with GW2014 R2 you will immediately notice some changes on the main screen.  For example there is a new Categories column that shows multiple category colours, and items can appear in multiple places when sorted by category.

Another important enhancement is that folders and items can now be protected – to prevent their removal by the automatic cleanup and archiving processes.  If Allow User to Protect Items from Auto-Cleanup is enabled through Admin Console  > (select a Domain, PO, or User) > Client Options  > Environment > Cleanup, then users can protect folders and individual items from auto-cleanup (see figure 2).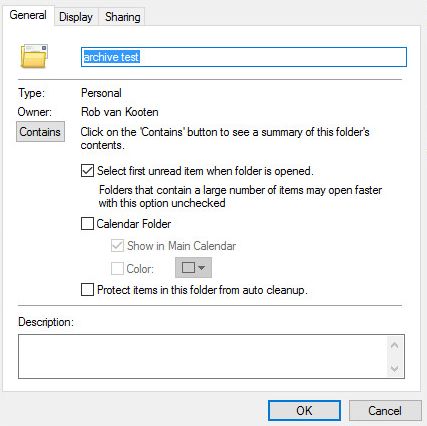 The QuickFinder search facility has been improved in two ways:  QF now searches body and attachment text not just header fields and searching on a user name will return their email address.
Other useful enhancements include:
Suggesting destinations when moving items (recommendations, frequently used, recently used folders etc) as illustrated in figure 3.
Follow-up flags for Quick Tasks (with the item also appearing in the task list). See figure 1 (previous page)where there is a flag at the left side of an item (Doctors Appointment) which can be changed with a further click into Finished.
Additional Undo/Redo options.
Users will like this. If I move an item into the wrong folder with drag & drop (which happens from time to time), I can bring it back to the original location with Ctrl+Z.
Notify alerts now look similar to Novell Messenger pop-ups.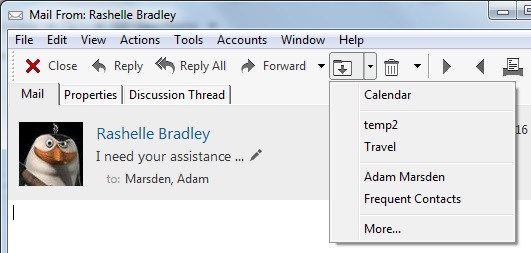 A good example of a usability enhancement is the new Vacation Rule Widget.  This has been added to the bottom right corner of the main client window and allows the user to quickly configure and turn on their vacation rule.  It appears as a luggage icon and its colour changes depending on whether the rule is switched on or off.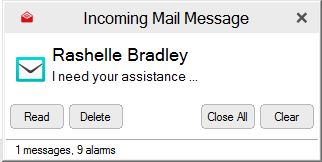 While the GroupWise client has been a GUI based application for many years with all features accessible by mouse click, there is still a demand for keyboard short-cuts.  More short-cuts have been added in 2014 R2 as shown below:
Ctrl+H: This toggles the HTML highlight option. If you select in the middle of a word, toggles the word to be highlighted.
Ctrl+K: Opens the menu to insert a hyperlink while composing an item.
Ctrl+T:  Flagging Toggle (Flagged, Completed, Unflag)
Ctrl+Shift+W:  Forward item as attachment.
Ctrl+Shift+V: Paste Special Unformatted. This removes any formatting and pastes only text that is on the clipboard.
Ctrl+Y:   Redo
Ctrl+Alt+Y: Accept. This was previously Ctrl+y, but has been changed to accommodate Redo.
Ctrl+Z:  Undo.
Ctrl+5: Toggles the signature on and off during compose.
Alt+5:  Opens the signature drop down menu.
There have also been a number of performance enhancements related to the GW client.  One is the download speed of large attachments from a Linux based POA.  The download speed has been increased generally by a factor of 10  (though still dependent of course on the network infrastructure).
Reading and composing messages
As already mentioned the GroupWise client now displays user images in the client interface where appropriate.  The images are added next to the sender name in the read view and next to names that appear during name completion when addressing an item.
If enabled in the admin console users can also change their standard image in the GW address book using the client by going to Edit > Change GroupWise Picture. These are stored in the post-office database and can also be imported from eDirectory and Active Directory.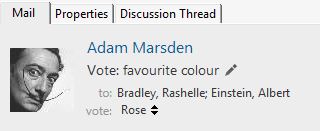 Quick Response is a new feature that enables the user to send a short comment back to the sender without going through the reply dialog.   In the lower right corner or in the read view of an item the user can now select a response from a standard list or choose respond with comment.  The sender of the original item will see the response in the header and the item summary.
Likewise, Quick Status tracking is displayed in the message view – and can be expanded to show the standard information.
When composing a message there are now three new paste options on the right-click menu.  These are:
Formatted text, which pastes text as it was originally copied;
Merge Formatting which preserves the HTML structure but uses the selected GroupWise font
Unformatted Text which removes all formatting.
Signature enhancements include:
Setting a background colour and image;
Disabling the signature or inserting the signature when using MS word as the editor
'Single use' editing of signatures.
Short-cut keys (see previous)
In the Voting feature users can now send a topic with a list of responses and users can select an individual response, while the originator of the vote is kept up to date with the responses as they received. (Figure 6).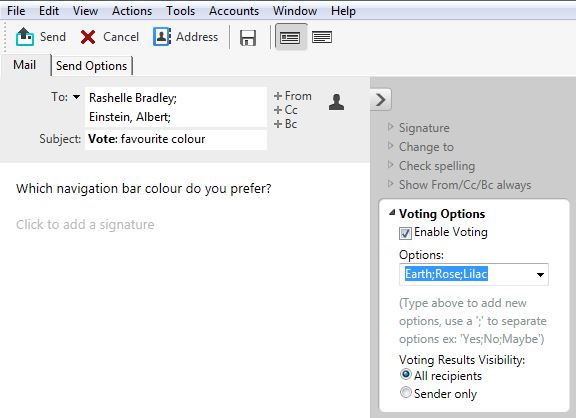 Discussion/Personal Notes have now become Sticky Notes and they are now synchronised via GMS v2.1 and ActiveSync 14 to notes applications on mobile devices – such as Notes on iOS devices.  With Notes sync enabled on mobiles a new folder called Mobile Notes is created in the GW client.  Sticky Notes created or moved to the Mobile Notes folder will be synced to the mobile device.
Appointments
Previously in GroupWise Delegate allowed recipients of appointments to invite more people to an appointment while still keeping the appointment yourself.  This has now changed and there are now two options – Invite, and Delegate and delete.   Even further, as shown in Figure 7, an attendee can suggest a different time with the originator having the option of accepting the new proposal.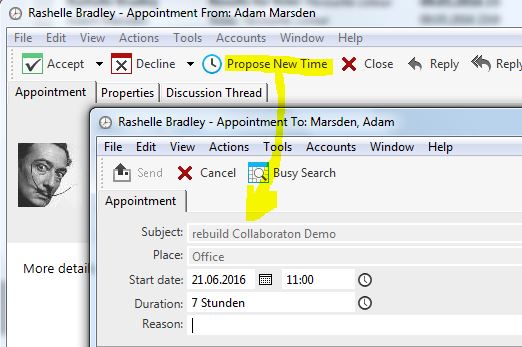 Powerful Tools
There are many more enhancements that add to the power of GroupWise. Nevertheless they are not new but in many cases they are almost hidden secrets. Use these features and you will use your GroupWise client more efficiently:
Sub-Calendars – can be shared and support iCal subscriptions
QuickCorrect
Online spell checker – can now change the language 'on the fly'
Searching – is now everywhere, including searching search result folders and the current folder (via a Quick filter)
AES encryption support is now built-in to the GroupWise client which enables messages to be digitally signed using SHA-256 rather than the deprecated SHA-1 algorithm.  This is a much more secure solution and one that is now mandated in many environments (e.g. by the U.S. government).
Don't forget Panels. They can provide users with a unique home view of selected views from their mailbox, calendar and task  list, mixed if required with external items.  Create your own panels based on folders, search folders and webpages. See the example over page in Figure 8.
"I live in my panel view when I use GroupWise.  Accessing my GroupWise via a Mailbox-view does not happen very often" – that's Diethmar's experience.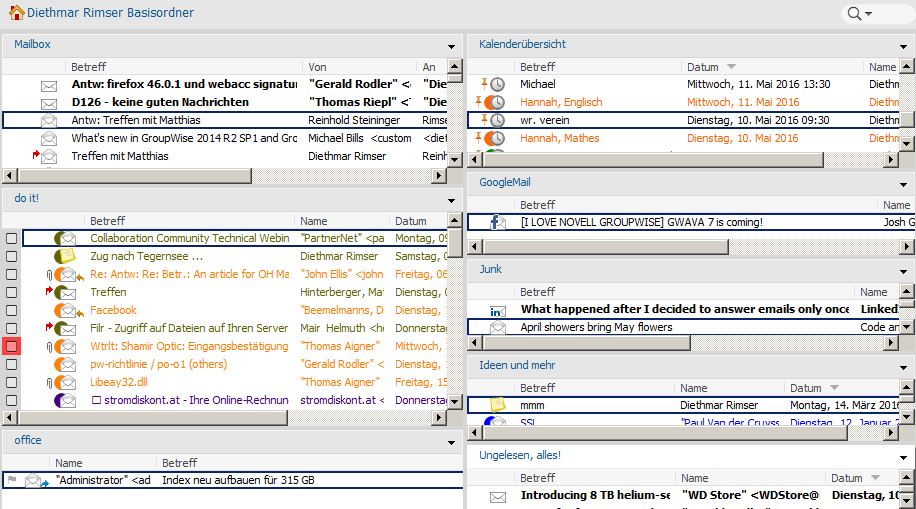 Future Enhancements
2014 R2 SP1 isn't long down the road – expect it mid year.  One definite cosmetic change that you will see is new Micro Focus splash screens and branding which is nice. But expect some great improvements too. Diethmar, who is a member of the beta group, has seen some very interesting suggestions such as:
Transferring ownership of shared folders
AD SSO support for Linux POAs
Due time on tasks and more
Some really important GMS enhancements will follow too and in future the GMS version will be synchronised with GroupWise to avoid confusion.
Approximately six months later – we hope by Q1 2017, GroupWise 2017 will be released.  This is expected to include GroupWise Messenger tightly integrated into GroupWise and managed through the Admin Console.  Yes, the final goodbye to ConsoleOne! This closer integration will also see the introduction of social threading/conversations in the GroupWise mailbox.
2-Factor authentication will be enhanced, with an emphasis on more closely integrating the powerful technologies that Micro Focus already offer.
Product integration is a definite theme, as the third major enhancement, and one that offers improved cost of ownership, is attachment storage within Filr, with perhaps the ability to send Filr links instead of attachments.
It goes to show that there is still much activity in the GroupWise environment and that Micro Focus are maintaining their development commitment.
GroupWise continues to evolve and it's worth you having a closer look at what the GroupWise client can now do for you.
* This article is based on HotLab C03 presented at the OH Summit 2016.
This article was first published in OHM, Issue 33, 2016/2, p16-19