Setup Commander Service Edition provides a new way of automatically preparing application setups and patches for unattended deployment, in a simple and intuitive way.  Setup Commander Service Edition supports Microsoft Configuration Manager, Microsoft Deployment Toolkit, Microsoft WSUS, VMware AirWatch and last but not least Micro Focus ZENworks Configuration Management.
Setup Commander Service Edition has two main components and a connector per software distribution solution:
The Setup Commander Service Portal is the web-based configuration interface.
The Setup Commander Setup Store Service is the Windows service based component which downloads and configure the setups to which you have subscribed in the Service Portal.
You can use Setup Commander Service Edition with any software distribution solution you prefer. We have connectors for:
Micro Focus ZENworks Configuration Management
Microsoft Configuration Manager (SCCM)
Microsoft Deployment Toolkit
Microsoft WSUS
VMware AirWatch
Connectors for Autotask and Microsoft Intune are on our roadmap.
CVEdetails.com (see figure 1) has a Top 50 Products By Total Number Of "Distinct" Vulnerabilities. If you're using any of these products make sure to have a solid plan in place to keep these products up-to-date.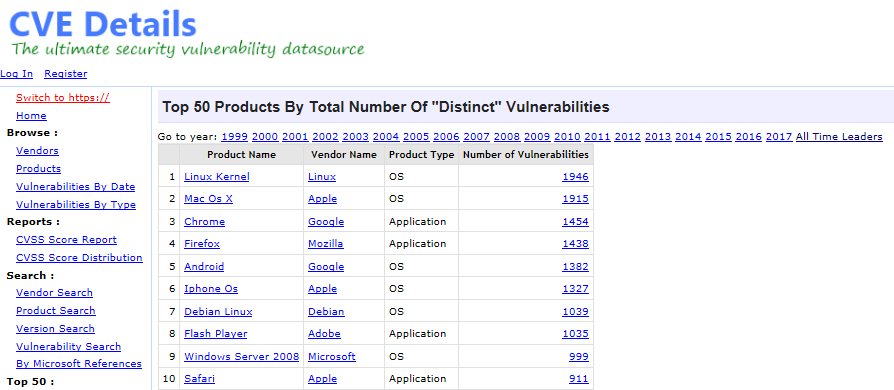 In the screen capture in figure 2, have a look at the column 'Product Type'. In this context the value 'Application' refers to 'Windows desktop applications'.  These type of applications are the non-Windows Store (AppX) applications. When we filter this list for 'Application', products like Chrome, Firefox (ESR), Adobe AIR, Adobe Flash Player, Thunderbird, Seamonkey, Acrobat Reader (DC),  Java JRE and JDK,  iTunes and Wireshark are in this Top 50.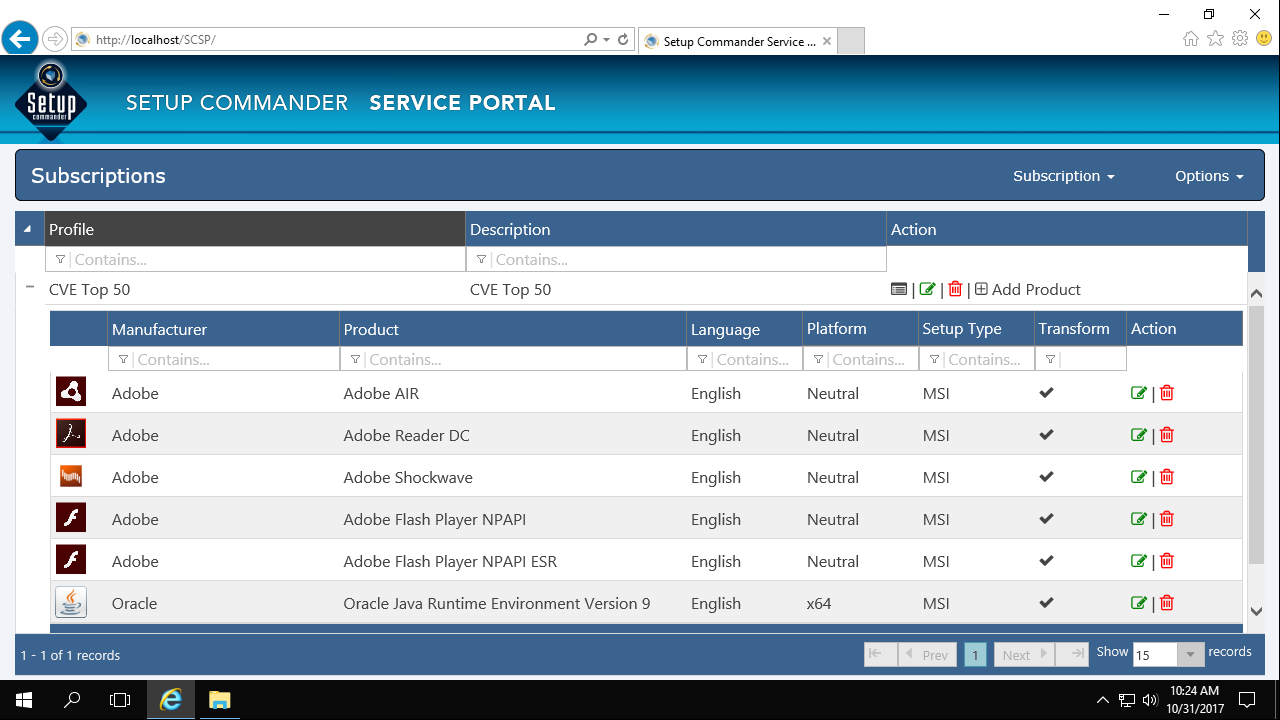 When you have to deal with installing, managing and patching these Windows desktop applications, what does the Service Edition offer you to simplify the task of installing and updating these applications?
In the Service Portal you can 'subscribe' for these products, but also many other business applications not referred to in the CVE list. After you've configured your subscription, what happens next is that the Setup Store Service checks whether new versions of the subscribed products are available in the Setup Commander Setup Store.
The Setup Store is a repository of setups and patches for Windows desktop applications. This Setup Store is updated by us 'as a service'. When new setups and patches are released by vendors, these shortly become available in the Setup Store. Customers and partners can easily request new products using a 'Request' feature in the Configuration Portal. The  Setup Store Service automatically downloads and configures the subscribed setups and patches for you (fig 3).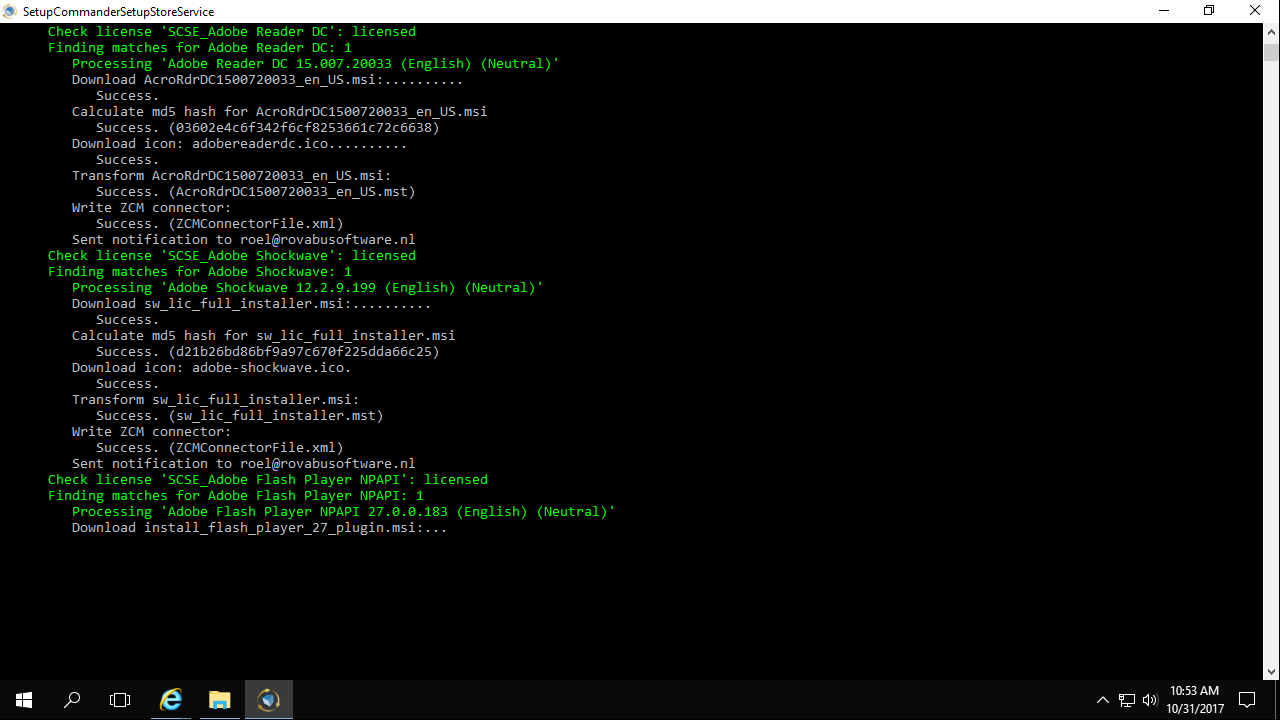 When new setups and/or patches are released by the vendor, you will receive a notification e-mail sent out by the Setup Store Service (figure 4 and 5).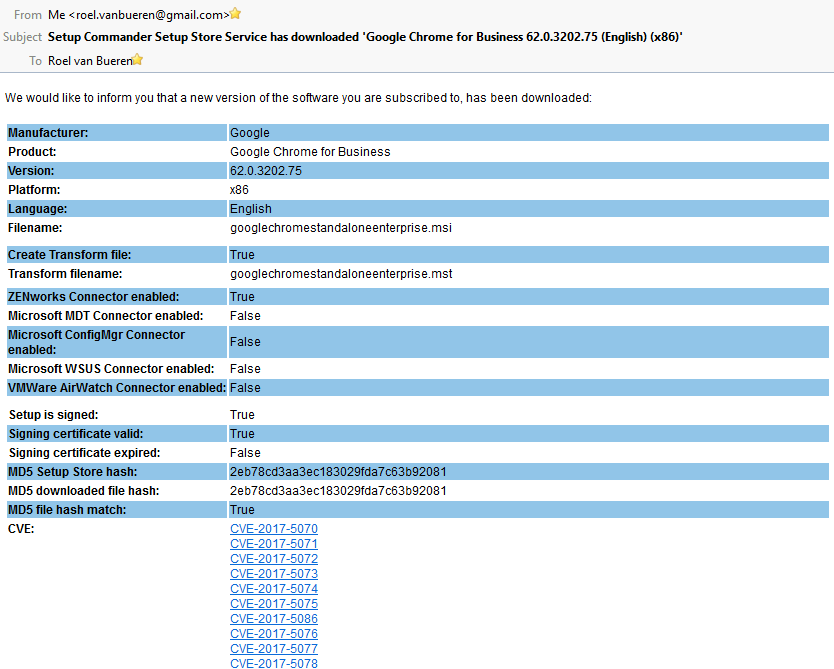 All of the Service Edition components run on premise. When setups need prerequisites to be installed first, they will be included in the notification e-mail. Prerequisite components like Visual C++ Runtime, Visual Studio Tools, Microsoft .NET Framework are available in the Setup Store as well.
Configuration Wizards
In order to configure setups, we offer a Configuration Wizard 'as a service' for every MSI based setup. With these Configuration Wizards you can disable, for example the 'Auto Update' feature, remove shortcuts (when you use ZENworks managed shortcuts can be deployed using 'Launch Actions' in Windows bundles), prevent the setup from rebooting the machine, configure the MSI Features being installed etc (figure 6).
With this functionality you can configure the MSI setup using MSI transform file (MST) technology, and make sure that it is prepared for patching the application later on. Not by using the Auto Update functionality of the application, but by using ZENworks Configuration Management.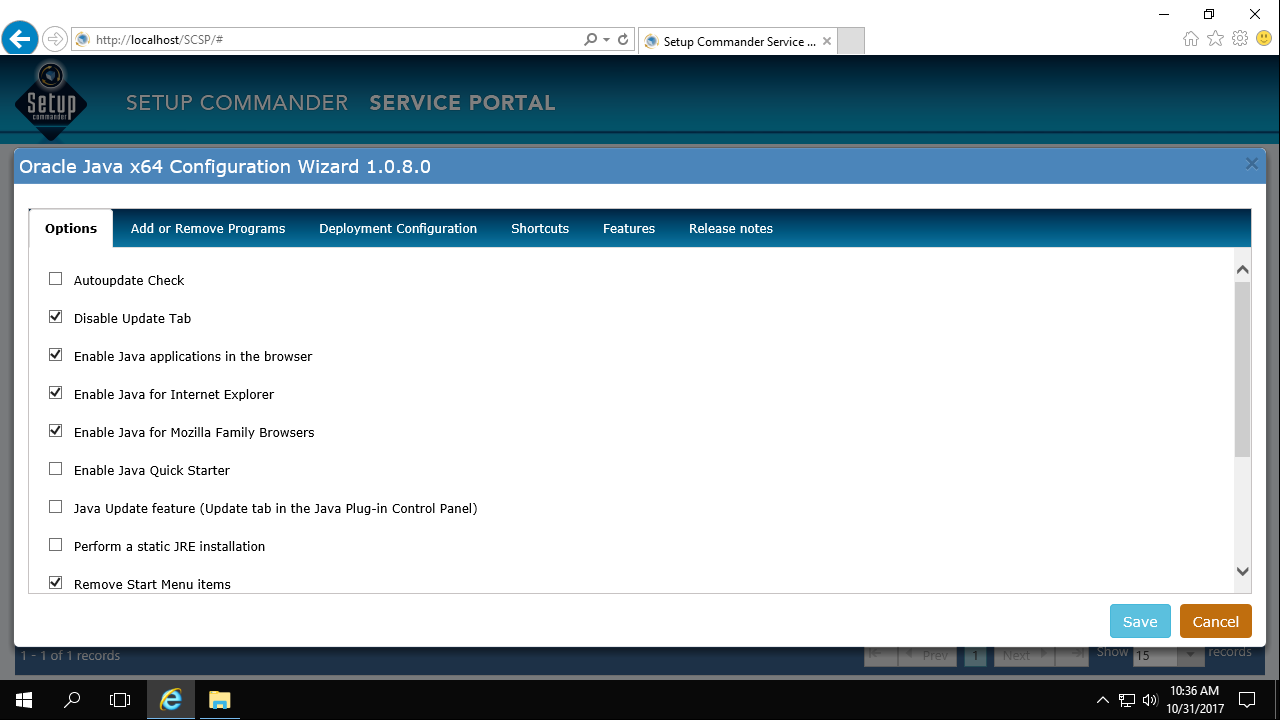 The ZENworks Connector Service
The ZENworks Connector Service is the component which is responsible for creating Windows bundles for download setups or patches. This service also sends out a notification email when the Windows bundle is created (figure 7).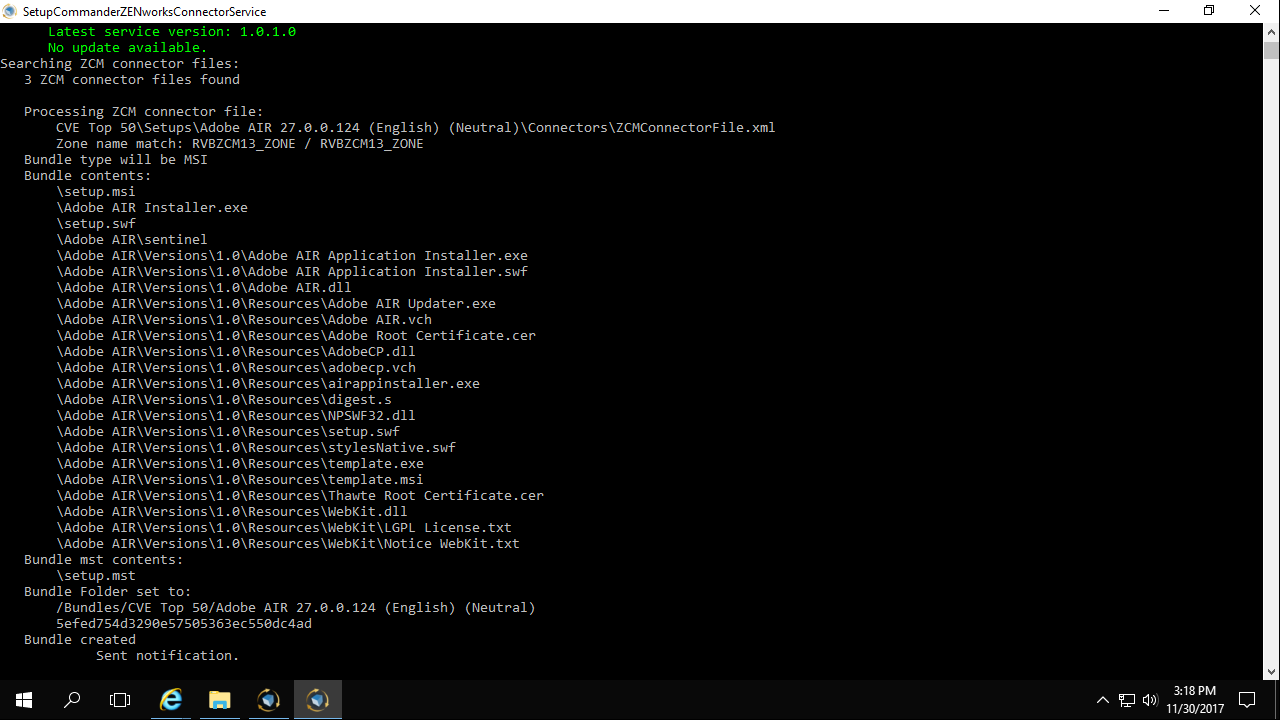 The ZENworks connector is responsible for updating the configured Bundle folder in order to have installation bundles for the Subscribed applications. These are ready for deployment, ready to be assigned to either users or devices (fig 8).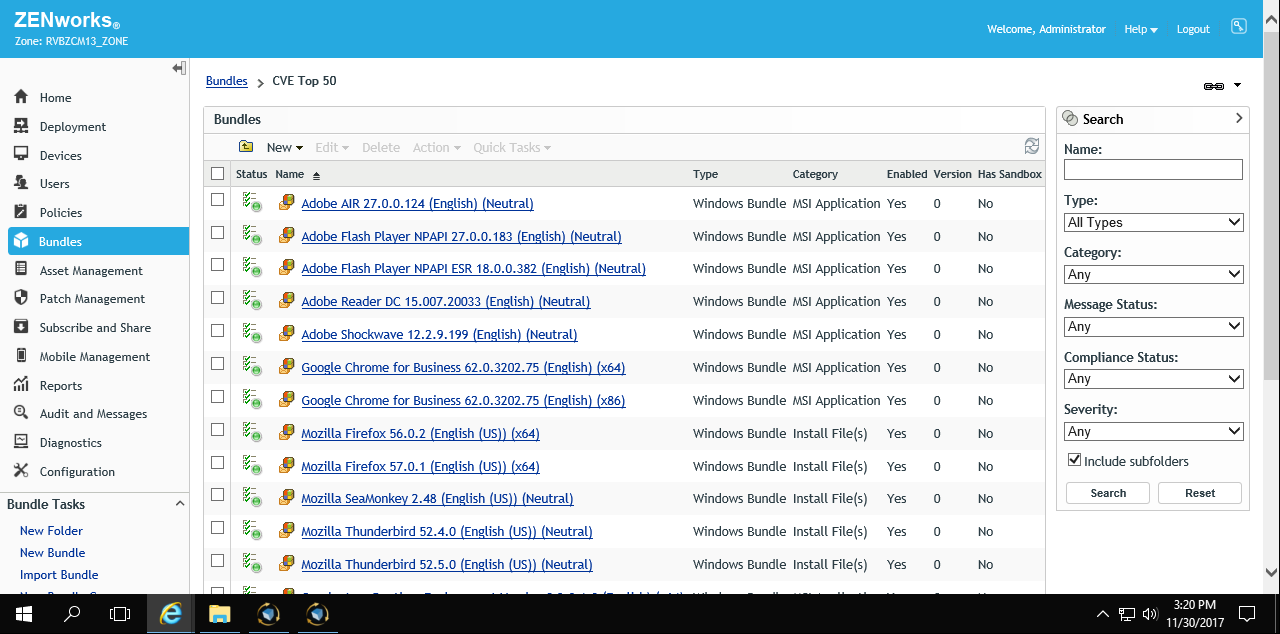 For those of you who have already updated to ZENworks 2017 Update 1, we've worked closely with the ZENworks team for you to be able to configure the landing page of this portal in ZCC  (figure 9).  If you don't have this Update 1 yet, don't worry. It's not a prerequisite to run Setup Commander Service Edition. It's just a 'nice to have'.

If you would like to try Setup Commander Service Edition, please contact us at sales@setupcommander.com and we will send you a trial license.
This article was first published in Open Horizons Magazine, Issue 39, 2017/4, p30-31.
....To view the full article you must have a full Digital Subscription.