Lately, the Novell Open Enterprise Server team has been working on a project code-named "Altair."  This not-so-secret project has now officially been named Open Enterprise Server 2015, which we plan to release in the first half of 2015. Open Enterprise Server 2015 involves a number of advances and updates. Though it's not yet time to release a full list of new features, we can give you a preview of a few of the big changes which are on their way
Novell Storage Services and Active Directory Integration
A major focus for this release has been to add native integration with Microsoft Active Directory (AD). In the past, organisations that moved their corporate directories to AD sometimes also moved their file storage away from Novell.
This was largely because there was no integration between Novell Storage Services™  (NSS) and AD. The move would often take much longer than planned and was quite expensive, even though there was no real benefit to end users or administrators.
With Open Enterprise Server 2015, NSS will integrate natively with AD, allowing organisations to continue to use and benefit from the Novell storage they prefer, even if they adopt Active Directory.
Benefits include the ability to perform user management entirely in AD while still enabling you to take advantage of some of the key benefits of Novell Storage Services, like inherited rights and visibility and easier administration.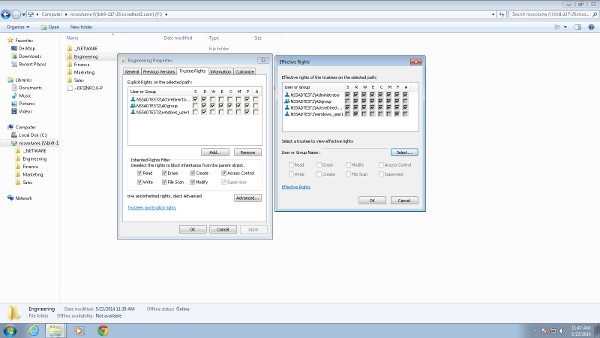 Through a simple extension of File Explorer, Microsoft administrators can easily use the tools they are familiar with to manage the NSS rights for AD users.
However, if you have no interest or aren't under pressure to move to AD, Novell Storage Services still continues to use the best directory on the market, NetIQ eDirectory. We are not removing eDirectory support; we are simply adding native support for AD, similar to what many other products from Novell have done over the last few years.
SMB 2 Protocol Support
Many of you will be pleased to know that Open Enterprise Server 2015 will now support the much-anticipated SMB 2 protocol. The Server Message Block (SMB) protocol operates as an application-layer network protocol. It provides access to files, printers, serial ports and so on.
Microsoft introduced SMB 2 to simplify the protocol, create performance improvements and offer stronger security algorithms. Open Enterprise Server 2015 will be able to use SMB 2 and benefit from these improvements while continuing to support SMB v1 (CIFS) from the earlier Open Enterprise Server releases.
Very Large Storage Support
The world has fully entered the digital age, and your users are creating many types of data. Files are becoming bigger and bigger due to more graphic- and data-intensive applications.
In Open Enterprise Server 2015, we've removed the eight-terabyte limit on storage pools and volumes, and will now support over one billion terabytes of data per volume (see figure 2).
This will meet the growing need for storage requirements. Now your challenge may be to find a way to back-up or archive it all!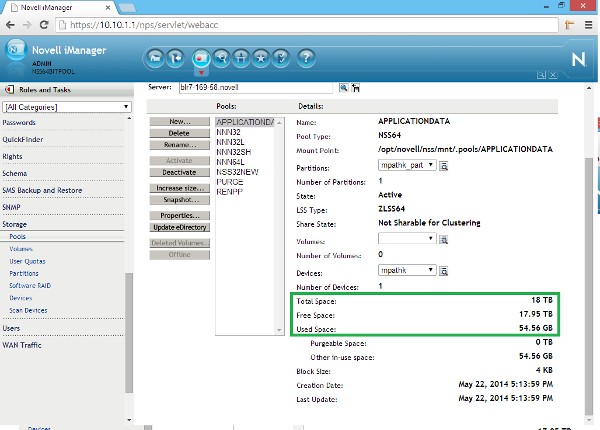 Change in other services
With Open Enterprise Server 2015, we will remove QuickFinder as well as Archive and Version Services, because essentially very few customers use these services.  Filr will become an alternative in these circumstances.
However, for those of you who take advantage of these services, we will continue to support them in Open Enterprise Server 11.
Conclusion
Altair has been focused on bringing some basic but important enhancements to Open Enterprise Server. With the release of Open Enterprise Server 2015, you'll benefit from a more interoperable solution that is better able to handle today's growing data volumes.
(This article was first published in OHM26, Q2 2014, p13-14)