OpenText™ announced on 31 January that it has completed the acquisition of Micro Focus International plc a leading provider of mission-critical software technology and services that help customers accelerate digital transformation.

"I would like to welcome Micro Focus customers, partners and employees to OpenText," said OpenText CEO & CTO Mark J. Barrenechea. "Digital life is life, and with Micro Focus' great products and talent, we will help organizations of all sizes accelerate their digital transformation."

Barrenechea further added, "With this acquisition, OpenText's corporate mission expands to help enterprise professionals secure their operations, gain more insight into their information, and better manage an increasingly hybrid and complex digital fabric with a new generation of tools that include Cybersecurity, Digital Operations Management, Applications Modernization & Delivery and AI & Analytics. This new generation of Information Management software will help organizations accelerate their digital transformation and drive growth while reducing costs."
Terms of the Acquisition include:
Total purchase price of approximately $5.8 billion, inclusive of Micro Focus' cash and debt, subject to final adjustments

Total purchase price is 2.3x Micro Focus' TTM revenues

Total purchase price is 6.7x Micro Focus' TTM adjusted EBITDA

Expected to be on the OpenText operating model within 6 full quarters or sooner

Consistent with previously announced cost synergies of $400 million, expect to balance the combined company through an approximate 8% workforce reduction due to the acquisition of Micro Focus
"We have a structured and disciplined approach to M&A. The last six months of planning has led us to a defined integration plan to deliver on our committed outcomes. We are ready and excited about winning the Information Management market, strong customer outcomes, and company growth and expanded cash flows," concluded Barrenechea.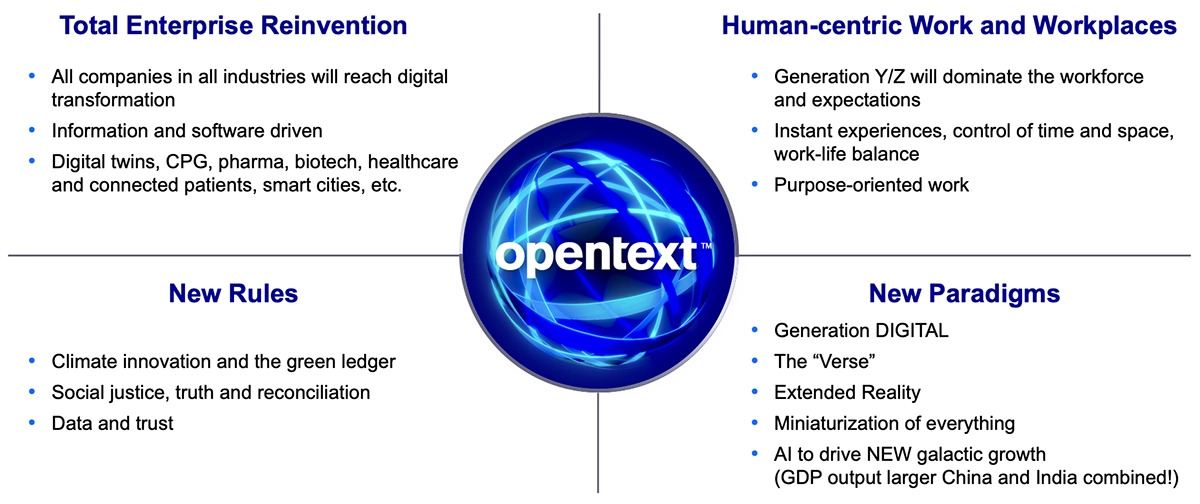 In his related blog post Barrenechea discusses the Business 2030 plan (reference above image) that Opentext has adopted with the integration of Micro Focus and writes that:
"We believe there are eight key markets required to create high-impact digital transformations, meet Business 2030 requirements and win in this new digital era.
The eight markets are these:
Cybersecurity: Evolving at the speed of change to stop threats in their tracks with a resilient security foundation that protects, detects, remediates and enhances recovery.
Digital Operations Management: Optimizing digital operations and IT service management through unified, AI-based, composable solutions that liberate resources and improve performance while taming cloud costs.
Content Services: Mastering human-centric work, boosting productivity, eliminating silos and minimizing information risk with content, insights and automation.
Digital Experience: Transforming relationships and powering digital interactions for customers, partners and employees across the digital journey to gain happy users for life.
Business Network: Simplifying business ecosystem connectivity to transform and future-proof supply chain integration—with scale, insight and full compliance.
Application Delivery Management: Enabling businesses to accelerate application delivery and achieve high-quality applications at scale—from strategy to production.
Application Modernization and Connectivity: Helping build on already-made IT investments while continuously evolving for future needs with improved efficiency and agility.
Analytics and AI: Transforming all data into strategic, actionable insights using AI and ML analytics in real time, in place or in flight across any data type. "