Update: You can now watch all the sessions recorded at the Open Horizons Virtual Summit last month.
What a year!!!
With a few more weeks to go 2020 is already exceptional in many ways. As the pandemic spreads around the world, nearly everything has changed. A little virus has redefined our everyday life, and we are still trying to understand all the consequences. Some of those are here to stay as we figure out how to coexist with the SARS-CoV-2 virus. While minimizing its impact on our health, we have also learnt that the corona experience is replicable if other viruses find their way into the midst of our society.
Working from home is the new mantra. Social distancing has changed the business and leisure travel reality. Knowledge worker productivity is achieved from within the comfort zone embedded into our family homes.
On that note we have to rethink business and community knowledge transfer. While digitalization is pushed to new levels, virtual events now play a key role in leveraging interaction among solution experts, partners and customers.
That said, we invite you to join the Open Horizons Virtual Summit 2020, the best destination for all Micro Focus & Open Horizons Partners, customers and community members in Europe, the Middle East and Africa interested in strengthening and extending their relationship within the Micro Focus ecosystem. Jointly delivered by Micro Focus and Open Horizons, this three-day conference is the ideal place to get advanced technical training and deep technical immersions to acquire cutting-edge knowledge and skills on the Micro Focus technologies you already use and those you will rely on in the future. Regardless of the markets you serve, whether you build, sell, service or run Micro Focus solutions, our summit will equip you with the expertise, game-changing insights, innovations, and technical enablement
Information Management & Governance
GroupWise 18.3 Whats new in GroupWise 18.3 and GroupWise Web
Retain Unified Archiving
GroupWise Deep Dive Best Practices and Troubleshooting
An in-depth look at whats coming in ZENworks 2020 Update 2
Implementing Desktop Containers 20 and Application Streaming
Using ZENworks Service Desk 8.2 for ticket management and enterprise store
Filr Advanced with Teamworks
Open Enterprise Server & iPrint
File Governance
IT Operations Management
Operations Bridge CDF Use Case
Present and Demo SMAX Native SACM Use Case
Robotic Process Automation Designer
Present and Demo Configuration Management System Inventory and Policy Compliance Use Case
Whats New in Data Protector 2020.11
Operations Bridge Analytics Use Case
Present and Demo HCMX Design and Deploy (DND) Use Case
Application Delivery Management
Service Virtualization Designer Use Cases
ALM/Quality Center Test Run Injection and ALM Octane Definition of Done (DoD) rules Use Cases
UFT One Artificial Intelligence Use Case
Security
ArcSight FlexConnector and Parser overrides
New NetIQ Advanced Authentication as a Service Offering
NetIQ Privileged Account Management
How does ArcSight work with MITRE ATT&CK and MISP?
Fortify Scan Central SAST
File Analysis Suite Data Discovery
ArcSight Recon
NetIQ Identity Manager
Integrating Application Security with Fortify in your CI-CD Pipeline
Hop on Hop off
One big advantage of virtual events is flexibility.
According to the motto Hop on Hop off you are able to join and leave the Virtual Summit depending on your needs.
You have not enough time to participate in all sessions?
No problem! Selected sessions will be recorded and available after the event!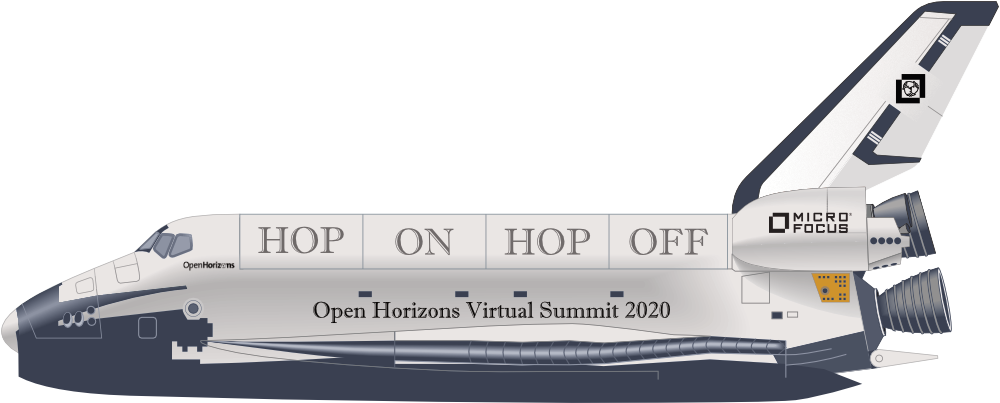 We are offering three different types of sessions this year on our virtual conference platform depending on the session topic. After the event registration you will be guided to subscribe to the event platform and browse the session catalog and schedule. Each individual webinar will be classified according to the following types:
Option 1 hands-on hot-lab
This session is brought to you as a hands-on exercise and is limited to 30 participants. Session preregistration is mandatory and follows a first come, first served approach. You will be guided how to access your personal training environment at the beginning of the session. You have to join the session on time to take your spot. Otherwise, you will be deregistered from the session to make room for others.
Option 2 deep-dive walk-thru
This session is a deep-dive walk-thru tutorial. You can follow the speakers and interact through the Q&A window with all experts in attendance! There are no limitations to join, however please register for the webinar if you plan to attend, so we can provide specific last minute information via email.
Option 3 deep-dive walk-thru & self-study offline-excercise
This session is a combination of a deep-dive walk-thru and an offline self-study exercise that you can take after the event. In the first part you will follow the speakers and interact through the Q&A window with all experts in attendance! There are no limitations to join, however please register prior to the event so you receive all the necessary instructions and session updates. The instructor will guide you how to access the self-study environments after their session independently at a time of your convenience.