The Open Horizons Summit converged on Berlin in early June this year and attracted a record attendance with over 500 delegates.  This fantastic result was achieved by expanding the Summit so that additional technical streams were devoted to technologies and solutions from the former HPE business and the business track was likewise expanded.  The Micro Focus Channel organisation, headed by Christoph Stoica, were also heavily involved and attracted many partners to the event, especially to attend the business track sessions.
The first day of the event was Keynote day, headlined this year by Chief Product Officer, John Delk, and Chief Technical Officer, Jérôme Labat.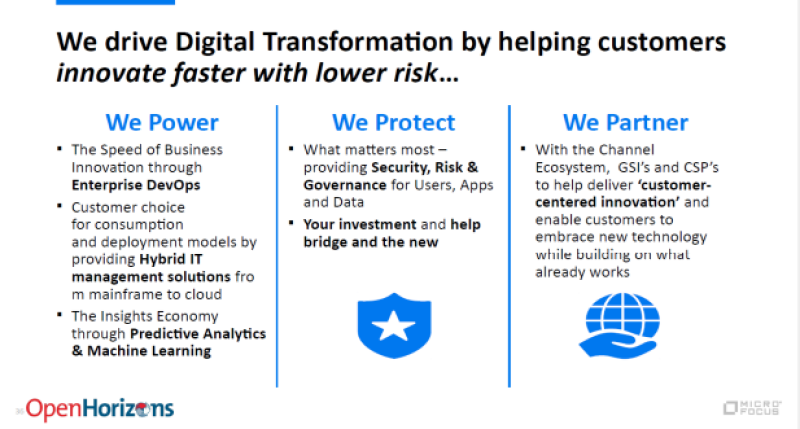 The evening session consisted of the EMEA Channel Awards and included two special awards.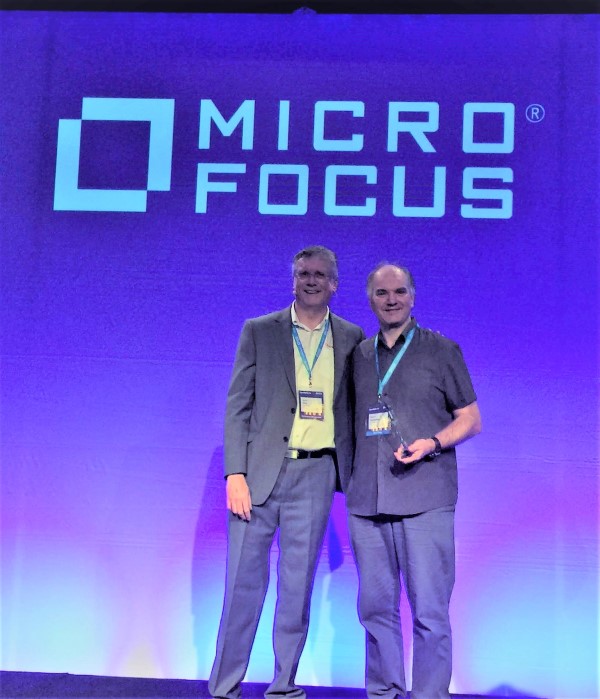 Firstly, Robin Redgrave became the first winner of the Open Horizons Award for 'Outstanding Contribution to the Community'.  Fully deserved.  Secondly the OH Management Team – Marco Mikulits, Diethmar Rimser, Paul van der Cruyssen and John Ellis – received an award from Micro Focus in recognition of the work done to organise the event and for service to the user community.  Thank you!
The Business and Technical sessions started on Tuesday with the former located in the Ritz-Carlton hotel at Pottsdamer Platz across the road from the Marriott which hosted the eight streams of HotLabs. The ITOM, ADM and some of the Security labs were fronted by members of Anis  Nassser's technical training team who did a great job at what was a new event for them.
Including the OH organised streams covering the IM&G portfolio over 50 HotLabs were offered.  The best attended HotLabs were as listed here (and GroupWise still leads the way!)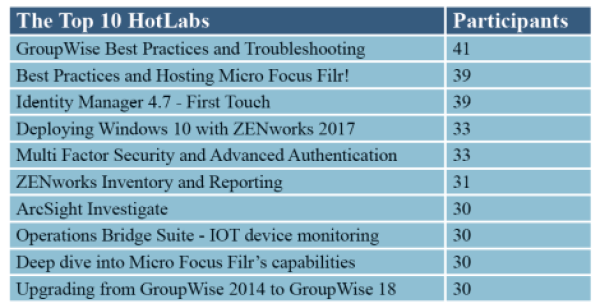 Considering the number of delegates involved the Summit's technical infrastructure, expertly managed as always by Rob Bastiaansen, held up well in the Marriott Hotel.
Over 60 business track sessions were scheduled and along with focus groups and other meetings it was a very busy time.
Extra curricular activities consisted of the mandatory OH City Run and upwards of 50 people took on the 5 and 10 km runs.  Some even went the right route!
Secondly on Wednesday evening we decamped to c-base – an alien spaceship underground in central Berlin with the Fernsehturm in Alexanderplatz  as it's communications antenna  (yes really) – and an alternative but enjoyable evening party took place.  (Unfortunately there was a news blackout from c-base and no photographs were allowed.  Further information at www.c-base.org)
The Business track completed on Wednesday afternoon but the techies rolled on with the event completing on Thursday afternoon. Three days of top technical training, with some attending up to 8 labs on Micro Focus solutions, presented by staff and community experts.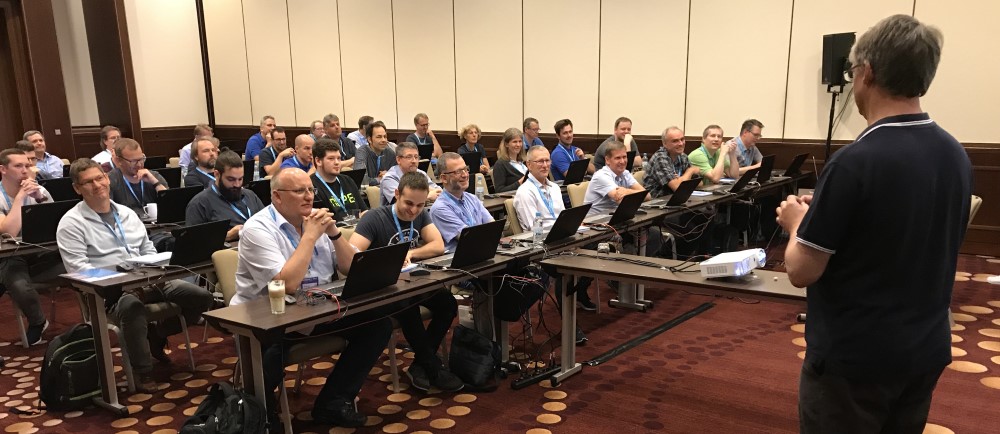 Many thanks to everyone - speakers, organisers, enablers and delegates who made the event the success that it was!
This article was first published in OHM Issue 42, 2018/3, p25-26.