At the Open Horizons Summit in April, Jason Blackett presented a sneak preview of the new ideas portal for Novell products – a solution based on cloud based VersionOne. The old enhancement request process had many failings; hard to access and enhancements were often considered to have dropped into a black hole – not an open and responsive system.
The new portal - now live - allows anyone to sign up and then publish their enhancement request. Crucially people can then vote on all the requests that are in the system. This will give the product teams a much better indication of what the customer base says it requires and can take proper account when building product development plans.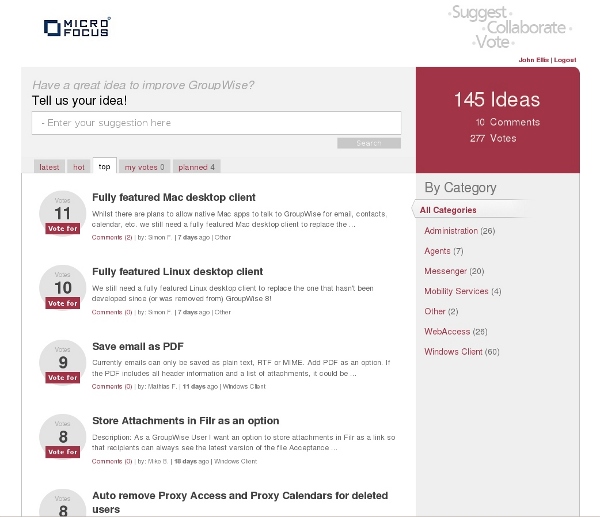 Jason writes on Cool Solutions: "Here's why I think you'll find this system a whole lot better than the older system:
The user interface is a lot simpler and cleaner, as you can see.

You can see all of the enhancements that have been entered not just by you, but by the Novell community at large.

Every time you go to enter an enhancement, the system automatically searches the enhancement list to help you find requirements that might be similar to yours.

If you find an enhancement, you can comment and vote on it. This is awesome for both you and me because it means over time the most important enhancements will automatically rise to the top. These are the items that the Product Management team will focus most of our energy on, and the community will be able to see why.

The Ideas portal is fully integrated into our main development process and tools. This means we can do things like track an Idea from the time you enter it, watch votes and hotness, put it into the development process, see it go through the agile development cycle, see all the users that voted for an idea, invite you to the beta that contains your feature, and then ship it. All through this process the Ideas portal will keep you informed about what's happening. You can see a little bit more about this in the video on the main enhancement request page. "
The existing enhancement request list is currently being reviewed and the still valid requests will be moved into the new system – but this will take some time!
In the meantime members of the Open Horizons community should get to work and publish their enhancement requests and vote on those developments they want to see happen.
The url you need to know is:
www.novell.com/products/enhancement-request.html
then select the Novell product and you'll be re-directed to the ideas website.