Attendees at the Open Horizons Summit were privileged to be a part of the first public showing of Uinta, the new social messaging application which is in development by the Micro Focus Collaboration team.  All attendees were provided with a login to the Uinta server (run from Provo) and able to check it out and comment.
In truth the user interface at the time was very basic with the ability to create rooms (which could be private or made public); make comments and contribute to discussion threads.
As it was such an early trial we were able to feed back many ideas on usability and functionality which we hope will be incorporated into version 1 of the product, expected later this year.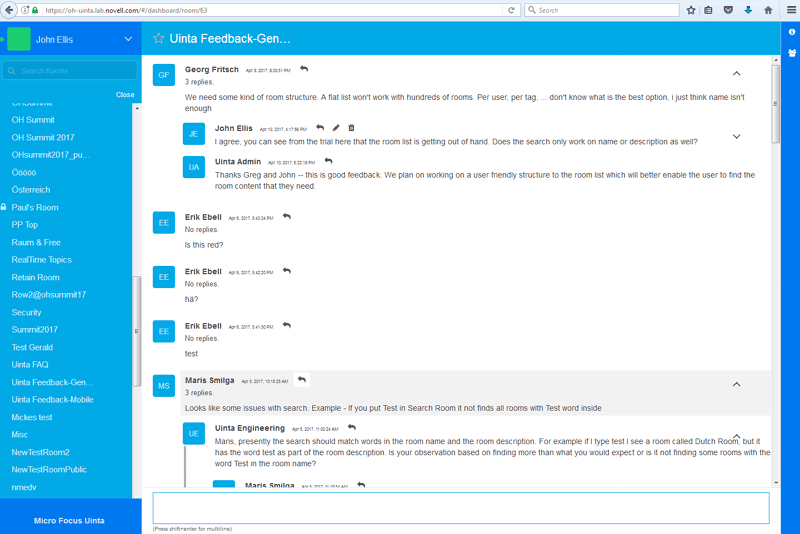 Uinta is intended as a modern social messaging addition to GroupWise, to which it will be closely integrated, with a web only client for the desktop.  However mobile clients will be available.  While no Android app was available for testing at this point an early version of the Apple app was on show, which looked solid, attractive and easy to use, but with no stand-out points.
Uinta is based on core Vibe infrastructure and will be closely integrated with GroupWise.  It is too early to say what the server requirements will be and how many  users a server may support, but it should support at least as many users as a typical Vibe server.
It remains to be seen how its use and role will be distinguished from GW Messenger which will be also closely integrated with the next release of GroupWise.  Making Uinta available to external users as well will be a great benefit to GroupWise users who wish to converse with key customers.
Uinta enters a highly competitive messaging market place but it should become established as the application of choice for GroupWise houses.
Many thanks to Mike Bills, for agreeing to the trial and to Kevin Crutchfield and Glen Christensen for organising the build and running the trial throughout the Summit.  Keep up the great work!
This article was first published in OHM Issue 37 (2017/2), p13.