Management expert Ken Blanchard says No one of us is as smart as all of us!  We need to reach out to people around us, learn from them and collaborate with them.  When we collaborate efficiently 1 + 1 is a lot more than just 2.  Ground zero of any collaboration is communication and in today's world of fast-paced, competitive, technology-led and global business it is becoming even more important. Without communication no collaboration is possible. By optimising your communication you are creating more efficient collaboration.
We see new demands for more freedom in the way we work as well as new technology and the increasing adoption of new device and platforms that are breaking down the international and regional barriers. Generation Communication 3.0 is evolving. We are at the tipping point of a workplace revolution that will signal a model for dynamic, multi-faceted, adaptive and smarter business that is focused around the human cloud workforce.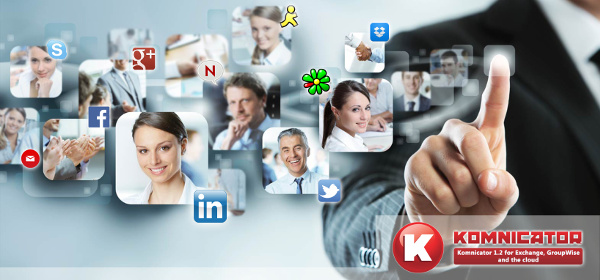 New technologies
Unified communications (UC) is becoming an influential driver in changing working practices, encouraging real-time communication for workers across an increasingly diverse range of channels. It has the potential to enable employees to achieve an "in-office" experience from anywhere.  New ways of working can increase productivity and streamline effective communication and collaboration changing how individuals, groups and organisations work while reducing costs.
The rise of the end user
While businesses used to be the main driver of telephony, computing and communication adoption, it is now clear that they are no longer setting the agenda. Instead the dominant force in technological advancements has become the end user.  With this change traditional working patterns are also under pressure. New data shows that the majority (81%) of workers now want to break free from their organisation's nine to five culture in favour of flexible hours and working locations. This figure is even higher (87%) for younger generations who appear to be the biggest drivers of the revolution. Communication and collaboration will have to adapt to these changes and challenges.
The global talent pool
Good talent is increasingly hard to find, but the technology has created a global talent market that simply was not accessible previously.  This means that the labour market will need to prepare for an extremely competitive landscape, but at the same time business can prosper with a globally best-in-class workforce. The international, next generation work model brings great opportunity but also poses challenges for many different parts of an existing business especially for communication and collaboration.
Off- and Online: Email v Instant Messaging
You might be aware that instant messaging is on the rise. According to the Radicati Group, there will be as many instant messaging accounts as email accounts this year (2016), 4.3 billion of each. As most of us work, play, eat and sleep with a smartphone within arm's reach, we have access to both forms of talk around the clock. Both technologies have distinct advantages and disadvantages that make each appealing for different kinds of communication. 70 percent of teens say they send more IMs than emails and instant messaging, or IM, is fast – it has instant right in the name.  It is therefore a particularly good tool for communicating and collaborating within an organisation.
Komnicator 1.2
SKyPRO's all communication and collaboration integration tool Komnicator opens up new possibilities of communication and collaboration based on instant messaging on many different platforms. Your team, your partners and your customers should not have to change the way they work and still you need and want to effectively communicate with them. Komnicator lets you communicate and collaborate on many different platforms simultaneously. It adds new functionalities to your existing platform by combining the advantages of other used platforms. All of the information is saved in one place where it easily can be searched and archived.
With Komnicator 1.2 you can:
Integrate and combine different communication and collaboration platforms
Chat with Google and Skype at the same time
Send files over Novell Messenger
Add Dropbox function to Facebook messenger
Secure your chat over Facebook
Easily integrate and transfer screen shots through any messaging channel
Secure your files and file transfers
And much, much more ….
Below we will show you how Komnicator can improve the functionality of your existing platform by combining it with the advantages of other collaboration and communication platforms and hence, create a more efficient collaboration and communication environment.
Instant Online Meeting integration between different platforms

(Figure 1). Komnicator offers the possibility to create and hold online group meetings over several platforms. You can integrate people using Facebook messenger or Google Talk or Novell messenger. They all will talk with each other as if they were on the same IM platform. They can even create screen shots and transfer files using Dropbox.

Add File Transfer functions to Novell or Facebook Messenger

. You can even add file transfer functionality to chat systems like Novell Messenger that itself does not support such functions. This can be done by transferring the files using Dropbox.

Encrypt your chat and file transfers on insecure messaging systems

(Figure 2).  Komnicator allows you to encrypt your chats on all supported instant messaging systems like Facebook, Google Talk and ICQ etc. Additionally, during a secured chat file transfers are also encrypted and the files on Dropbox can only be read by the file transfer recipient.

Send all your IM and collaboration data to your existing email system

(e.g. Novell GroupWise) for quick search indexing and archiving (Figure 3).  If configured you can save all of your Komnicator communication data to your existing email system (Novell GroupWise, Microsoft Exchange) or to the SKyPRO cloud.  Typically, in your email system it will be indexed for quick search and archived: meaning compliance on the fly using your existing system without the need for additional archiving solutions.
Conclusions
With Komnicator, you have a clear view of all users' status; who is online, who is offline, busy or away, so you know who is available, and when you can expect to contact them, or just send an offline message. The recipient will be alerted and can get back to you as soon as they have the opportunity.  In brief, a multichannel business instant messenger like Komnicator can be an ideal enhancement of your existing email system and adds more functions which will obviously improve the productivity.
And the best news is that the basic version of Komnicator (no VoIP and no encryption) is free!  Download from www.komnicator.com.
This article first appeared in OH Magazine Issue 32, January 2016.