Here at Novell, we've been hard at work improving and expanding the functionality of many of our products. Let me introduce you to one of the latest and greatest of these: ZENworks Application Virtualization 11. With this release, we have both the traditional ZENworks Application Virtualization product that includes the Studio and Server features you've come to know and love, plus a few new favorites and a Professional Edition version that is available as both a standalone product and as an add-on for customers with the Novell ZENworks Suite. Here are just a few new features in this release.
Professional Edition and Desktop Container
This is a great way to prevent accidental data leakage on both corporate-owned devices and personal ones. When containers are used, the person accessing them must first unlock the container, then access the applications within that container. They can then only make changes to or create new files with the applications assigned to the container. When saving files from assigned applications, all files are saved to the container. Additionally, when files are saved to the sandbox's My Documents folder, those files are made available to all users assigned to the sandbox so everyone can collaborate.
You may already be entitled to the Professional Edition—check out the Novell Customer Center to find out. Novell ZENworks Suite customers aren't entitled, and will need to purchase the add-on to get access to these features.
Other Updates in ZENworks Application Virtualization 11
In addition to desktop containers, there are several other enhancements for both Professional Edition and standard ZENworks Application Virtualization customers. These include:
Startup Applications: One of the things we've heard from a lot of customers is that they want to simplify application registration. Customers don't want users to have to manually launch applications for the applications to register. So with Startup Applications, you can make it so that as soon as the user logs in to the ZENworks Application Virtualization plug-in, a certain set of applications automatically registers. So after the initial login, those applications act just like a locally installed application; launching apps by double-clicking associated file types, placing desktop and start menu shortcuts where the user expects them, and even including add and remove programs entries.
Shutdown Shims: Shutdown shims allow you to execute a DLL as part of closing down the application, just like startup shims do for startup. This was based on feedback from customers who want to integrate the virtualized application's lifecycle more tightly with profile management, license management and other tools.
Clipboard Isolation: Another really great feature of ZENworks Application Virtualization 11 is clipboard isolation. You can enable this capability when using the Studio tool to package applications as virtual apps. When this capability is turned on, the application provides a virtualized clipboard so a user can cut and paste to or from the app. This can be an important security enhancement for some the applications in a given container.
File Synchronization: This version of ZENworks Application Virtualization also enables basic file synchronization capabilities. Simply drag files into a set of folders in a shell extension on your desktop or manually upload the files. Then you'll have access to those files from any other machine you access virtualized applications from. While this has some overlap with Filr, we decided to include this so that users can always have access to the files they need to work on from anywhere they have the app.
Improved End-User Experience: We've overhauled the end-user experience to simplify finding applications, working with containers and synchronising data. For instance, the screen shot below shows the new app browser.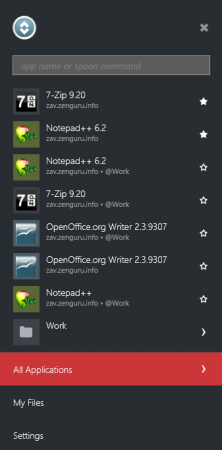 This browser makes it easy to search for apps, and can search both local and served applications. It also allows you to right click and mark certain applications (inside or outside containers) as favorites for easy access. As indicated in the file synchronisation section, there's also a shell extension that makes it easy to access files stored in the system, as shown below:
Finally, we've refreshed the web portal to give the user access to all the new features as shown below: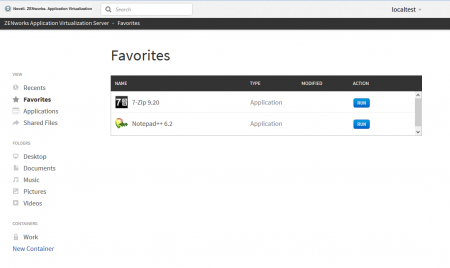 I hope you like what you see, and I'm excited about where we're going with ZENworks Application Virtualization. Let us know if you've got ideas on how we can make the product even better.