All the hard work and preparation paid off. The 2015 EMEA Summit saw over 175 people gather in Budapest in early April. 25 nationalities (not including Scotland and Wales) came together to discuss all things Novell, Micro Focus and a lot more. We were delighted to welcome for the first time people from the Asia Pacific region, specifically Australia and Malaysia.
With the ongoing merger of Micro Focus and the Attachmate Group businesses we were delighted that Stephen Murdoch, the COO of Micro Focus attended the event and delivered the keynote address at the Summit dinner on Monday evening.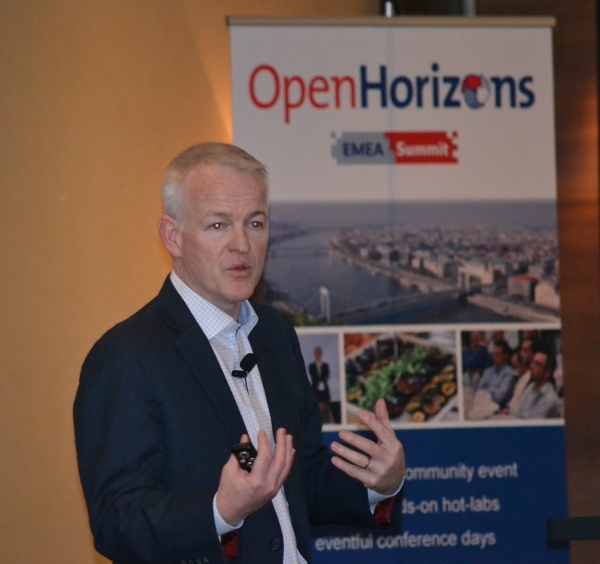 He focused on the ongoing job of bringing two quite different companies together. While SUSE will be run as a separate business unit the existing Micro Focus brands along with the Attachmate and Novell business unit and NetIQ will form one new super business unit. This is expected to simplify contracts, maintenance and sales considerably – reducing internal competition. It will be easier to do business with the new organisation and he re-assured the partners that the Micro Focus approach would be positive for them too; while the community would also have an important part to play.
What Stephen also pointed out is that the Novell brand will be superseded and evidence of this is now to be seen, a process likely to complete by the autumn. Do not worry however, product development continues apace as Micro Focus delivers on its strategy of assisting businesses evolve their IT services without a big rip and replace while helping to reduce IT complexity – bridging the old and new.
It was clear from the Round-Tables that some of these ideas are already filtering down throughout the organisation and it was good to see the discussions on roadmaps - some more detailed than others.
Paul and Diethmar performed their juggling act and came up with the schedule of Hot-Labs which are the main feature of the Summit, and there followed 3 days of sessions (see page 17 for a full list) mixed with networking and social get-togethers, such as the quiz - which now seems to becoming an integral part of the Summit. As before the hotel and host city contributed to the lively atmosphere of the event.
This year for the first time a linux track was available at the Summit. There was a linux hot-lab scheduled in every session slot and it was great to see that they were so well attended.
Some of the best attended hot-labs were those covering Vibe and GroupWise. Collaboration is still very much alive!