In the past few months I have had many discussions about ZENworks 2017, the next major release of ZENworks.  In forthcoming issues of  Open Horizons Magazine we will cover ZENworks 2017 in depth but in this Q&A I will cover a few of the questions I've been asked around this new release.
Q:   I have heard that ZMM will be integrated into ZCM.  Is that true?
A: This isn't completely true. ZENworks 2017 will have integrated Mobile Device Management (MDM) but this isn't an integration of ZMM.   When Novell introduced ZENworks Mobile Management Novell indicated that ZMM would be integrated with ZCM. Since the introduction of ZMM we've investigated how the integration of the two products could be best achieved.  ZMM is an OEM product and the architecture is very different compared to ZCM.  Utilising some of the ZMM back-end components would make it possible to get the integration done relatively quickly but it would not give the same experience as customers are used to within ZENworks Configuration Management.
Eventually Product Management decided that it would be better not to use the ZMM backend components but to build the mobile management integration natively within ZENworks.  As a result ZENworks 2017 will manage mobile devices in the typical ZENworks management style.  It will be developed internally and is a 100% Micro Focus product.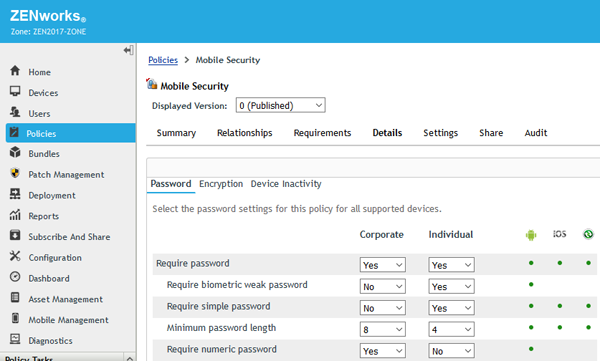 Q: How will mobile phones connect to the ZENworks back-end in the new integrated version?
A:  With ZENworks 2017 your Primary server will act as an ActiveSync server for your mobile devices and through this they can  be managed.  Mobile devices generally live on the internet and are not just used within the corporate environment, and as such you would like to make sure your devices can be managed over the Internet. To manage them you will need to make a Primary server available to the Internet. When connecting a Primary server to the Internet you probably want to limit access to certain services; for example most customers would not like to have ZCC or the Zenworks-setup page to be available from the outside world.
Also with ZENworks 11 there are customers that have connected their Primary to the internet to manage Windows workstations outside the corporate network. Unfortunately blocking ZCC or the setup page needs to be done from the Tomcat context.xml file and isn't that easy.
With ZENworks 2017 blocking services from the internet will become a lot easier. ZENworks 2017 will have an option on your configuration page that allows you to specify the type of connections that are allowed from unknown IP addresses. For the people testing the ZENworks 2017 tech-preview, this isn't in the preview 2 but is something that will be added before ZENworks 2017 is released.
Q: Next to the Mobile Device Management support within ZENworks what other new functionality has been added?
A:  The ZENworks Application is obviously the second most important change. This app will replace the Application Launcher. There will be a branding policy that allows you to add your own colours and logo so that it doesn't show up as a ZENworks window but as your company application portal.  In future the ZENworks application will also give people access to Service Desk.
There are many more updates; one I personally like is the fact that ZENworks 2017 will move away from using browser plugins.  There will be a ZENworks Administration app that will replace the browser plugins.  This doesn't only resolve issues with browser version updates but will also make it possible to use Chrome to manage ZENworks.
This article was first published in OH Magazine Issue 34, 2016/3, p38.