In the Netherlands we have a saying Onbekend maakt onbemind:  in English that would be something like Unknown is unloved.  This is what I often see when talking to customers about Service Desk.  All ZENworks Suite customers have licenses for Service Desk for Incident Management and customers with ZCM have the same but limited to two technicians.  Many customers however have never looked at the product.  With the store functionality upcoming in the next release of Service Desk I've seen much more interest from customers and obviously they have had some questions.
Q: With the ZENworks Suite I've got Service Desk for Incident Management.  Is that enough to handle incoming requests or would I need the upgrade to Service Desk for ITIL Service Management?
A: It all depends on the need within your organisation.  For many customers Incident Management is all they need. With Incident Management you can have your users log tickets in the system either by sending an email or by using the web-portal; the support tickets can then be routed to your different support teams. Within the teams you can even identify 1st and 2nd level technicians.
As you will have seen, the ITIL version of Service Desk has built-in support for several more ITIL processes and, more importantly, it will have several built-in work-flows to support these processes. This is probably the most important difference between the two editions.
Incident Management has a single work-flow for Incident Management handling (see figure 1), and you can modify the work-flow to adjust it to the needs of your environment but it does not allow you to create additional work-flows. The ITIL version has some more predefined work-flows and allows you to create your own custom ones.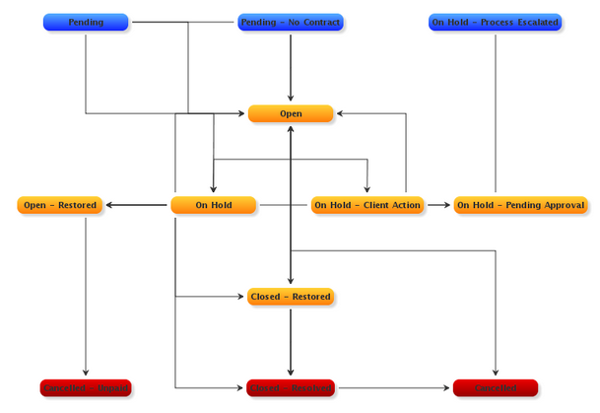 Q: Within the ITIL version of Service Desk there are Incidents and Service Requests.  What is the difference and should I use both?
A:  With ITIL version 3 there is a difference between things that are failing (Incidents) and other requests (Service Requests) to the IT organisation. Obviously separating these two types of requests will allow you to use different work-flows and different SLAs.
The difference between the two might be easy for ITIL specialists but in practice this is sometimes confusing to end-users. Fortunately if an end-user selects the wrong type of Support ticket you can change the type of the request within Service Desk.  Some customers even prefer to have end-users just log tickets and they will specify the type when they assign the ticket so that internally within the IT organisation they can separate the different types of requests but they just have a single entry-point for their end-users. The end-user will be able to see their requests in the web-portal, also if the type of request has been changed.
Q: How can I easily integrate with ZENworks? I've looked at the AMIE import option but that looks quite complicated.
A: Importing items can indeed be done with the Asset Management Integration Engine (AMIE) which allows you to import data from different sources. Importing data from ZENworks however is far easier when using the separate ZENworks integration option. The ZENworks integration option also allows you to do remote control directly from within Service Desk.
Due to the fact that Service Desk is designed as a platform independent product the special integration with ZENworks is turned off by default. However with the changes in Service Desk to allow further integration with ZENworks, this will probably change in the next release.
To turn on the ZENworks integration go to Setup > Privileges > System, here you can enable the ZENworks Integration Option that will add ZENworks to your setup menu (see figure 2).

Q: What should I import from ZENworks?
A: As always, it depends! Most customers prefer to just import the devices and to make generic software items that can be used to link them to incidents.
Importing the software inventory is possible, but it will import all software components from ZENworks and in most environments this will generate a huge number of software items that will be confusing. So the recommendation is to just import devices and if needed later on a software import can be added.
Q:  When I import my devices, they all get an item number.  Can't I just use the same name as the devices have in ZENworks?
A:  Yes you can change this and use the hostname as item number.  To do this you'll need to enable Edit Item Numbers within Setup > Privileges > System.
Once this option is set you will need to configure the ZENworks Import and after you've saved the configuration click Analyze to verify the ZENworks connection.
After the Analyze has completed a tab Hardware will appear.  This is where you can configure the item during the import (see figure 3).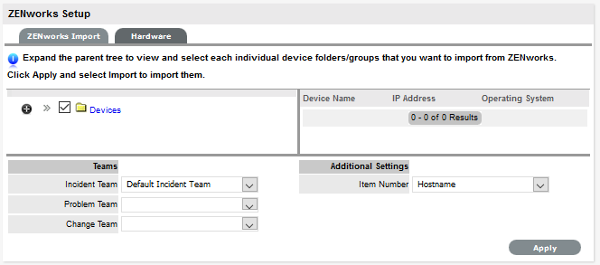 This article was first published in OHM, Issue 33, 2016/2, p37-38