Welcome to this edition of questions and answers for Micro Focus Vibe and Filr.  If you wish to ask me any questions then please email them to qanda@open-horizons.net.  
Q: Whenever the file synchronisation is running on our Filr system our user's performance is impacted.  We have tried running it out of hours but as we have a large number of file servers with many millions of files but it takes too long to run and over runs into working hours. Is there a way to run a sync with it impacting less on the users?
A: Hopefully you are running Filr in a large clustered environment.  Generally, unless it is for a proof of concept, I never install a single server, or even a large environment.  It is only a little bit of extra work but a clustered environment ensures that the system can scale and is more flexible.
What you need to do is disable synchronisation on each of the nodes that your users are connecting to then add an additional node for which you enable synchronisation and ensure that users do not connect to it.
The synchronisation options can be set per node in the appliance administration portal. On the Configuration menu select the Net folders menu option (see figure 1).  By default, this is enabled for a new node.
On the node that you leave synchronisation enabled, consider increasing the simultaneous syncs and the number of threads per sync as this will not impact your Filr users as they will not be connecting to that node.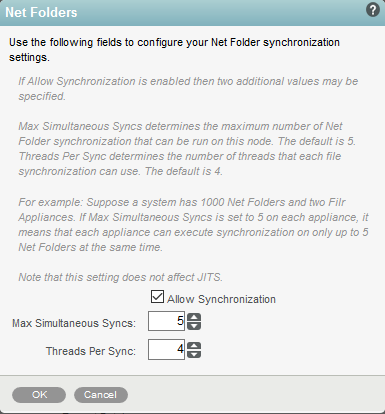 Q: Now that client-side Java is being blocked by many browsers and is being deprecated, the edit in place options are not working from within Vibe.  Is there any way to get these to work?  
A:  This is frustrating, especially if you are used to that way of working.  However, this problem should be properly resolved when 4.0.4 is released, but if you are running 4.0.3-P1 you can try out the new functionality with a hidden switch.
Edit the sff-ext.properties file in the …./apache-tomcat/webapps/ssf/WEB-INF/classes/config directory.  And add the following lines:
edit.in.place.for.ie=msuri
edit.in.place.for.nonie=msuri
edit.in.place.file.msuri.extensions=.doc,.ppt .xls,.docx,.pptx,.xlsx,.docm,.pptm,.xlsm,.txt,.rtf
Restart Vibe (/etc/init.d/teaming restart) so that the updated properties file is read, and then test it. At the moment it does not look as if it is working with the office add in, and will not work with Open Office/Libre Office.
Q: We have been running a large Vibe environment with several thousand users, for many years. However, our database server is beginning to get low on space as the database is getting larger.  If I look directly at the sitescape database one of the largest tables is called SS_ChangeLogs which appears to have information going back many years.  What is this table and can I delete the older entries?
A:  This table holds the logs for  every change made to any entry. So, for example, if you create a file, edit a form or mark a task complete, this is all logged in this table.  However, I would not recommend just deleting these entries, as there is a way to do it from within Vibe.
In later versions there is an option in the Administration Console for Database Logs and File Archiving (see figure 2, over page).  The top option allows you to specify a time period to keep these entries.  By default this is not set but you can set it to a time period that suits you. If you decide to set a limit to keep these entries, bear in mind any regulations that may apply to your industry on how long this audit information should be kept.
Filr has a similar option, though by default that is set for 183 days (6 months).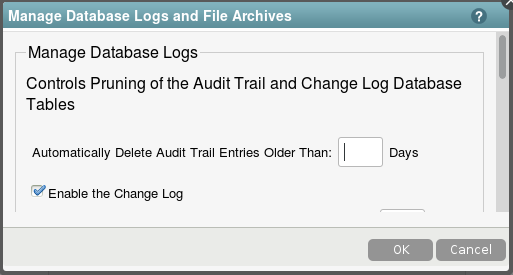 Q: I was looking at my Vibe server with the aim of reducing disk space, and I noticed that there is  a large directory called archivestore that contains many old files.  What is this directory and can I delete it to regain space on the disk?
A: Believe it or not when you delete, and purge, a file in Vibe, by default the latest version of the file is stored in the archivestore directory, so if need be you can restore it.  In a previous Open Horizons article I explained how to find and restore these files.
If you wish these files can be deleted. However, in more recent versions of Vibe there is an option in the Administration Console to disable archiving of deleted files.
Select the option from the left-hand menu for Database Logs and File Archiving (see figure 3).  Scroll to the base of the page and there is an option to enable/disable archiving of deleted files.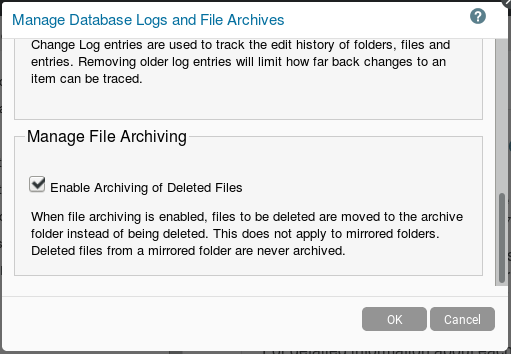 This article was first published in OHM Issue 38 (2017/3), p35-36.