The Open Horizons Summit 2014
|
Novell and Attachmate: Scenes from a marriage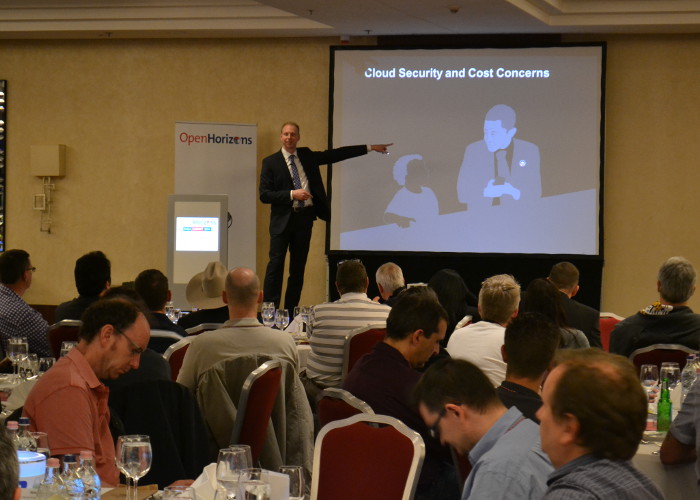 The Open Horizons Summit is sometimes called "Little BrainShare" and somehow this fits quite well what was going on in Budapest. It is not known if the organisers deliberately chose a city with a known dissociative identity disorder (popularly called split personality), but this is what Budapest is known for. Buda on the western bank of the Danube and Pest on the opposite bank developed separately until 1873 when they became one city, but only by name. The difference continues. When night falls, Buda goes to sleep and Pest wakes up. Needless to say, the conference took place on the Pest side of the city being active night and day. The number one topic and concern during the opening phase of the conference was if the two companies Novell and Attachmate would ever manage to be more than a common name for two personalities too different to have a quality relationship and where the centre of gravity of the marriage would be situated.
The marriage of Novell and Attachmate indeed seems to be an issue of emotion and concern. Partners taking part in the preconference collaboration roundtable had to learn in May and June that some Novell's spokespersons already knew that they wouldn't be with the company much longer. Yes, Lieutentant Dan (a.k.a. Dean Lythgoe) of GroupWise and Tracy Smith of Vibe and OES have left Novell. If partners had known of this on that sunny Sunday in Budapest they would have felt like the people of Kryta, outnumbered, leaderless, and facing almost certain death.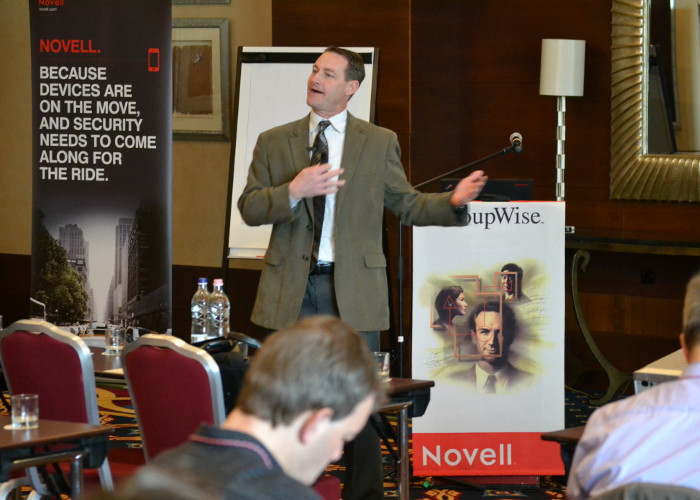 Well things didn't develop this way. Partners remained reassured that their concerns had been heard, understood, and would be forwarded to the decision makers of the newly formed Novell unit, just married to Attachmate, now.
The partners' collaboration concerns centered on Novell Vibe having fallen far behind the accustomed and communicated release cycle of "a new version every 6 to 12 months", with 3.4 not bringing many changes and 3.3 now being out for years rather than months. Also, Vibe started going missing from Novell marketing communications, wich in the case of Vibe is considered being a marketing disaster. In Europe Vibe is going strong as a solution for business automation with high indispensability on the customer side. Novell Vibe earns money by solution provided to the customer, not by license installed. Dwindling trust in product perseverance would just kill the market opportunities for the most adaptable and innovative collaboration product out there. Partners appreciated that Novell Filr will be rolled out in version 1.1 pretty soon, recognizing that there is market demand for an on-premise enterprise dropbox. And there is only one solution out there provided by a company they like.
In the round table discussions, however, they insisted that Filr is only one use case of what can be done with Vibe and that a "backport" of Filr code to Vibe and integration or upgrade would be the road to travel. Novell product management tried its best to have indulgence granted and restore confidence: code completion of Filr would free up resources for Vibe 4.0 which had a predicted shipment date end of 2014. The announced improvements in Vibe 4.0 were commented by one partner with: "This is more than was hoped for" and the atmosphere relaxed noticeably.
The partner discussion also showed a structural difference in how partners and Novell/Attachmate view and address the market. A short survey done by Novell representatives showed that partners typically have customers in the small business enterprises (SME, up to 250 employees) market segment whereas Novell sales almost exclusively targets large enterprises. Medium, small and especially micro enterprises are virtually invisible to Novell sales, notwithstanding the fact that they represent more than two thirds of all jobs in Europe employing almost 90 million people, more than twice as many as large enterprises.
In terms of market opportunities this means that Novell would be missing out on two thirds of the market if it did not have its partners. This also means that product development is well advised to listen to partners if it wants to break out of the narrow space of large companies into the possibilities of the smaller enterprise market segment. In this vein some discussion participants mentioned NOWS (Novell Open Workgroup Suite for Small Business) as the most underused business opportunity for Novell in Europe (and all other parts of the world with a significant number of SMEs constituting the national workforce).
Interestingly, in his keynote presentation at the Summit dinner,Michael Kleist, Director Attachmate and Novell Central Europe, used a similar scheme when he explained why contrary to common expectation the marriage of Novell and Attachmate was actually a good idea. The reason is that the two companies complement each other in a way that is rarely found in mergers like this. Of the now 21.000 customers of Novell/Attachmate combined only 3.000 are already using products by Novell and Attachmate. This minimum overlap in customer base corresponds with a non-overlapping product portfolio. From a business point of view this looks like an improvement in sales opportunities that can hardly be topped.
There are other considerations, however. Attachmate serves a market / Novell has user groups. Attachmate has customers / Novell has got believers and fans. Attachmate delivers products /Novell is famous for its visionary innovations. Attachmate products have exclusive market positions, Novell products have to prove they provide value in highly competitive environments. So we have the situation of opportunity and danger at the same time - a perfect breeding ground for rumours in every discussion.
In addition to providing many possibilities for thinking and arguing about those pros and cons of Blue marrying Red, OH Summit was a well organized technical conference that kept attendants busy with Hot Labs and activities of all sorts.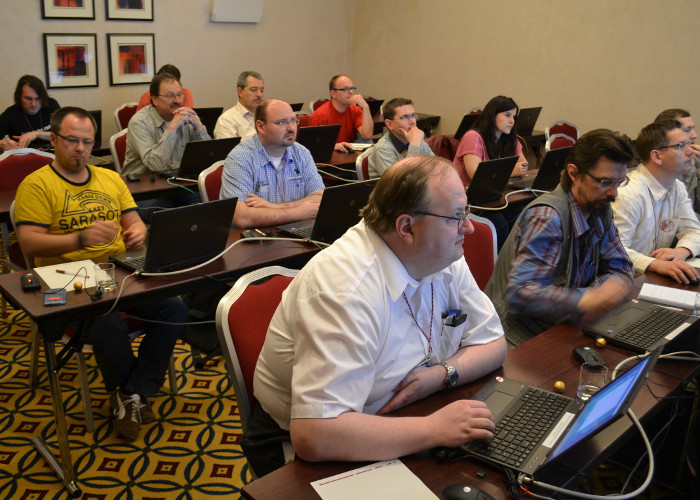 Nearly 150 attendees from over 20 countries of Europe, the Middle East and Africa learned from seasoned experts what Novell technology can do for you. It comes as no surprise that of the 30 Hot Labs those showing collaboration technology were in greatest demand with the top scorer being GroupWise 2014.
To be sure this new version of GroupWise is a milestone version that does away with many architectural limitations, most importantly with the close ties to eDirectory. GroupWise 2014 is different and has the potential to conquer markets which were not previously accessible– there was a mention of a large BeNeLux company migrating from Exchange to GroupWise, mainly for the Vibe integration features. So the Attachmate field organisation - now in red - has the opportunity to talk about migration with their customers. For partners trying to get SMEs to a more professional level of IT GroupWise 2014 is what they were waiting for.
The immediate future is full of opportunities. Now the partners must seize these opportunities, and Novell/Attachmate must not rain on their parade by ignoring their needs or by delaying or neglecting products that are key to the market.