The Evolution Of ZENworks – ZENworks 2017 Update 1
|
When we released ZENworks 2017 in January 2017, we committed that the release cadence of ZENworks would be changing.  Instead of new feature releases every 18-24 months, we told you, you would see new releases every 4-6 months.  I'm pleased to report that we are on track to deliver the first update to ZENworks 2017 in June 2017. Update 1 provides a host of new capabilities that we think you will find valuable across the portfolio.  The most notable of which are covered in the rest of this article.
Enterprise iOS Management Capabilities
ZENworks 2017 introduced mobile management capabilities natively integrated with the ZENworks Control Center and the broader ZENworks architecture. With ZENworks 2017 Update 1 we are introducing a number of capabilities that extend on what we had there to ensure you have truly enterprise grade iOS management. This includes the following key capabilities:
Support for Apple Device Enrollment Program (DEP) devices
Apple's DEP program is a great solution for corporations that want to order hardware and have it automatically enrolled with the corporate MDM servers. With ZENworks 2017 Update 1 companies can uploaded their DEP token and allow Apple DEP devices to be automatically provisioned against ZENworks 2017 Update 1 servers.

This means that the company can be assured that the device can be controlled by ZENworks right out of the box, without further assistance from the IT organisation.
Note: Apple's DEP requires that you purchase devices directly, or from a DEP reseller, and that you be signed up for the DEP program. Devices not purchased through DEP cannot be managed using this capability.
Once you've added your DEP token to the system, ZENworks will automatically discover any DEP devices that you have linked to the server. The next time any of those devices are wiped, the user will be required to enrol with ZENworks as part of setting up the device.
Support for Supervising Devices through DEP or Apple Configurator
When configuring Apple DEP devices, you can automatically supervise the devices over-the-air. This eliminates the need to attach devices to a MacOS device via USB to supervise them.
In addition, if you have devices that are not enrolled with DEP you have the ability to integrate ZENworks into the Apple Configurator supervision process with just two clicks.
Enhanced Device Control Policies for Supervised Devices
For devices that have been supervised via DEP or Apple Configurator you can now apply all of the Apple Device Control policies available through the MDM API through the improved Device Control Policy (as shown in figure 2). You can easily identify the settings that require supervised devices and those that do not.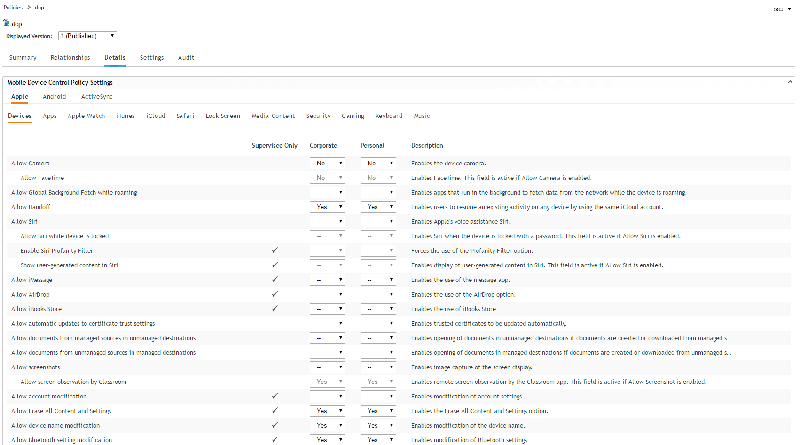 Application Configuration
For applications that support configuration via the iOS MDM API, ZENworks 2017 Update 1 now allows you to add the key-value pairs or plist files right to the bundle. This means that you can push out applications like Micro Focus Filr or iPrint along with their configuration. This makes it easy to distribute application configuration such as server URLs, usernames, etc.
Additionally, ZENworks 2017 allows you to use ZENworks system variables to pass data into both application configuration and iOS profile bundles.
Full support for UEFI/GPT Devices in ZENworks Full Disk Encryption
As the hardware world transitions from BIOS / MBR based system architectures to UEFI/GPT based architectures it is critical that ZENworks Full Disk Encryption be able to support that. ZENworks 2017 Update 1 features full support for encrypting this newer hardware configuration.
While there is no significant change in configuration, the underlying FDE environment has been updated to support UEFI / GPT as well as a number of other hardware enhancements.
For more information on ZENworks Full Disk Encryption enhancements, check out Darrin Vandenbos's recent post on http://www.novell.com/communities/coolsolutions.
Support for IPv6 Networks
Another important capability of ZENworks 2017 is support for IPv6 networks. This allows you to have managed devices connecting to their management servers over IPv6. As the world runs short on IPv4 addresses and IPv6 becomes more popular you can rest assured that ZENworks is ready to support you. This support also means that customers wishing to use Microsoft DirectAccess to provide secure remote access to their end users devices, can use ZENworks.  (Figure 3).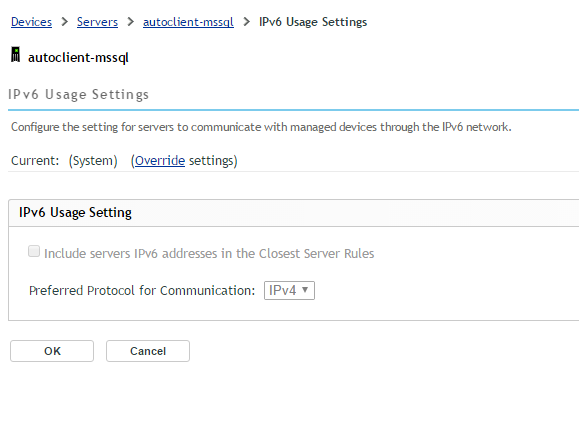 It is important to note that out of the box, IPv6 support is disabled. This is because most networks today are not already configured to use IPv6. If you wish to use IPv6 then you will need to set the IPv6 setting at the zone level or at individual servers as you IPv6 enable them. This then causes the Primary Servers to include their IPv6 addresses in the closest server lists returned to the agent.
Bundle / Inventory Integration Reporting
Over the years one of the important things we've heard from customers is that they want an easy way to determine when software has been installed outside of ZENworks. ZENworks 2017 allows you to quickly link ZENworks bundles to Inventory products and then to create reports that tell you whether a particular installation was the result of a bundle installation or not (see figure 4).
This capability also forms a foundation for us to build ZAM based license enforcement in subsequent updates of ZENworks 2017.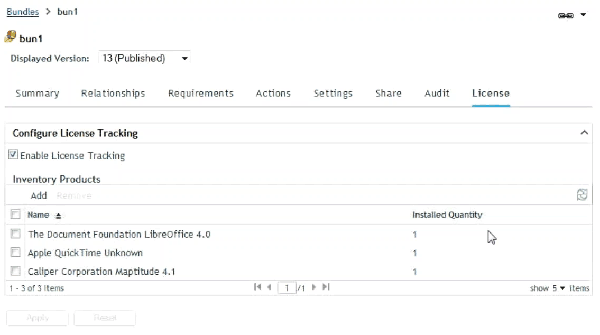 ZAPP End User Application Pinning
ZENworks 2017 Update 1 also provides new end user pinning capabilities as well as several small usability enhancements to the ZENworks User Application. End user pinning (illustrated in figure 5) allows the end user to take applications delivered to the ZAPP Window and pin them to the start menu, desktop or taskbar. This allows the user to more quickly and easily access applications that they use on a regular basis.
The ability to pin applications can be controlled by the ZENworks Administrator through a setting in the ZENworks Explorer Configuration Policy.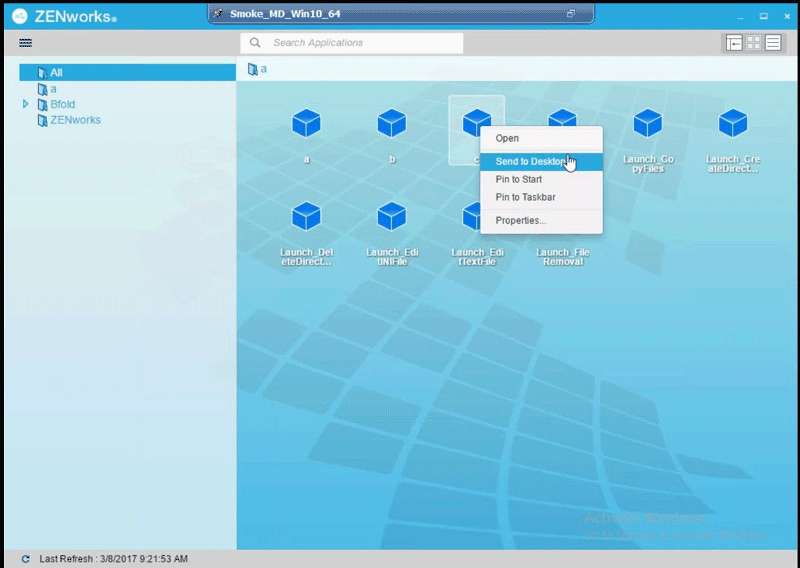 Installing ZENworks 2017 Update 1
As with all future updates, the ZENworks 2017 Update 1 release will be delivered as an update via ZENworks Control Center or via the patch download page. If you have already updated to ZENworks 2017, this makes it a simple matter of deploying the system update to update your servers and agents. With the improved System Update status application, you can monitor the updates of all of your servers from an easy to use web page, as shown in figure 6.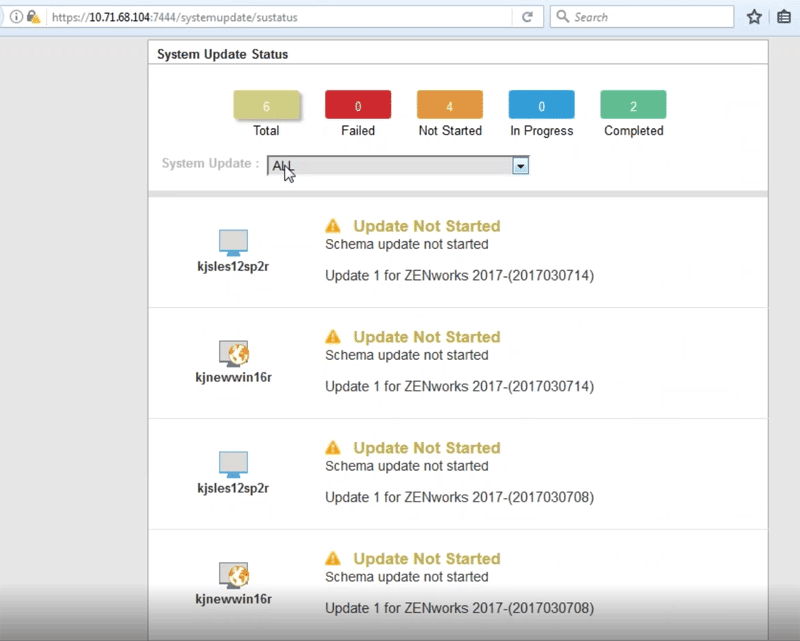 Once the update on the servers is complete, then you can easily deploy the updated agent through ZENworks Control Center as quickly or as slowly as you need.
As I indicated at the start, this article covers the highlights. There are a number of other smaller features including official PostgreSQL support, WinPE based imaging from ZENworks Imaging Servers, and more has been added. Please make sure to check out the official release notes for all of the latest and greatest details.
We hope you like what you are seeing, and we are committed to continuing to more quickly deliver high quality capabilities as we move forward.
This article was first published in OHM Issue 37 (2017/2), p16-18.