Merger with HPE Software division forms the world's 7th largest enterprise software company.
On  1 September, on schedule with no apparent hitches, Micro Focus completed the merger with HPE Software Division and the new Micro Focus was born. In acknowledgement of the significance of this $8.8bn deal the New York Stock Exchange bestowed the honour of ringing the bell to signal the start of the new business day and trading in the new Micro Focus stock.  The new company becomes a key player in the software industry and "brings together two leaders in the software industry to form a new, combined company uniquely positioned to help customers maximize existing software investments and embrace innovation in a world of Hybrid IT." (1)
Micro Focus is designed from the ground up to build, sell and support software. With more than 5,800 employees in R&D, the combined company helps solve the most complex technology problems for customers, delivering world-class, enterprise-scale solutions in key areas including:"  DevOps, Hybrid IT, Security & Risk Management and Predictive Analytics.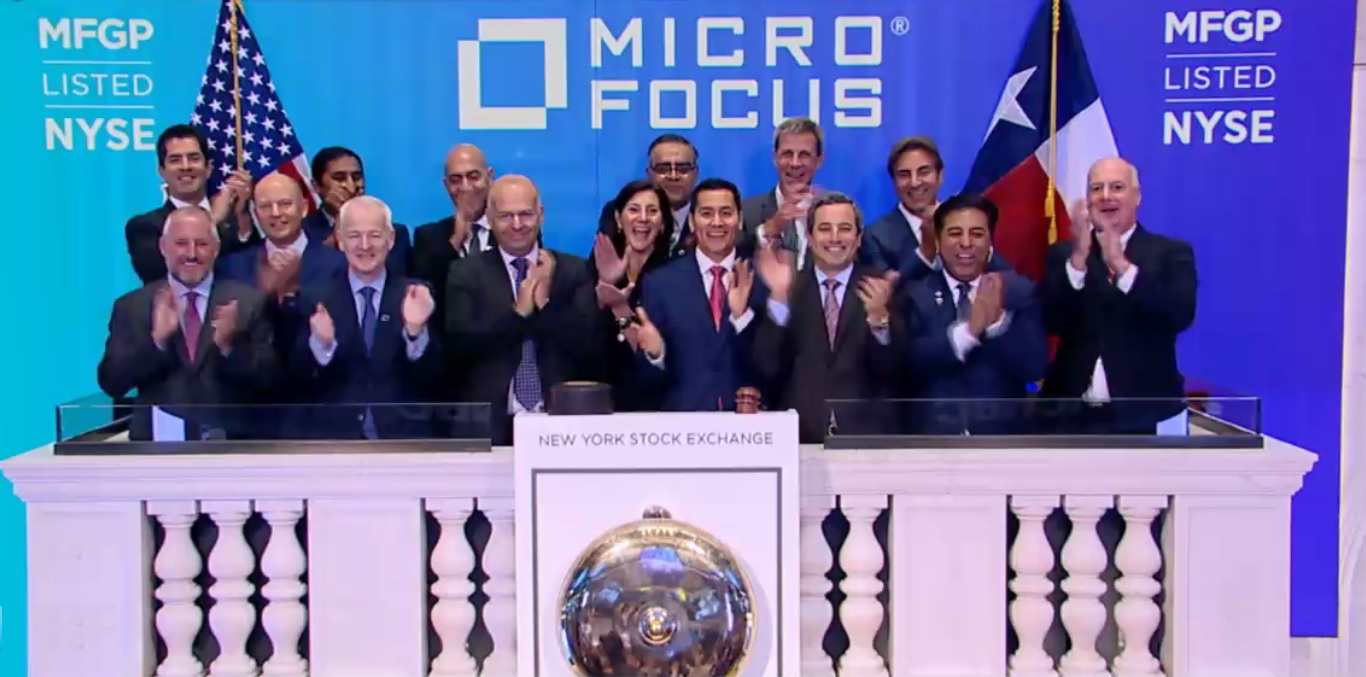 On the first day of trading the share price fell early on before recovering to £22.70, giving the company a value of almost £10bn (approx. $12bn) after issuing 222m new shares to HPE investors. The deal creates the UK's largest technology company (and Europe's second largest software company) although HPE shareholders now own 50.1pc of the combined group. (2)
Prior to completion both sides have been working hard on the structure of the new organisation and filling key business roles.  What we do know so far is that Kevin Loosemore will remain as Chairman of the new Micro Focus, but he will hand over CEO responsibilities to Chris Hsu, who currently has joint responsibilities at HPE as Executive Vice President, General Manager, for HPE Software and Chief Operating Officer at Hewlett Packard Enterprise.
Who is Chris Hsu?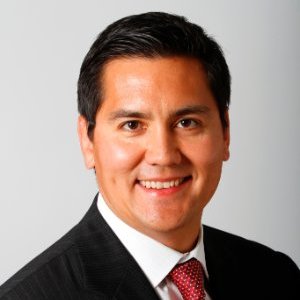 Looking at his LinkedIn profile Chris Hsu has had a distinguished career, starting with the US Army where he was at one point a tank company executive officer. While on exercise in a European war game he was recognised for outstanding leadership by the Chief of Staff of the Army.  Before his active service he studied for a degree in economics at the West Point Military Academy.
Chris left the army in 1997 and took a job for three years as assistant marketing manager with General Mills before deciding to go back to studying for an MBA at Northwestern University's Kellog School of Management. This in turn led him to a position with McKinsey and company, a leading management consultancy where he stayed for almost 6 years.
Before joining HPE in 2014 Chris worked for 7 years for KKR, a pre-eminent American private equity company with international interests, specialising in leveraged buyouts.
The future Micro Focus?  
As Open Horizons members will have become aware in the last three years or so, Micro Focus is an ambitious company that has grown through a series of well thought out acquisitions, culminating to date with the multi-billion dollar merger with HPE Software.  In fact as Chris Hsu has pointed out Micro Focus has increased its capitalisation by over 700% in the last 6 years – outperforming the well known giants such as Amazon, Facebook and Microsoft.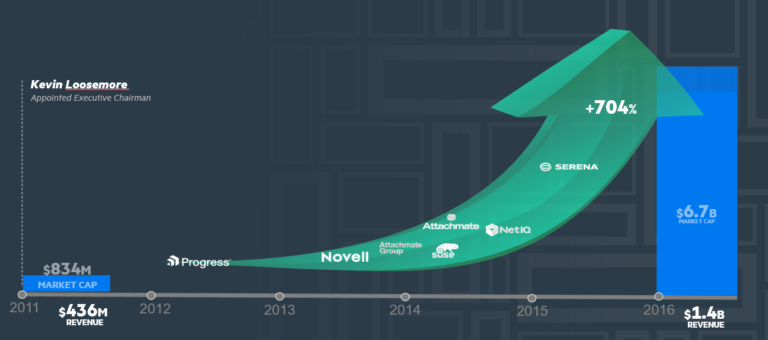 Is this the end of this phase of growth?  Almost certainly NO if the comments of Chris Hsu are anything to go by.  The following is taken from a blog post (3) he published at HPE on 14 July.
He writes:  "Upon close of the planned spin-merge, the new, combined company will be the 7th largest pure-play software company in the world and will sit amongst some of the most dominant software players in the industry. But what excites me the most is not the list of companies to the left of the #7 position in the chart below but rather all of the companies to the right—and of course the many companies not even listed here. This is an industry that is ripe for continued consolidation and we expect to be in a great position to take the helm."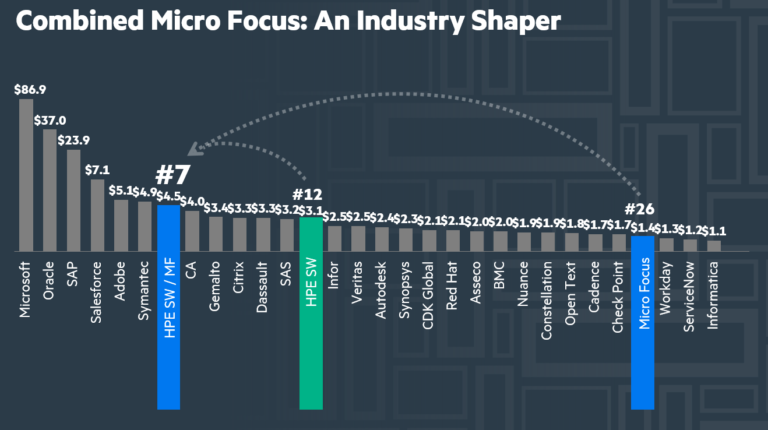 "Experience, performance and longevity are all keys to why I believe Micro Focus is the right partner for HPE Software – together we will have the global scale needed to best serve our customers and partners.  So let me wrap it up with the top 3 reasons I am personally excited about this pending merger with Micro Focus.
"HPE Software will become a pure software company. From a $3.1B software business inside of a $100B hardware company, to an independent, software-focused company with estimated annual revenues of $4.5 billion, 18,000 employees, and 40,000 customers. We expect the combined portfolio will have real breadth and depth to help solve more customers' challenges from mainframe to mobile.
" We intend to build a strong operational foundation that will bring the best of both companies to the forefront. When you prepare for a global merger of this scale, it gives each company an unprecedented opportunity to look at all of their processes and take steps to We have had the luxury of stepping back and asking "How do we transform our IT platform to support our strategy for tomorrow?" Few of us ever get this opportunity. Once the transformation is complete it will be truly industry leading. "

In fact the merger represents a substantial opportunity to (4):
create significantly greater scale and breadth of product portfolio covering largely adjacent areas of the software infrastructure market
add a substantial recurring revenue base to Micro Focus' existing product portfolio, together with accessing important new growth drivers and new revenue models; and
accelerate operational effectiveness over the medium term, through the alignment of best practices between Micro Focus and HPE Software in areas such as product development, support, product management, account management, and sales force productivity, as well as achieving operational efficiencies where appropriate.
Exciting times ahead.  Watch out for further Micro Focus news and discover the new Micro Focus.
References
1.  www.microfocus.com/about/press-room/article/2017/micro-focus-completes-merger-with-hpe-software/
2.  http://www.telegraph.co.uk/technology/2017/09/01/micro-focus-becomes-uks-biggest-tech-company-completes-7bn-hpe/
3.  https://discoveringthenew.com/who-is-micro-focus/
4.  https://investors.microfocus.com/our-business/hpe-merger/
This article was first published in OHM Issue 38 (2017/3), p5-6.