Setup Commander Service Edition: Setup and Patch Management for ZENworks Configuration Management
|
Setup Commander Service Edition provides a new way of automatically preparing application setups and patches for unattended deployment, in a simple and intuitive way.  Setup Commander Service Edition supports Microsoft Configuration Manager, Microsoft Deployment Toolkit, Microsoft WSUS, VMware AirWatch and last but not least Micro Focus ZENworks Configuration Management.
Setup Commander Service Edition has two main components and a connector per software distribution solution:
The Setup Commander Service Portal is the web-based configuration interface.
The Setup Commander Setup Store Service is the Windows service based component which downloads and configure the setups to which you have subscribed in the Service Portal.
You can use Setup Commander Service Edition with any software distribution solution you prefer. We have connectors for:
Micro Focus ZENworks Configuration Management
Microsoft Configuration Manager (SCCM)
Microsoft Deployment Toolkit
Microsoft WSUS
VMware AirWatch
Connectors for Autotask and Microsoft Intune are on our roadmap.
CVEdetails.com (see figure 1) has a Top 50 Products By Total Number Of "Distinct" Vulnerabilities. If you're using any of these products make sure to have a solid plan in place to keep these products up-to-date.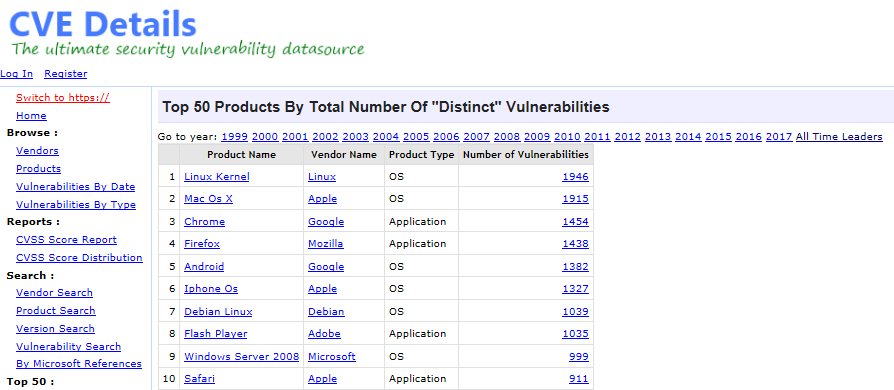 In the screen capture in figure 2, have a look at the column 'Product Type'. In this context the value 'Application' refers to 'Windows desktop applications'.  These type of applications are the non-Windows Store (AppX) applications. When we filter this list for 'Application', products like Chrome, Firefox (ESR), Adobe AIR, Adobe Flash Player, Thunderbird, Seamonkey, Acrobat Reader (DC),  Java JRE and JDK,  iTunes and Wireshark are in this Top 50.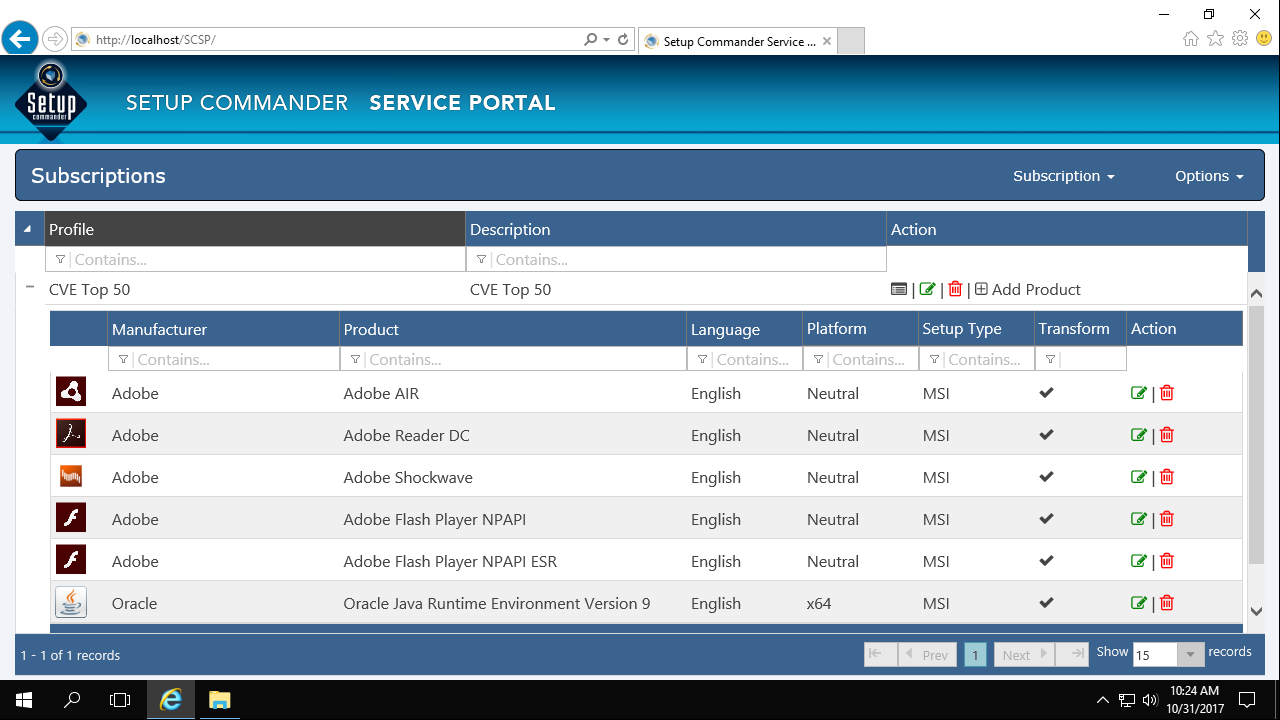 When you have to deal with installing, managing and patching these Windows desktop applications, what does the Service Edition offer you to simplify the task of installing and updating these applications?
In the Service Portal you can 'subscribe' for these products, but also many other business applications not referred to in the CVE list. After you've configured your subscription, what happens next is that the Setup Store Service checks whether new versions of the subscribed products are available in the Setup Commander Setup Store.
This article was first published in Open Horizons Magazine, Issue 39, 2017/4, p30-31.
....To view the full article you must have a full Digital Subscription.