Kevin Loosemore – Business Person of The year
|
Last December the Sunday Times newspaper announced they had chosen the Executive Chairman of Micro Focus plc, Kevin Loosemore, as their Business Person Of The Year for 2016.  The paper wrote that he "has quietly built Micro Focus in to a global player, by wringing values out of old assets"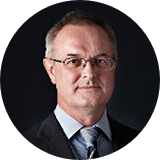 "Thanks to a series of canny deals Micro Focus has risen virtually unnoticed into the ranks of Britain's top 100 companies.  Its market value, already about £5Bn is poised to double next year after it swallows up HPE's business software division".  The Sunday Times continues, "Loosemore's hunger for a takeover stands in stark contrast to the many other British technology companies that have fallen to foreign buyers, notably the chip designer ARM Holdings. It is this desire to be predator, rather than prey, that has earned him the title "
Kevin commented that "Most of the software industry tends to be, 'Here's a bright shiny new thing, so let's throw all that old stuff away' " and software bosses "always overestimate how quickly a business will decline". The reality is that it is simply too costly and disruptive for big companies to rip it up and start again at the first whiff of a new fad, he says.
Kevin left Oxford University with a degree in Politics and Economics and joined IBM in 1980.  His first assignment was to write an assembly code program for a UK based insurance broker.  Since those early days in tech he has risen to boardroom roles in companies such as Cable & Wireless plc and Motorola Europe before joining Micro Focus in 2005 and becoming Executive Chairman in 2011.
Congratulations Kevin Loosemore.
This article was first published in OH Magazine Issue 36, 2017/1, p24