Cloud Integrated Storage In OES 2018
|
Cloud Integrated Storage (CIS) is a highly available service that allows you to move your cold data and store it in the object store and continue to provide the capability to seamlessly access the data.  This includes on-prem object storage or cloud storage. It provides a network wide view of the overall data. CIS does the adaptive scanning of the data on an OES server and provides meaningful information, which you can use to decide what data to migrate to the cloud. Based on your requirement, CIS helps you to decide which policy to create and run on the required OES server volume configured with the CIS server.  The files that satisfies the policy are migrated to cloud and the metadata information for the data migrated is stored in the CIS server.  Data moved to cloud storage by CIS is highly secure, as the data is encrypted and the keys do not leave the premises.
CIS Server
The CIS server requires multiple services to perform the overall orchestration. These services are built as Microservices, and the architecture is outlined in figure 1.  Microservices are a suite of independently deployable, small, modular services in which each service runs a unique process and communicates through a well-defined, lightweight mechanism to serve a business goal. Each service runs in its own container. There are multiple Microservices, namely:
Authentication (cis-auth), that authenticates the agents and users.  It also facilitates token creation.
Data (cis-data) that is used for data migrate, recall and communication with the target cloud.
Metadata (cis-metadata), provides the capability to migrate, recall and maintain the metadata.
Policy (cis-policy),  deals with the policies, agents, jobs, tiers and schedule operation.
Management (cis-mgmt) handles all the management operations such as CIS account configuration, policy creation, tier configuration, and assigning roles for other users.
Collector and Aggregator (cis-aggregator), obtains the metadata information from OES servers and provides overall data and meaningful information (hot and cold data) for the administrator to understand.
Collector and Aggregator for Reporting (cis-repcollector, cis-repaggregator), obtains the information about files migrated and recalled from cloud and provides meaningful information.
Gateway (cis-gateway) is the entry point to all services of CIS. It receives requests from OES servers and users and redirects it to the respective services. It listens by default on port 8243 for server operations and 8344 for management operations but is configurable.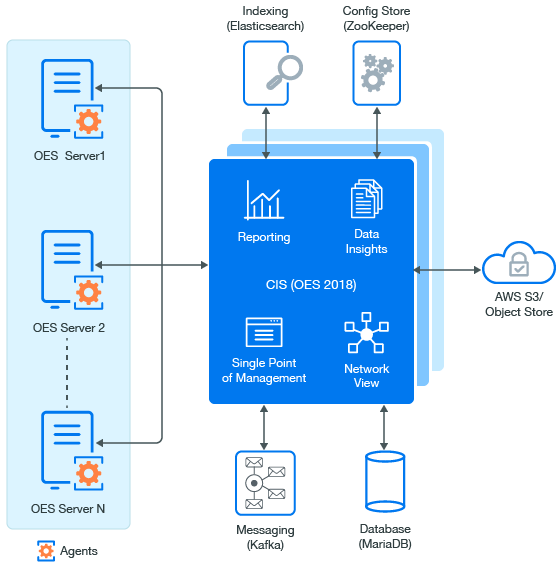 This article was first published in Open Horizons Magazine, Issue 39, 2017/4, p9-11.

....To view the full article you must have a full Digital Subscription.