Build Big Screen Dashboards Using ZENworks Reporting
|
One of the requests that I've heard several times over the years is to be able to create big screen dashboards for the teams that support ZENworks. This could be for any of the ZENworks products, including ZENworks Configuration Management and Micro Focus Service Desk. In this article I will help you understand how ZENworks Reporting and JasperStudio can be used together to create big screen dashboards that will help you quickly identify trends in the environment.
Before we get into the details, a quick word about the things you need:
ZENworks Reporting Appliance. ZENworks Reporting is available only as a virtual appliance and is one of the downloads you can download from the same product download page you downloaded your other ZENworks products from. The ZENworks Reporting Appliance provides the web based reporting creation and dashboarding tools that we will use to deliver the dashboard.
JasperStudio. JasperStudio is a tool for advanced users that can be used to create pixel-perfect reports. In this article we'll use JaspertStudio to create some small dashboard widgets that would otherwise not be possible from the web based Ad hoc viewer.
Reporting Domain. A reporting domain is a metadata layer that eliminates the need for you to understand the database schema when building reports with the ad hoc report builder. Depending on the data you want to access you will need different domains installed. For the purpose of this article we will be using the ZENworks Domain.
First of all let's take a look at the finished product so that you know what it is we are building towards. Have a look at figure 1. This is just one of many possible dashboards that you can build with the techniques discussed in this article.
This dashboard offers a quick view of information about the devices being managed in the system and whether they are checking in as expected.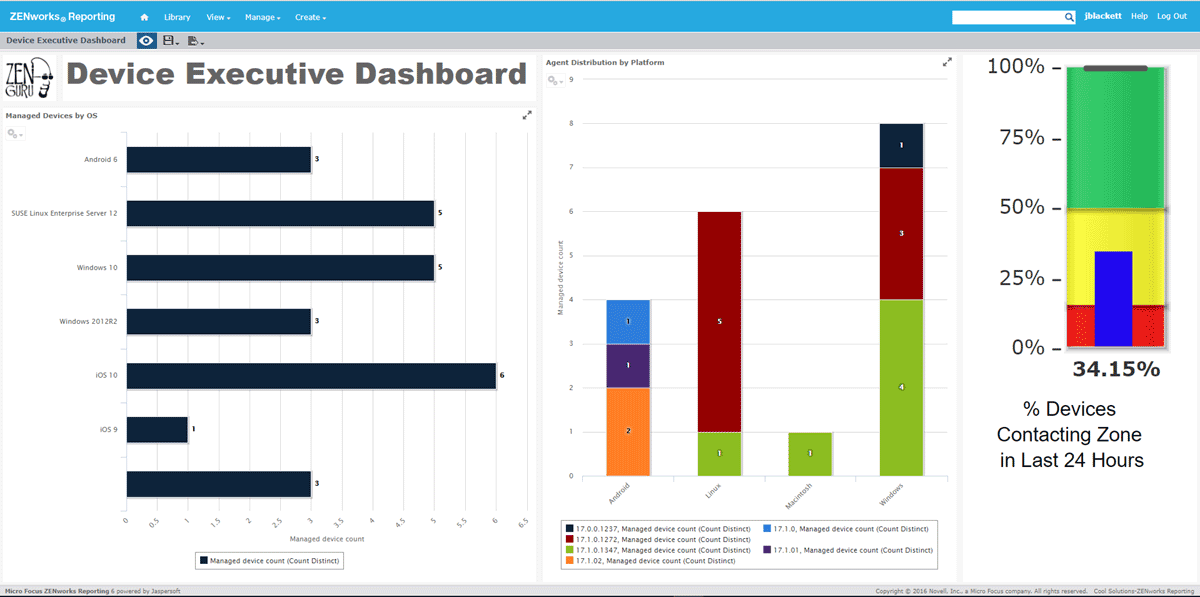 Building Adhoc Dashlets
We'll start by looking at how to build the dashlets created with the Adhoc report designer. These are by far the easiest dashlets to build. In the example dashboard these are the Managed Devices by OS and Agent Distribution by Platform dashlets. You can use the Ad Hoc designer to build chart, table and crosstab dashlets.
This article was first published in OHM Issue 38 (2017/3), p19-22.
....To view the full article you must have a full Digital Subscription.